Great Britain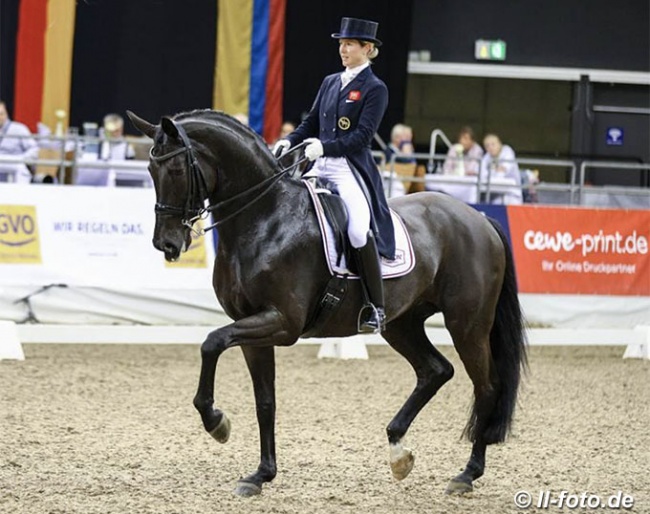 British dressage riders are coming out full force at the belated 2020 British Dressage Championships, which in this corona year have been rescheduled for 21 - 22 December 2020 at Hartpury. 
From Somerford to Hartpury
For 2020 the British Nationals were supposed to move from its usual venue, Stoneleigh, to Somerford Park in Cheshire, where the event was scheduled to be hosted the next three years. 
With the most prestigious international hosted on British soil, the London Olympia Horse Show, cancelled due to corona, a slot opened up on the calendar for the British Grand Prix Championships to take place after all. 
The original dates were 24 to 27 September 2020, but they were changed to 21 - 22 December with the corona pandemic upending the entire calendar. 
Also the venue has been changed. The Nationals won't be ridden in Somerford but will take place in Carl Hester's backyard at Hartpury Equine Collage. 
A-Squad
The 2020 British Championships will be a real treat as almost the entire British A-squad will be competing based on the entry list at hand. 
Carl Hester's entire flock will be competing at Hartpury: Charlotte Dujardin is bringing Mount St. John Freestyle as well as rising star Gio, Carl is keeping his 2019 team ride Hawtins Delicato at home, but riding Dujardin's En Vogue.  Students Sonnar Murray-Brown (Erlentanz) and Amy Woodhead (Mount St John Kom Fairytale) follow in his wake. 
Laura Bechtolsheimer (Rose of Bavaria) and Lara Butler (Rubin al Asad) as well as 2018 WEG team rider Emile Faurie (Dono di Maggio) are on the list.  They will be joined by a pregnant Hayley Watson-Greaves on Rubins Nite, amongst many others. 
Absentees
Remarkably absent are Gareth Hughes with team ride Briolinca as well as second iron in the fire KK Woodstock, as well as Richard Davison with Bubblingh.
The Dutch based Charlotte Fry is not making the trip across the Channel with her two GP horses Dark Legend and Everdale due to corona and Brexit.
Two Rounds
There will be two rounds to the Nationals: the Grand Prix and Kur to Music. 
Thirty combinations will compete in front of Stephen Clarke, Andrew Gardner, Clive Halsall, Peter Storr and Isobel Wessels in the Grand Prix. The best 15 will move on to the Freestyle. 
Carl Hester could secure his 11th title, Laura Tomlinson her fourth, and Emile Faurie his third.  Dujardin, Watson-Greaves and Butler are all attempting to win the Grand Prix Championship for a second time.
Related Links
British Dressage Championships Move from Stoneleigh to Somerford for 2020-2022
Past Winners
Carl Hester is the 2019 British Grand Prix Champion
Lara Butler Wins the 2018 British Grand Prix Championship
Hayley Watson-Greaves is the 2017 British Grand Prix Champion
Carl Hester Wins 2016 British Grand Prix Championships
Charlotte Dujardin Wins 2015 British Grand Prix Championships
Michael Eilberg Wins 2014 British Grand Prix Championships
Carl Hester Brings Tally to 66 at 2013 British Dressage Championships
Carl Hester Wins 2012 British Grand Prix Championships
Bechtolsheimer, Woodlander Farouche and Carinsio Dominate Final Day of 2011 British Championships
Laura Bechtolsheimer Wins 2010 British Grand Prix Championships
Carl Hester and Liebling II Grab 2009 British Grand Prix Champions' Title
Maria Eilberg, 2008 British Dressage Champion
Spencer Wilton and Dolendo, 2007 British Dressage Champions
Sandy Phillips and Lara, 2006 British Grand Prix Dressage Champions
Laura Bechtolsheimer and Douglas Dorsey Win 2005 British Grand Prix Championships
Hester and Escapado Win 2004 British Grand Prix Championship
Richard Davison, 2003 British Dressage Champion with Ballaseyr Royale
Nicky Barrett Claims Her First Grand Prix Champion's Title at 2002 British Dressage Championships