Germany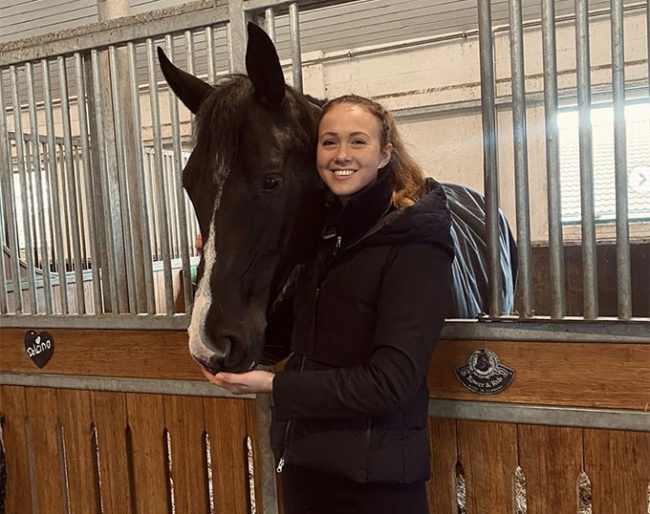 European Young Riders silver medal winner Lia Welschof has acquired the 8-year old GB Dolcino as her Under 25 hopeful for next year .
GB Dolcino is a 2012 born Swiss warmblood by Don Index out of GB Dolce Vita (by De Niro x Consul). He is bred by Fritz and Hanni Grunder and owned by Fritz' brother Hans.
Swiss Young Horse Success
As a foal Dolcino placed 7th at the 2012 Swiss Warmblood Foal Championship in Avenches. 
Swiss Grand Prix rider Melanie Hofmann was initially the head rider the the Grunder-Bauen brood farm and she competed Dolcino first. 
The pair won gold in the 3-year old class at the 2015 Swiss Warmblood Young Horse Championships,  silver in the 4-year old division at the 2016 Swiss Warmblood Young Horse Championships and gold again in the 5-year old class at the 2017 Swiss Warmblood Young Horse Championships.
In 2017 Hofmann also showed and won with Dolcino once in the international young horse classes at the CDI Stadl Paura. 
Dolcino and Fernandez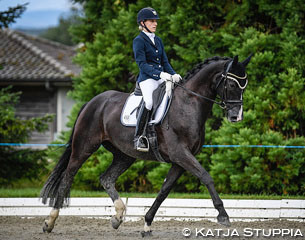 As of July 2016 Christina Ernst was listed with the FEI as owner of the horse, and in 2017 she was also credited as such on Swiss score sheets, but in 2018 ownership was reverted to breeders Hans and Sandra Grunder-Bauen.
In 2018 Hofmann left Grunder Horses and was replaced by rider Elena Fernandez. She took over the ride on Dolcino and steered him to gold in the 6-year old class at the 2018 Swiss Warmblood Young Horse Championships.
Until 15 August 2019 Fernandez competed Dolcino at national level and qualified the horse for the developing Prix St Georges Championships in Avenches in September but did not compete there.
In September 2019 Fernandez was let go by Grunder as he had decided to sell his horses. He sent a group of them out to horse dealers in Europe to be sold, including GB Dolcino.
To Germany
GB Dolcino was send to the Werndl family in Aubenhausen, Germany, for further training and sales.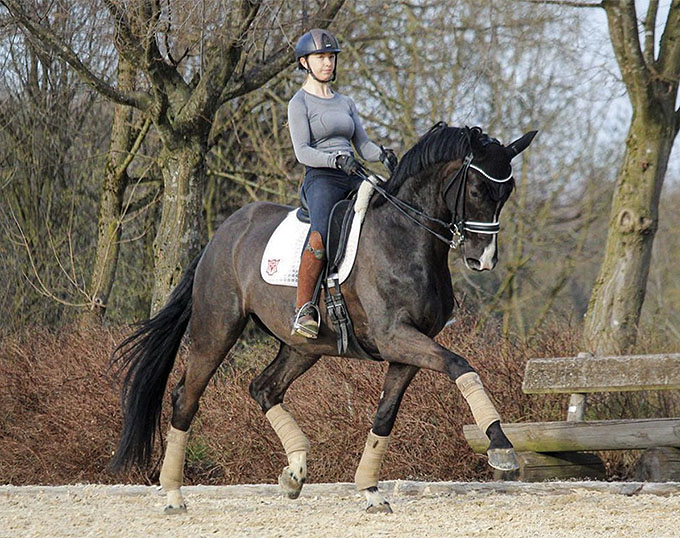 He was competed in 2020 at local shows by their assistant trainer, Canadian U25 rider Hannah Beaulieu, who made her show debut on the bay gelding in March 2020 in Kreuth at M** level.
Their last show together was a Prix St Georges test in Balsthal in July 2020 after which the 24-year old Beaulieu returned back to Canada. 
Aubenhausen assistant rider Raphael Netz took over Dolcino and developed him to schooling Grand Prix level.
Under 25 Horse for Welschof
In search of a future Under 25 partner Lia Welschof went to Aubenhausen to try out Dolcino. They acquired the horse last weekend and brought it home to Westfalen. 
"Dolcino attracted me because he is a horse with great basic paces and very energetic movements," Lia told Eurodressage. "He shows a lot of potential for the piaffe and passage work. I love his attitude towards our daily work, he is always very motivated and fresh. He is a horse who loves attention and cuddles. The fact that he looks very similar to my horse Linus is just a funny coincidence, but of course also attracted me. The next steps for us is getting to know each other better and growing together to a team. It seems like that Dolcino feels very happy and comfortable at his new home."
Welschof is one of the most decorated German youth riders in the past five years. She won team and double individual silver at the 2020 European Young Riders Championships with First Class. She also won team gold and individual silver at the 2017 European Junior Rider Championships and gold at the 2018 German Young Rider Championship. At the 2018 and 2019 European Young Riders Championships she won team gold and individual bronze.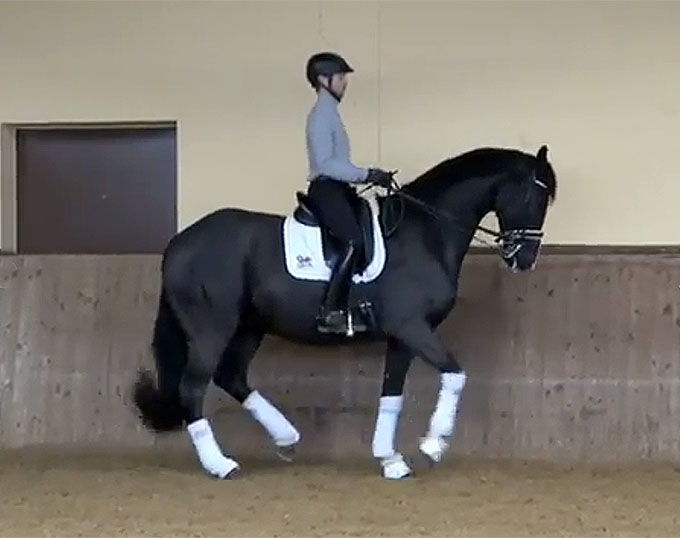 Welschof trains with her mom Barbara as well as with former German youth co-team trainer Olivier Oelrich. 
"Oliver really manages to wake up the ,,on-point concentration'' I need for competitions," she explained. "I admire his optimistic and motivating attitude and that he is always in a good mood. Oliver has a very good connection to the Balkenhol stable, and he often sends his Young Riders to Klaus and Anabel to train with them. That's why I had the amazing opportunity to train with Balkenhols, mostly to teach me the basics of the piaffe and passage work."
The 21-year old Lia was in her last year as young rider and needs to make a transition to the senior classes or Under 25 Grand Prix in 2021. 
"For 2021 the plans are to learn a lot of new stuff," Lia smiled. "My horses Linus, First Class and Dolcino have no experiences in the Grand Prix sport, just like me. So our intention is to bring them to the U25 level in the next year or years, depends on how the training is going. When the feeling is good, my goal is definetely to hop in the U25 class."
Photos ©  Welschof - Katja Stuppia - Aubenhausen
Related Links
Fidelio von Worrenberg, GB Dolcino, Baylador KWG Win 2017 Swiss Warmblood Young Horse Championships
GB Kiss Me, Lorena de la Rouge Eau, Dolce Vita VII Win 2016 Swiss Warmblood Young Horse Championships
Jazz Queen and Londano Named 2012 Swiss Warmblood Foal Champions
Lia Welschof Stuns All and Wins Individual Test Gold at 2017 European Junior Riders Championships