Germany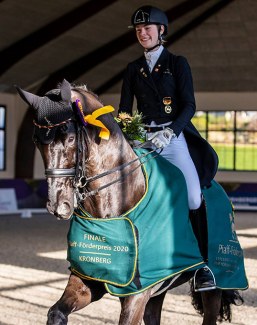 Despite being a leading dressage nation and have created an Under 25 show circuit as the first country in the world, Germany still didn't have an official, annual German Under 25 Championships. 
With the Piaff Forderpreis, a German show circuit for Under 25 riders based on selections at an annual training seminar in February, has been up and running for 19 years (since 2001), there seemed to be no need for a "German Under 25 Championship," until now!
In 2021 the German Dressage Championships in Balve will officially include an Under 25 Championship. The Piaff Forderpreis selection trial in Balve will serve as Championship. 
Two Sets of Medals
Two sets of medals can be won at the 2021 German Under 25 Championships. The Intermediaire II will count as warm up test. The first set of medals can be won in the Short Grand Prix (also a qualifier for the Piaff Förderpreis Finals) and a second set of medals can be won in the Kur to Music.
An overall champion based on combined scores will not be named. 
Participants
Riders eligible to compete in the 2021 German Under 25 Championships are NK1 U25 squad listed riders, the participants of the 2021 Piaff Forderpreis show circuit and five extra combinations nominated by German U25 team trainer Sebastian Heinze. 
"I'm happy that the Under 25 division develops well and we can give these developing riders a big platform with the 2021 German Championships at the fun show in Balve," Heinze commented. "Even though we have a very good position internationally, we can not rest on our laurels as the competition abroad gets stronger all the time."
Related Links
2020 CDI-W Frankfurt Cancelled - Louisdor Cup, Burgpokal, Piaff Forderpreis to Kronberg
Bianca Nowag Wins 2019 Piaff Förderpreis Finals in Stuttgart
Ellen Schulten-Baumer Wins First Piaff Forderpreis