The Netherlands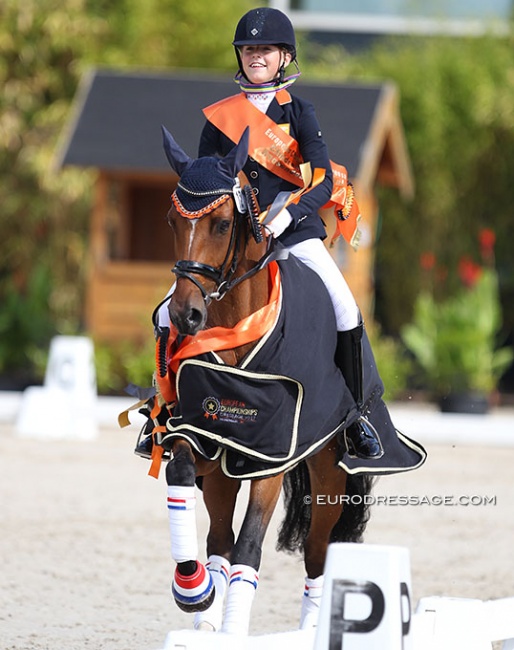 Former European Children Champion and serial children medalist Happy Feet has moved on to his sixth rider in four years time. With three riders he has competed at four European Children Championships, so far.
Happy Feet is a rising 14-year old Dutch warmblood by Tuschinski out of Ereara (by Animo). 
Biggest Success with Buijs
Happy Feet's biggest successes, so far, were achieved with his first Children's rider, Sanne Buys. 
Buys and Happy Feet made their international show debut at Children's level at the 2017 CDI Diepenbeek in July 2017. At the 2017 European Children's Championships in Roosendaal, they won team and individual gold. 
In 2018 the duo went to the 2018 European Children's Championships in Fontainebleau, France, where they won team and individual test gold. They also won the 2018 Dutch Children's Championships in Ermelo
Deciding between Riders
At the end of 2018 he was allocated, first to Jill Bogers, who rode him at the CDI Exloo in October 2018, but as her plan was to move to junior level, the owner decided to change riders.
Anne Uijtewaal followed very briefly as rider, but eventually it was Dutch pony rider Senna Evers who began competing him in 2019. 
Evers and Happy Feet made their international debut at the 2019 CDI Nieuw en St. Joosland and were selected on the Dutch team for the 2019 European Children Championships in San Giovanni in Marignano, Italy. They won team silver, but individually landed seventh place.  At the 2019 Dutch Children Championship they won bronze. 
Raaijmakers' Turn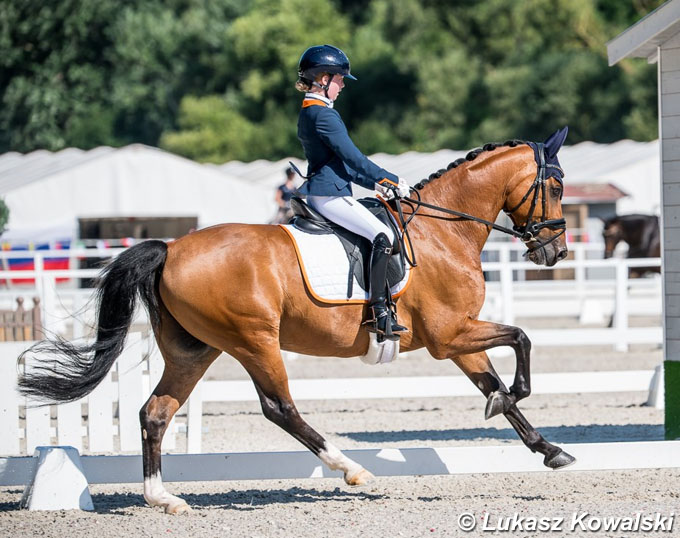 In the autumn of 2019 a new rider was sought and Kebie Raaijmakers was the lucky one. 
The pair went to the 2020 European Children Championships in Pilisjaszfalu, Hungary, where they earned team silver and just missed out on an individual podium place, finishing fourth. Raaijmakers took revenge by winning the 2020 Dutch Children Championship in Ermelo in September. 
Kebie initially hoped on keeping the ride and was preparing Happy Feet for junior riders' level. On 29 November 2020 she competed him in the junior riders team championship test at a training competition (corona) at equestrian centre De Peelbergen in Kronenberg, where he scored 69%.
However, Happy Feet's owner Linda van Woudenberg prefers Happy Feet to thrive at children's level and ended the collaboration with Raaijmakers in December.
Staying in Children Division, Robin Dicker is Next
Van Woudenberg has now agreed to give the 12-year old Robin Dicker the ride. The connection was made through Rianne van Dulst and the pair will train with Joyce Heuitink. 
The Children's division is open to riders aged 12 to 14, which means that riders can only compete for a maximum of three consecutive years in this category. The rotation of riders is therefore higher than in the pony division, in which they can ride five years at international level (12 - 16 yo). 
"That is why a girl of 12 is now getting the ride on him so she can enjoy him for three years," owner Van Woudenberg told Eurodressage.
Linda is adamant to keep Happy Feet in the Children category and not begin the process of teaching him flying changes for junior level. She also believes his smaller size makes him better suited for children's level.
"Happy doesn't know the flying changes and that will make it difficult. I don't want to do that to the pony. I love my friend Happy Feet tremendously. He gives so much love and such a nice feeling to the children. All the children who rode Happy know he's meant for Children level," she added.  "He is an E-size pony and very good at Children. He also competed in the pony division (nationally) and I want to keep it that way."
Linda's long-term goal with Happy Feet is retaining him for her grand daughter to ride.  "Next year my grand daughter could ride him," she added.
Photo © Astrid Appels - Lukasz Kowalski - private
Related Links
Eurodressage Photo Database: Happy Feet
Raaijmakers, Heiden, Van Peperstraten, Nieuwenhuis, Gal Win 2020 Dutch Dressage Championships
Scores: 2019 Dutch Dressage Championships
Uijtewaal New Rider of Happy Feet
Team Holland and Sanne Buijs Win 2018 European Children Championships
Buijs, Van Peperstraten, Rockx, Nieuwenhuis, Gal Win 2018 Dutch Dressage Championships