FEI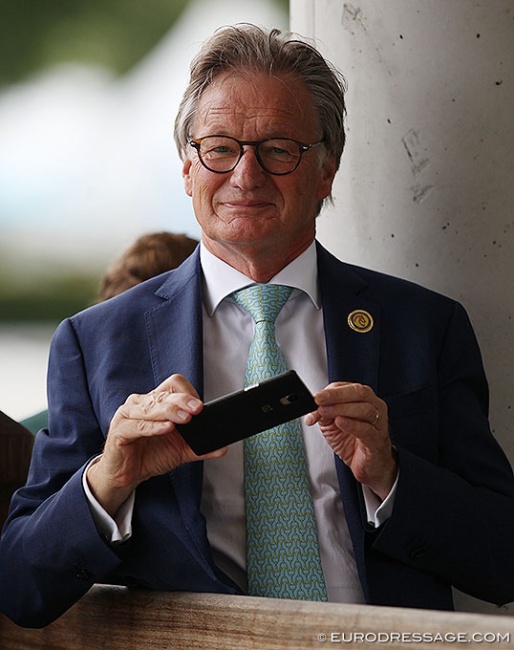 Yesterday, the news became public of a sudden FEI rule change for 2021 World Cup Finals' participation. 
Due to COVID-19 making global World Cup qualificationmore difficult, the FEI decided to grant three extra starting places to Western European League riders, sacrificing the non-league slot and the home athlete (Sweden).
Starting Places
Eighteen riders compete in the annual World Cup Finals: Normally 9 spots go to Western Europe League riders,  2 to Central European league riders, 2 for North America, 1 for Asia-Pacific, 1 for a non-league rider, 1 for a home athlete, 1 for the defending titleholder, and 1 extra starting place for the highest ranked rider on the Ranking List that doesn't get one of the above slots.
Because of Covid-19 only one Western European League qualifier took place so far. Salzburg and 's Hertogenbosch are still coming up, but it seems unlikely that Salzburg will take place with current covid restrictions in Austria.  There were no qualifiers in the Pacific League, but some Australian riders have been competing on the European leagues. 
FEI Rule Change
The FEI Dressage Committee (DC) decided that three slots (the non-league one, the home athlete one, and the extra starting place) will be re-distributed to three Western European League Riders. 
The TDC made the decision in December without consultation with stakeholders clubs, such as the International Dressage Riders Club. 
The rush decision comes at the cost of Yvonne Losos de Muniz (Dominican Republic), who had qualified for the Dominican Republic as non-league rider, and a yet to be named Swedish rider
Kemperman Explains
Eurodressage interviewed Frank Kemperman, chair of the FEI Dressage Committee, on their decision to make the 2021 World Cup Final a rather European affair.
"Of course such a decision does not always fit 100% for all riders and continents, but according to the members of the DC is was the best solution," Kemperman stated. "The COVID-19 situation asks for quick decisions. As usual not all subjects can first be thoroughly discussed with the FEI members (the national federations) and stakeholders. For major decisions, we of course use the Sport Forum."
Kemperman added, "the Committee consists of representatives of riders, trainers, organizers, officials. Each group is involved in the decision which in the end is presented to the FEI board for a definite decision."
Frank explained that the rule change to allow more European riders to the 2021 World Cup Finals in Gothenburg is not money related. The World Cup Final show organizer is responsible for paying the transport fees for all participants. It adds to the total cost when more non-European riders compete in the Finals.
"The World Cup rules were changed after extensive discussion in the Dressage Committee. The theme of money plays no role at all, but we search for the best solution in a difficult situation," said Frank.
Photo © Astrid Appels
Related Links
FEI Decides on 2021 World Cup Finals Participation, Three Extra Places for European Riders
Eurodressage Coverage of the 2021 World Cup Finals