German Sport Horse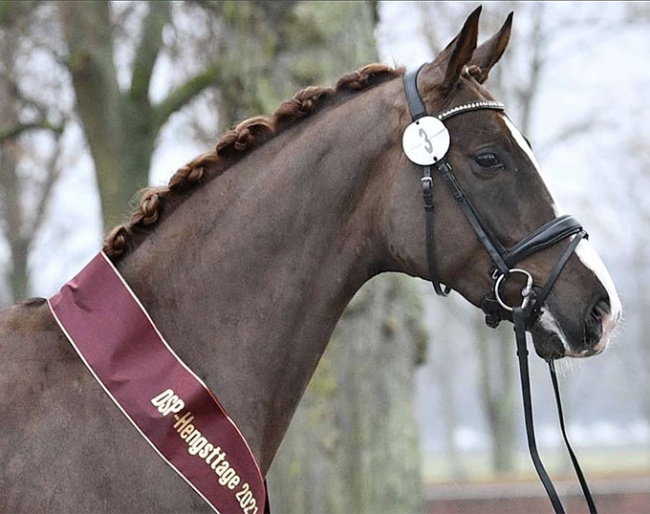 The liver chestnut Best Future (by Benicio x Don Diamond), the champion of the 2021 German Sport Horse (DSP) Stallion Licensing in Neustadt/Dosse, became the price highlight of the online auction on 30 January 2021.
The 2021 DSP Licensing was full of challenges. Two days before its opening in Munich the District Office closed the event due corona restriction and a new location had to be sought last minute. The Licensing moved to the Brandenburg state stud in Neustadt/Dosse. On 28 January the online auction of the dressage colts took place, but the server of the auction host crashed and the auction had to be delayed by two days. 
Stallion owners proved that it was worth the wait as the licensing champion by Benicio x Don Diamond sold for a DSP record price of 630,000 euro to a German client. The bidding took forever as the price only rose with incriments of 1,000 euro per bid. A tough duel between a Swiss and German customers ended up in the advantage of the German. 
The reserve champion already sold on 28 January before the server crash. Helgstrand Dressage paid 300,000 euro for the Ibiza x Sunny-Boy. 
The third most expensive horse was the premium stallion by Zackerey x Don Juan de Hus. He sold for 206,000 euro to Dutch trio Koen Brinkman, Yardena van Es and Gerard Korbeld. 
The Furst Wilhelm x Furst Scheurenhof fetched 110,000 euro and sold to Switzerland, while the premium colt by Vitalis x Diamond Hit found a new owner for 96,000 euro. 
A Diamond Hit x Johnson sold for 80,000 euro to Luxembourg.
 American clients bought a Furstenball x Benetton Dream for 70,000 euro, the For Romance x Fidertanz for 61,000 euro and the Vivaldi x Diamond Hit for 45,000 euro. 
Swedes purchased the Secret x Millennium for 43,500 euro
Related Links
2021 DSP Stallion Licensing Online Auction Interrupted due to Server Crash
Benicio x Don Diamond, Champion of 2021 German Sport Horse Stallion Licensing in Neustadt/Dosse
2021 German Sport Horse Stallion Licensing Cancelled Last Minute, New Location Sought