Blog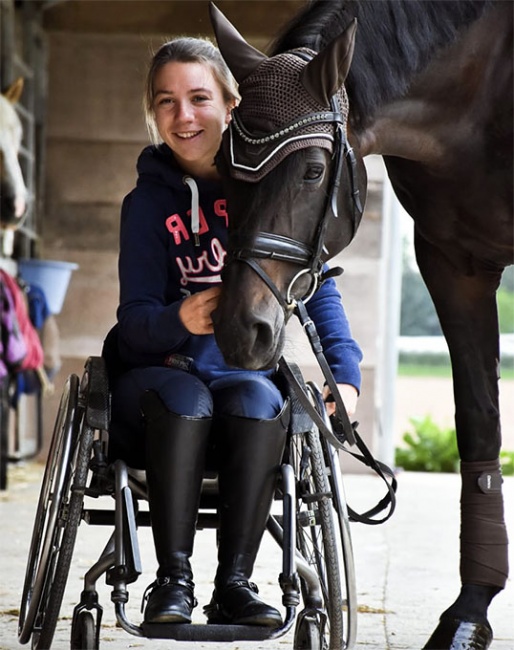 Born with a severe type of cerebral palsy the doctors' outlook on Mara's life was rather unfulfilling. Every aspect of an independent life was questioned from early on. Nevertheless, with the help of her beloved horses, she grew up to be an independent young woman following her dream to someday be a proud Paralympian.
Horse Girl from Early On
What started out as a form of physiotherapy in early childhood, quickly became the most beloved free time activity – horseback riding. Therapeutic riding is a great way to strengthen a patient's body and to train muscles for walking, because the movements of a horse feel very similar to walking for the patient's brain. Not to mention riding is every little girl's dream.
"Horses did more for me than just making therapy fun," she tells Eurodressage smiling. "They taught me how to be persistent and to literally stand up myself and stand up for myself."
What Dreams are Made of
Dreaming of a career in dressage riding, Mara transferred from hippotherapy to assisted riding. Her first trusty Welsh pony Little Dream opened a whole new world for her, filled with ribbons, braids and lots of treats and pony kisses. At first, they competed at local able-bodied shows, doing all the kids and pony club classes in walk and trot, always accompanied by her mother for safety reasons. These classes were all ridden in groups and very often the ponies had other ideas than politely waking and trotting around the arena. Often these competitions ended up being quite frustrating for Mara, as the judges were not able to judge her in comparison to the other abled-bodied children.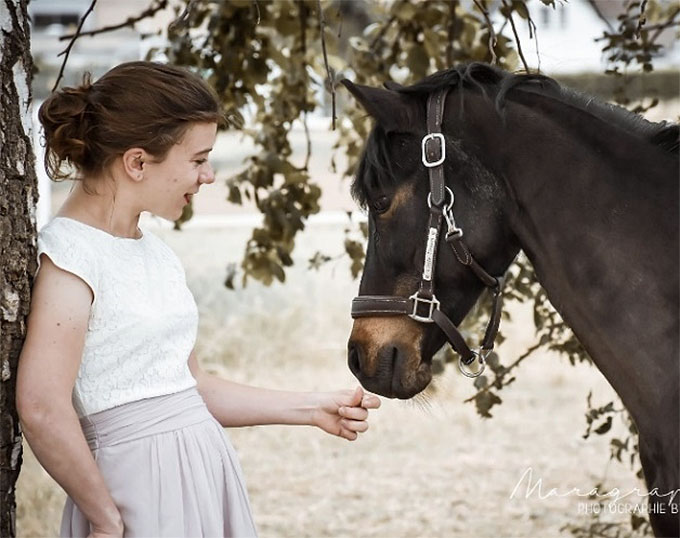 "The competitions were a lot of fun, but also sometimes really frustrating," Mara remembers. "My riding posture differed from what able-bodied children were able to show, which subsequently resulted in low marks. Many of the show organisers were really sweet and rewarded me with a ribbon nevertheless, but I always felt like I didn't earn that ribbon in a fair competition. After all, I've always been the only disabled rider at these shows."
Watching Natasha Baker winning everything possible in para dressage at the 2012 Paralympic Games in London set a new goal onto Mara's horizon, a dream and a possibility to really do dressage in classes where everyone has a disability.
From that moment on it took more than three years to get to that point in training where they were somewhere near good enough to be invited to a try-out event. The tests ridden at try-out events are always the same tests ridden at major championships and require a rather advanced set of skills to ride through.
Returning home successfully, they were allowed to compete in their very first para dressage show, the German Championships in 2015.
Children Keep Growing
Alas, ponies sadly not. After one very successful season showing her tiny Welsh, Mara had to retire the pretty mare due to a severe case of laminitis and she also outgrew the pony.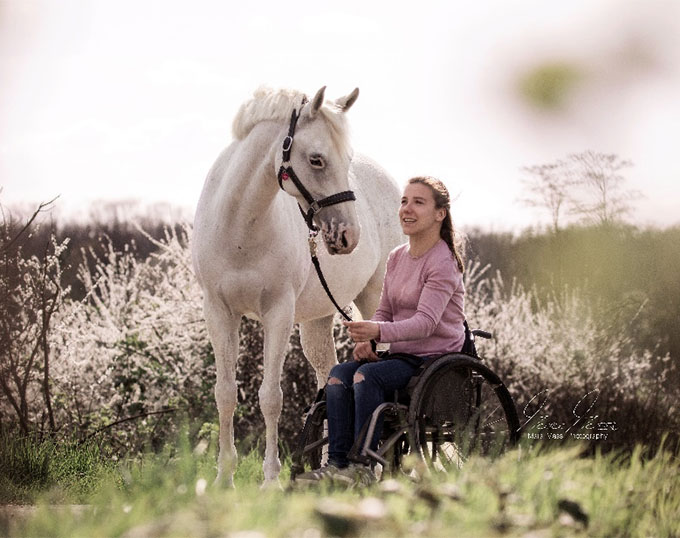 Little Dreams' successor was a young, grey show jumping mare which was spotted by family friends and recommended for her lovely temperament. At first, Mara's brother competed the grey mare in show jumping, but soon realised he rather wanted to do dressage with her. Known to everyone as Cookie, the sweet grey pony turned out to be quite the unicorn.
From 2016 on, the pair worked their way up in training, allowing them to compete at German championships and international competitions all over Europe. Through 2017 and 2018 they gained lots of experience in the ring, showing in the Netherlands, Belgium and of course Germany. Unchallenged in the national para dressage developing championships, they took the gold medal two years in a row, after winning bronze in their first year as a team.
"When summarising all our amazing results and memories from horse shows, it always sounds so easy and happy. Like in those horse movies, where a girl and a horse meet and nothing can stop them on their way to victory. In reality, these records and beautiful memories are the result of a process filled with struggle, doubt, frustration, fear and so many other emotions and obstacles," Mara admits.
"My body often takes longer to learn and adjust to new movements, so learning to ride is, I honestly think, the greatest challenge I faced so far in life," she continued. "A good number of para riders can resort to their riding knowledge acquired before they got their disability, which I believe can help to get a movement just right. I cannot do that, so some things take way more time than they do with other riders."
Challenges ahead
With her eyes firmly set on participating in the Paralympic Hames one day, a full-grown horse eventually joined the team.  "It takes time for a horse and rider to become a team. Especially when the horse is young and unexperienced," Mara explained.
With riding being a family matter, her brother has always helped training, riding and competing the family's horses. Naturally he took over the reins of the mare Querida (by Quadroneur) and trains her throughout the levels of classical dressage.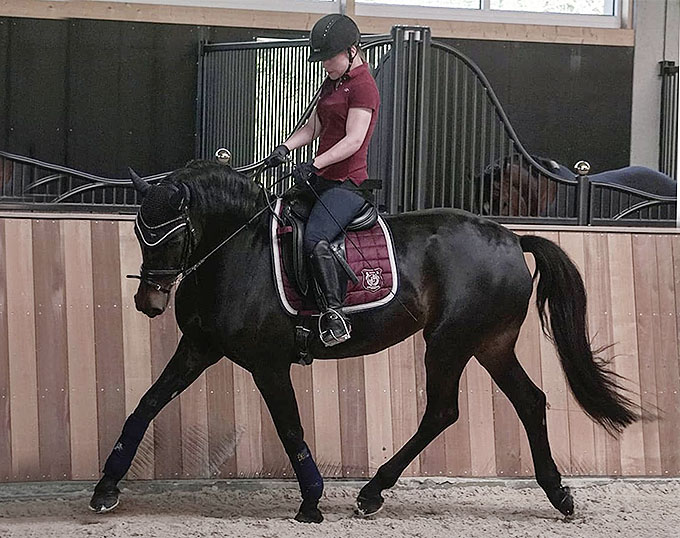 "For me it is crucial, that my horse is also schooled by someone else, as I am not able to canter or do lateral work in faster paces. My brother Frederik can teach our horse to have all the confidence she needs when I am riding her. It is quite perfect, that he also fell in love with riding dressage and competing at shows. It's so much more fun together," she said.
When she's not with her horses, the 23-year old Mara studies at university and works hard on overcoming her disability. Up to three times a week she sees a specialised physiotherapist.
"I started working with a fantastic new team of physiotherapists and certified sport scientists in October. They really helped me progress with my strength, flexibility and stamina and I cannot wait to see how much further they can push me. The difference while riding is already astonishing," Mara said with excitement.
For 2021, Mara plans on competing pony Cookie in local para dressage competitions. With her new horse Querida she aims to gain much experience in training and possibly try and enter her first competition by the end of the season.
When asked what motivates her, she tells: "To enter the arena of a major championship is my number one goal. Hopefully Querida and I will manage to do just that one day, if we keep on working hard."
Photos © private, Mara Massi, 
Related Links
How to Become a Para Rider in Germany
More Para News and Articles on Eurodressage