NRPS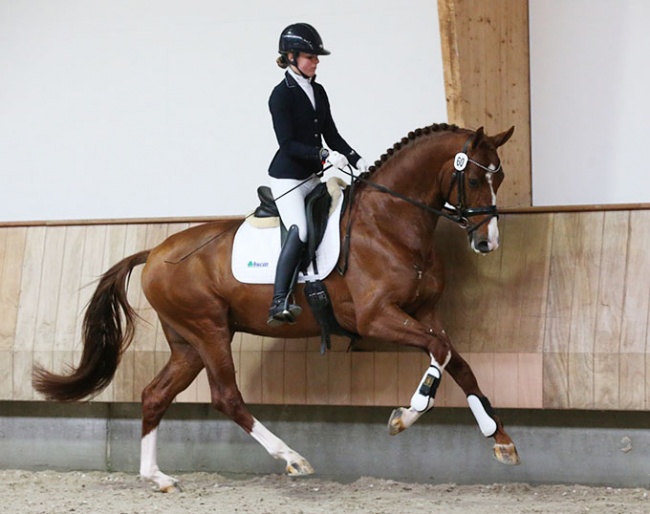 Sixteen dressage bred colts were accepted at the 2021 NRPS Stallion Licensing in Ermelo, The Netherlands, on 18 - 19 February 2021.
They are allowed to move on to the final phase in Lunteren on 3 April 2021 if they fulfill the veterinary requirements and dam report. 
At the third phase the stallions are presented under saddle and licensed. Those that pass will need to do a performance test in order to be fully approved for breeding. 
Dressage colts accepted for the final phase are:
No-Way (by Apache x Gribaldi) - Breeder & Owner: Jurgen van der Meijden
Naqueen (by Trafalgar x Samba Hit) - Breeder & Owner: Jurgen van der Meijden
Nirvana BMH (by Hennessy x Davino V.O.D.) - Breeder: W. Van der Bij - Owner: R. Boskamp
Nirvana le Donia (by Formidable x Rheingau) - Breeder & Owner: De Doniahoeve
Nadal (by Especial x Negro) - Breeder & Owner: Van Olst
Nabucco B.K. (by Vivaldi x Rhodium) - Breeder: Van der Oord - Owner: Y. Van Kessel + A Boersma
No Mercy AVO (by Just Wimphof x Jazz) - Breeder: J Oort - Owner: Van Olst
Noqueen (by Trafalgar x Apache) - Breeder & Owner: Jurgen van der Meijden
Willem Normandi (by For Romance I x Ferro) - Breeder: H van Erp - Owner: C van den Oetelaar
Nacho (by Negro x Krack C) - Breeder: S. Maakenschijn - Owner: Van Olst
Next Generation (by Secret x Vitalis) - Breeder: Frank Moorman - Owner: Wilma Wernsen - Deejay Horses
Flexman B.K. (by Feinrich x Cocktail's Whinny) - Breeder & Owner; Y. van Kessel
Next One ACB (by Hero ACB x Dream Boy) - Breeder: Anne-Claire Bongers - Owner: A. Ligthart
Nino d'ór (by Painted Black x Chippendale) - Breeder & Owner: Berry van der Hoorn
No Nonsens R (by Fürstenball x Olivi) - Breeder & Owner: P. Remmits
Montgomery C (by Johnson x Ferro) - Breeder: Claartje van Andel - Owner: Stal van Vliet
Photo © NRPS
Related Links
Gorgeous Latino, High Scorer of the 2020-2021 NRPS Stallion Performance Test
Licor, Champion of the 2020 NRPS Stallion Licensing
Glamourboy, Champion of the 2019 NRPS Stallion Licensing
D'Joep, High Scorer of the 2019 NRPS Stallion Performance Test
D'Joep Named Champion of the 2017 NRPS Stallion Licensing
Nagano, High Scorer at the 2017 NRPS Stallion Performance Testing
Fideniro, Crowd Favourite of the 2014 NRPS Stallion Licensing
Guidam's Willow the Second, Champion of the 2013 NRPS Stallion Licensing
Thirteen Stallions Approved at 2012 NRPS Stallion Licensing
Twenty Colts Accepted at 2011 NRPS Stallion Licensing
Twenty-Five Colts Approved at 2010 NRPS Stallion Licensing
Fifteen Stallions Approved for the NRPS Studbook
Sunliner, Champion of the 2009 NRPS Stallion Licensing
Ferrero Wins 2006 NRPS Stallion Licensing