Norway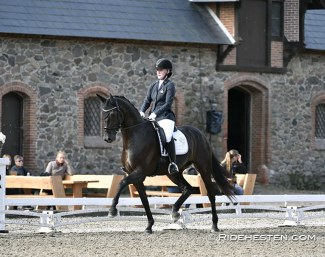 Norwegian Grand Prix rider Siril Helljesen has purchased a half ownership share in a new FEI hopeful: Anna Kasprzak's Falcon.
Falcon is a 2015 born Oldenburg gelding by Franklin out of Lady Lou (by Lord of Loxley). He is one of the first horses that Danish Olympian Anna Kasprzak has bred herself.
The official breeder's name is Stutteriet v/HTK (Hanni Toosbuy Kasprzak, Anna's mom). 
Under Anna's assistant trainer Josefine Hoffmann, Falcon made his show debut as a 5-year old in the late spring of 2020. The pair won their first competition in Kolding with a 73.33%. They also showed at Aaby, Esbjerg, Hobro, and Grindsted, where they competed in the semi-finals as a qualifier for the 2020 Danish Young Horse Championships. They were 23rd with 7.92.
In October 2020 Kasprzak sold a collection of young horses to Andreas Helgstrand, who has now sold a half ownership share Falcon to Siril Helljesen.
"I had a good cooperation with Helgstrand Dressage for many years and now I own 50% of Falcon," said Helljesen. "I liked his natural sharpness combined with three cadenced and good basic gaits. He is naturally uphill and I like such horses with this type of energy."
Siril represented Norway as an individual at the 2012 Olympic Games in London. She is currently the national team captain for the pony and children riders. She runs her own yard and is married to Sjur. They have two daughters. 
Photo © Ridehesten
Related Links
Kasprzak Sells Youngsters to Helgstrand
Helljesen to Replace Jebsen as Norwegian Pony and Children Team Captain
Siril Helljesen Sells Dorina to Austria
Siril Helljesen Officially Selected for 2012 Olympic Games