2021 CDI Wellington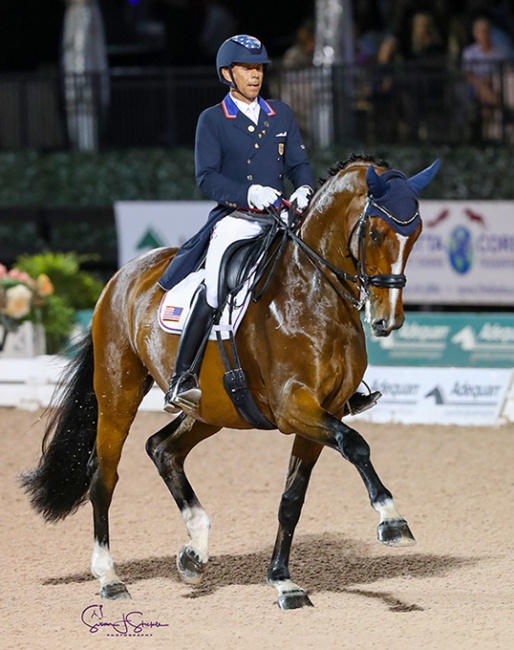 The USA's Steffen Peters and Suppenkasper welcomed a victory in the Grand Prix Freestyle 5* in the first "Friday Night Stars" competition of the season with a filled VIP tent but no audience as the bleachers have been removed due to corona.
"Risked a Little Bit"
"There were lots of things that were great," began Peters. "The piaffe felt really good, great half-passes, the pirouette felt good. To me, one of the highlights of 'Mopsie' now, that used to be so difficult, is the collected walk. I used to have to hide that a little bit in the corner, but now I'm doing it on the diagonal because I can really show the relaxation. That might look like a boring movement, but to me it's huge. Of course, I risked a little bit much in that one extension, so he broke; one little fumble. The rest felt great."
Despite having no general attendance, the night still had its usual buzz of excitement with sounds of activity coming from the VIP tables, and Suppenkasper handled the atmosphere like a pro. Peters rode to a slightly different floor plan than normal, and despite some miscommunication, still pulled off the +80%.
"The floor plan was different this time," he said. "I do the extended walk 20 meters and then another 20 meters collected walk across the diagonal. So, the half-passes are going the opposite way. I think that was slightly confusing to the judges. There was a little miscommunication before, but it was my fault. I should have been clearer about it.
"One thing you don't want to do, you don't want to confuse the judges. And I did," he said with a smile.
The pair have finished competing at GDF, and they will resume their training with the hope of making it onto the final USA Dressage shortlist. Peters concluded, "We decided to bubble wrap him from here and preserve him and head back to California next week."
Losos and Seidel Complete Top Three
Second place  went to Yvonne Losos De Muniz (DOM) on Aquamarijn, her own 2005 KWPN mare by United, with 77.070%.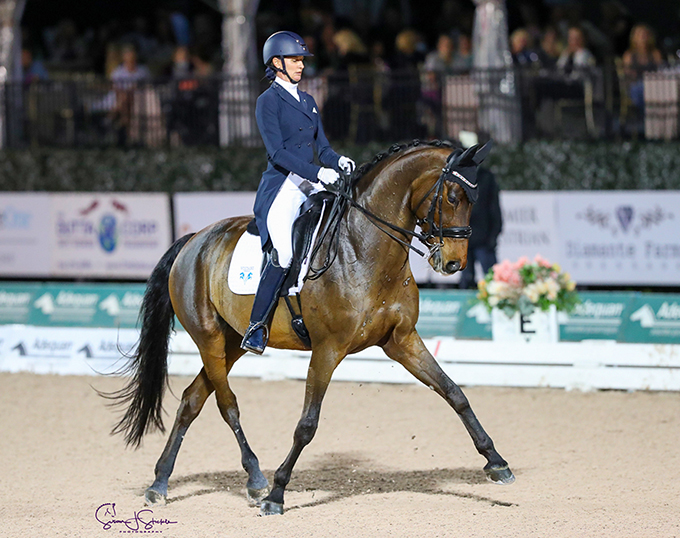 Of her mount and their night's performance, Losos De Muniz said, "Tonight [Aquamarjin] felt amazing. I always go full out; 100 percent for everything. If I get it, that's great; if I don't, it's a disaster. I like riding like that, and I did it again tonight. I went full out on certain things that I paid for at the end, but that's the part I like about it, seeing how much I can push it. I'm not very good at being conservative. Some of the things I pushed, I've never felt before, like the pirouettes. The passage [and] piaffe is also getting a lot better. I can push a little more. I tend to always have to push it to the edge, so I do it. If I don't get it, I don't."
Guenter Seidel (USA) on Equirelle, Leatherdale Farms and Louise Leatherdale's 2009 KWPN mare by Florett AS, closed out the top three with a 75.560%. The evening was the mare's first time competing at night under the lights, and Seidel was impressed with how she stepped up to the plate.
"For the state we're in in our partnership," he explained, "I was pleased with her. Compared to [Yvonne] riding at 100 percent, I only ride at 50 percent. Hopefully that will change in the future, but I'm very pleased with her and I'm super happy with how she handled it all and how she presented herself. Nothing was perfect, but she stayed with me the whole time. It was overall a harmonious ride, and I think that's what everyone is looking for."
Only 5* in Western Hemisphere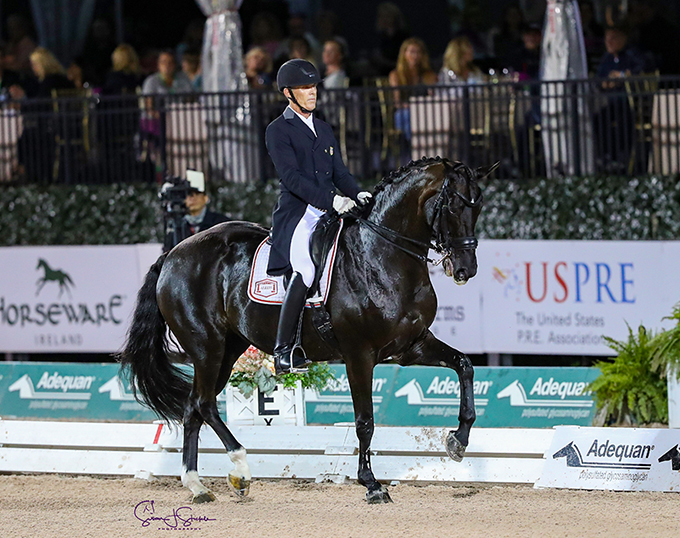 Judge at C Michael Osinski applauded the evening's rides, noting the quality of the performances and of the entire event. "Certainly, we have to say that in light of the current environment, it's exceptional to be here," admitted Osinski. "It's wonderful to see such high-quality riding. We just owe kudos to the organization, to all of the people that participate in this, and to the riders for being here. It's very special."
AGDF Director of Sport Thomas Baur concluded, "It's really important to have a five star here in the U.S, as it's the only one in the Western Hemisphere. I think the turnout for the five star and the quality is more or less 90 percent of the top riders here in the country. I'm happy about that, and we'll continue to offer the five star in the future."
Kelly Layne Rides Second Personal Best This Week
The night began at 7 p.m. with the Grand Prix Freestyle 3*. Australia's Kelly Layne topped that class with a fierce freestyle created by Gary Patterson.
Layne and Samhitas, the 2009 Oldenburg gelding by Sir Donnerhall I that she co-owns with Nori Maezawa, topped the class with a 76.500%.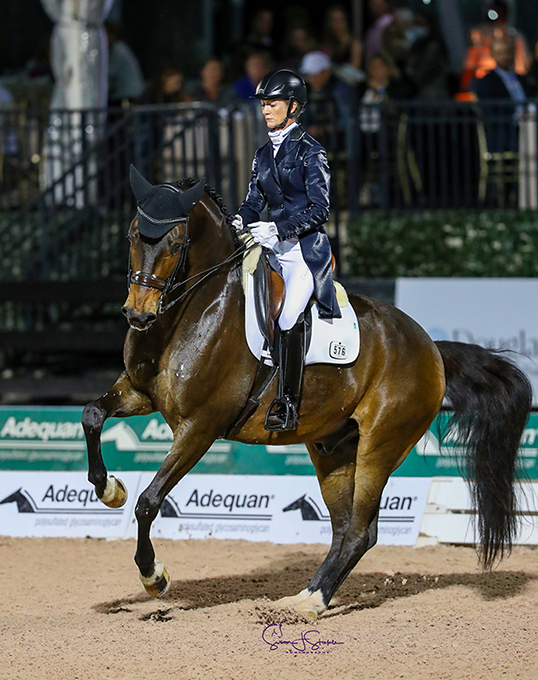 "He actually felt really, really good in the test tonight," expressed Layne. "He was a little bit nervous walking in because he hasn't done this for a year, but the moment the music came on, he got a little excited, and once we went in it was like he was glued to me. I felt like I was floating. I think we were!"
Kelly Layne and Samhitas wowed the crowd with a test that the judges rewarded with 76.500%. ©SusanJStickle The pair had several show-stopping moments throughout their test, and Layne noted the gelding's strength and how they paired well with her own.
"I think the horse has an exceptionally beautiful trot," she said. "Just from God, it's nothing that I've done to it. My job is to show it off to the best of my ability. The trot half-passes really felt like a highlight; the passage was a highlight. He struggles a little bit with the piaffe, but I was really pleased with it in there. There was no doubt in my mind he was going to do it. My one tempi changes, I'm very happy with these. He nailed both lines. That's something that is a little bit of a feature on him as well. In the trot, he really gets super expressive in it. I was super happy with how relaxed he was in the walk. To go from such high energy and then he just was like, 'Oh good, we're walking.' Anybody who is at that level knows how difficult that is to do."
The night's score was the duo's second personal best of the week, and Layne relayed her excitement.
"I'm thrilled to have a personal best tonight," she said. "We hoped that we could achieve this level, and he's still really young. He's a June baby, so he's not quite 12 yet, and we've only been together for two years. I feel like we're becoming a combination. For sure it takes that long; you can't do it in less time, to know each other and all your little quirks. He has to understand my strengths and weaknesses as well, and he covers for some of them, that's for sure."
Jennifer Williams (USA) and her own Sueno Hit, a 2008 Oldenburg gelding by Sandro Hit, rode away with second place honors after earning a 71.860% in the FEI Grand Prix Freestyle CDI3*, presented by Premier Equestrian. Dong Seon Kim (KOR) on DSK Belstaff, his own 2007 Hanoverian stallion by Brentano II, earned a 70.085% that put them in third place.
Boreas FRF and Lord Nunes Stand Out in the Small Tour
Earlier in the day, Peters topped the Prix St. Georges 1* aboard Five Rings Farm's 2012 Oldenburg stallion by Bordeaux, Boreas FRF, with a 74.706%. Second place went to Susan Pape (GBR) on Giulilianta, a 2011 KWPN mare by Jazz owned by Pape and Harmony Sporthorses, with 72.990%. Peters (USA) also rounded out the top three of the 10-horse class with Boston Strong, a 2010 Oldenburg gelding by Bordeaux owned by Christina Vinios, with 71.519%.
In the Intermediaire I 3* Dong Seon Kim (KOR) took home the win on his own Lord Nunes, a 2012 Rhinelander stallion by Lord Loxley I, with 71.177%. Canada's Alexandra Reid earned the second place award with Flynn, Elaine Cordia Van Reesema's 2010 Danish Warmblood gelding by Wynton, with 67.990%. Third place went to Michael Klimke (GER) on Domino 957, Uwe Kappel's 2012 Westphalian mare by Den Haag 12, with 67.500%.
-- GDF press release, edited by Eurodressage.
Photos © Sue Stickle
Related Links
Scores: 2020 CDI Wellington
2021 Wellington 5* without American All Stars?
Peters and Schut-Kery In the Blue in 5* Grand Prix Classes at 2021 CDI Wellington