Denmark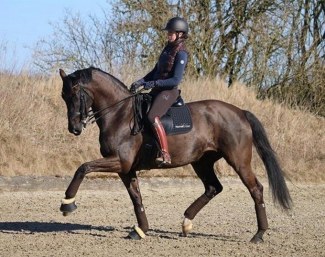 Sponsors Ingrid and Poul Thøgersen has secured a second horse for Danish Grand Prix rider Carina Cassoe Kruth. They purchased the 7-year old Danish warmblood mare Diaz for her. 
Diaz is by Sezuan x De Niro and bred by Tina Zaber. 
Cassoe Kruth has been developing Diaz for the 7-year old tests this year and aims for the 2021 World Young Horse Championships.
After posting a training video on social media in January, international interest in the horse was sparked. Kruth, however, was able to convince her sponsors Ingrid and Poul Thøgersen to purchase Diaz as an investment project.
The Thøgersen couple of Four Oaks brood farm in Denmark are no strangers to Kruth. In January 2017 they already purchased Carina's current Grand Prix horse, the Danish Olympic team short listed Heiline's Danciera (by fFurstenball x De Niro). They also own Red Diamant (by Romanov x Dream of Heidelberg), which was first competed by Anne Marie Hosbond and as of 2017 by Carina. Red Diamant competed at the 2017 and 2018 World YH Championships, but hasn't been shown since 2018.
"I am incredibly honoured to be allowed to continue the training of this talented mare, but also and not least to expand the good collaboration with Ingrid and Poul, with whom we already share so many great experiences," Kruth told Ridehesten.com.
Photo © Signe Baun
Related Links
Heiline's Danciera Sold to Danish Brood Farm Four Oaks