2021 CDI-W Wellington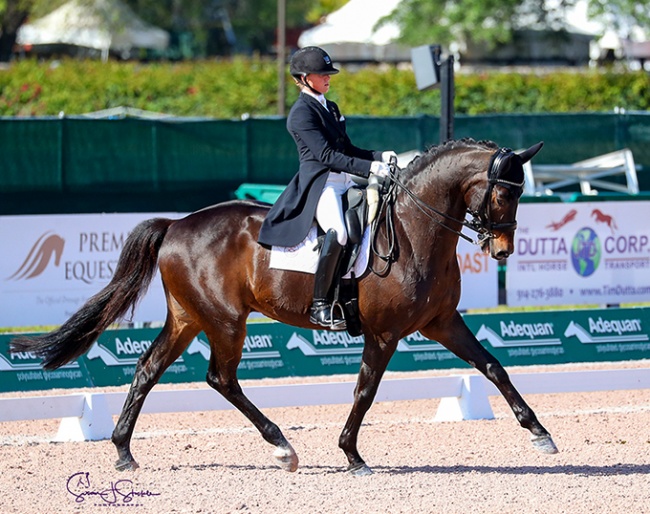 The Florida International Youth Dressage Championships (FIYDC) took place during Palm Beach Dressage Derby week at the 2021 Global Dressage Festival 3 - 7 March 2021, welcoming young riders from around the globe into the International Stadium.
Twenty-year-old Camille Carier-Bergeron (CAN) and Gilles Bergeron's 2008 Westphalian gelding Sound of Silence (by San Amour), topped the entire championship as overall High Point combination, earning an overall score of 73.629%
Seventh Year, First Time High Point Champion
This was Carier-Bergeron's seventh year competing in the FIYDC, and she noted how proud she was to have started in the pony divisions and worked her way up. "It's my last young rider year, so it feels great to have achieved our personal best at the Youth Championship with 'SOS [Sound of Silence 4]."
Carier-Bergeron topped the Young Rider Division with Sound of Silence, earning their personal best in their Young Rider Freestyle with a 78.145%. Second place went to Natalia Bacariza Danguillecourt (ESP) riding Dhannie, Yeguada de Ymas S.I.'s 2007 Hanoverian gelding by Don Crusador, with a score of 72.426%. Third place in the division went to Christian Simonson (USA) aboard Hemmingway, his own 2010 Hanoverian gelding by Hendrix, with 71.170%.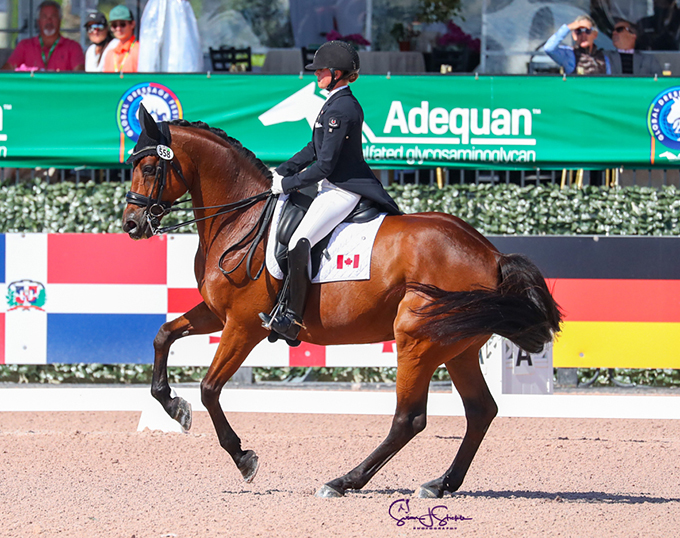 Carier-Bergeron continued, "I couldn't be prouder of my horses this week, Sound of Silence in particular. I got him in 2017, and when I bought this horse, he was a bit shut down and I couldn't do much with him; we were barely able to canter. Looking back on that, and seeing us today achieving our personal best in our freestyle, it makes me want to cry! He gave his heart to me in there."
Top Honours in Young Rider and U25 Division
Carier-Bergeron also claimed champion honours in the CDIU25 16-25 Division this time with Acoeur, Gilles Bergeron's 2007 Baden-Wurttemburg gelding by Acordelli, with 71.422% overall.
She explained, "Acoeur has been with me since 2019, and he is such a steady horse. On Thursday he lost a shoe in the middle of the test, and he was sound and kept going. I tried my best to stay focused, and he did it all with three shoes and was such a good boy. This is a hard week; it's three days of difficult competition, and it can be exhausting for them, but these horses of mine just keep going and give it their all. I couldn't be happier with them."
She concluded, "I would like to thank Diamante Farms because they sponsor all of the youth classes show after show, and I think it is really great to have such a wonderful sponsor."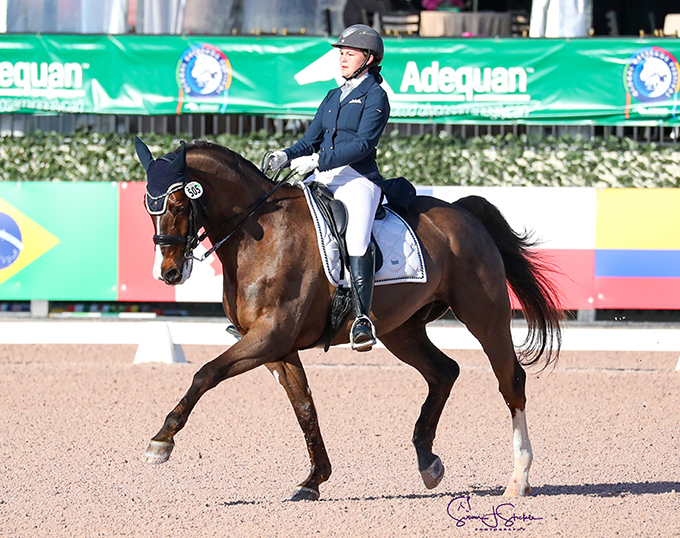 Hope Cooper (USA) came in second in the 16-25 freestyle riding Hot Chocolate W, Mary Mansfield's 2005 Hanoverian gelding by Hochadel, with 70.315%. Third place was rounded out by Codi Harrison (USA) and Katholt's Bossco, Harrison's own 2007 Danish Warmblood stallion by Blue Hors Don Schufro, riding to a 70.079% score overall.
In the CDI Junior Division there were only two riders competing. Maribeth Hebert (USA) won it all with Florieux, her own 2002 Wephalian gelding by Furst Piccolo, earning a 66.340% in their Freestyle together.
There were no pony and children divisions this year due to no entries.
Photos © Sue Stickle
Related Links
Scores: 2021 CDI-W Wellington
Carier Bergeron and Sound of Silence Make Magic with "Patience, Love and Determination"
Bacariza Wins Florida International Youth Dressage Championships on Concluding Day of 2020 Palm Beach Derby
Bacariza Dominates 2019 Florida International Youth Dressage Championships
Belles, Lemaire, Bacariza, Boucher, Fuentes Win 2018 Florida International Youth Dressage Championships
Widmayer, Ellery, Creech-Terauds, Porsche Win 2017 Florida International Youth Dressage Championships
Irons, Hendricks, Matute Guimon, Molina Win 2016 Florida International Youth Dressage Championships
Canadian Youth Riders Cover Ground at 2016 Florida International Youth Dressage Festival
Hickok, Von Lierop, Matute, and McAuliffe Triumph in 2015 Florida International Dressage Youth Championships
Strasser-Shostak Wins Florida International Youth Dressage Championships at 2014 CDIO Wellington