FEI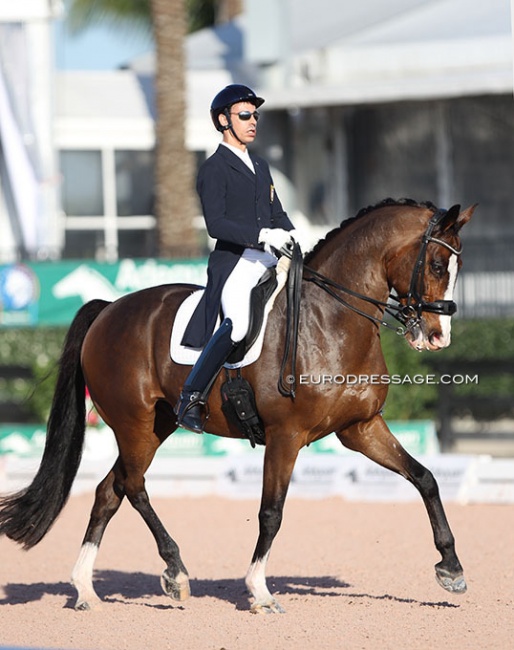 The FEI has announced the participants for the 2021 World Cup Finals, which will take place in Gothenburg, Sweden, on 30 March - 4 April 2021. 
Two Western European Slots Opened Up
Four slots have been filled with riders who did not originally quality for the event.
Two Western European League slots were declined by qualified riders: Cathrine Dufour chose not to compete Atterupgaards Cassidy, with whom she won the CDI-W Vilhelmsborg in October 2020. Also Austrian Florian Bacher chose not to make the trip to Sweden. He recently broke his arm and is still recovering from his injury.
Both Dufour and Bacher tied in 9th place on the Western European League ranking.
One of those spots have been taken by the American based Israeli rider Sahar Hirosh, who will be making his World Cup debut aboard the 18-year old Dutch warmblood Whitman 
No Pacific League rider
No Pacific League rider was found to fill that slot. The 2020 Pacific League Finals did not take place due to Covid-19, but the spot could have been filled by a European based rider who competed here in the circuit.
That slot remains empty, which meant that three extra starting places became available
Three Extra Starting Places
These three extra starting places have been filled by two North American dressage riders: Canadian Brittany Fraser-Beaulieu on All In (by Tango) and American Shelly Francis on Danilo (by De Niro). 
The final starting place has been allocated to home rider Antonia Ramel on Brother de Jeu. 
(Almost) Free Trip to Sweden
The show organisation of the World Cup Finals traditionally covers all the expenses for the riders. There is no entry fee, nor stabling fee, no hotel costs for rider and grooms, and the organisation pays for their meals during the show.
For the 2021 World Cup Finals the show organisation in Gothenburg will have to fly in no less than 6 (!!) dressage combinations from the U.S.A. They are all currently based in Florida. 
If the World Cup Finals take place in the U.S.A., the organising committee covers all travel costs for the horses. If the Finals are in Europe, a budget is allocated. 
In 2021, a travel budget for the flights of horses and riders coming from North America, has been set on 15,000 CHF (13,500 euro) per horse and 1,500 CHF (1,350 euro) per athlete for their flight from the U.S.A and back.
In the case of withdrawals after the date of definite entries or no-shows the athlete or the respective NF will be held liable to reimburse the Organiser for the actual financial loss incurred by the Organiser (i.e. stabling and hotel expenses)
Complete Starters Lists
Western European League (9 slots)
Jessica von Bredow-Wernd - Dalera or Zaire E
Helen Langehanenberg - Damsey or Annabelle
Patrik Kittel - Delaunay OLD
Morgan Barbancon - Sir Donnerhall II
Anna Merveldt - Esporim
Thamar Zweistra - Hexagon's Double Dutch
Christian Schumach - Donna Karacho
Carina Cassoe Kruth - Heiline's Danciera
Sahar Hirosh - Whitman
Central European League (2 slots)
Regina Isachkina - Fyrca
Csaba Szokola - Enying
Pacific League (1 slot)
North American League (2 slots)
Olivia Lagoy Weltz - Rassing's Lonoir
Charlotte Jorst - Nintendo
Non-League NF's (1 slot)
Yvonne Losos de Muniz - Aquamarijn
Title Defender (1 slot)
Isabell Werth - Weihegold or Emilio
FEI Extra Starting Places
Antonia Ramel - Brother de Jeu
Shelly Francis - Danilo
Brittany Fraser-Beaulieu - All In
Related Links
2021 World Cup Finals in Gothenburg Are On, List of Participants Taking Shape
Eurodressage Coverage of the 2021 World Cup Finals