Australia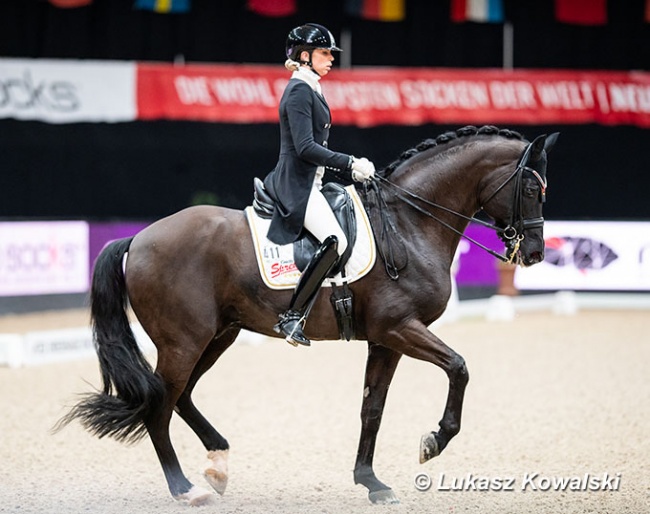 Australian Grand Prix rider Simone Pearce has declined the invitation to compete at the 2021 World Cup Finals in Gothenburg, Sweden, on 30 March - 4 April 2021. 
Pacific League Rider
One slot is available to the winner of the Pacific League World Cup finals, either held in Australia or New Zealand. However, due to the corona pandemic the league finals in Australia were cancelled.
The slot could also be allocated to another Pacific rider; who competed on the World Cup circuit anywhere else in the world.
The highest ranked one was Simone Pearce, who rode the 14-year old Hanoverian stallion Destano (by Desperados x Brentano II) at the CDI-W Salzburg in Austria in January. They finished 11th in the Kur to Music with 73.265%.
EHV-1 Precaution
Pearce however had to decline the invite to Gothenburg. 
"I'm very honored to have been invited to ride at the World Cup Final with Destano," Pearce stated. "I'm sure the show will run in the absolute safest way possible, but with so many horses and active breeding stallions at our stable, we want to avoid even the smallest risk and focus on the Olympics later in the year."
The pacific slot for the 2021 WC Finals has remained empty and the slot became an extra starting place.
EHV-1 Outbreaks in Europe
Following a massive outbreak of the neurological form of the Equine Herpes Virus-1 at the international show jumping tour in Valencia, and with further outbreaks on jumper circuits in Vejer de la Frontera, Doha and Italy, the FEI decided to immediately cancel all competitions until 28 March.
National Federations on European mainland followed suit and closed down all national shows until 28 March as outbreaks have been reported in Denmark, Sweden, France, Belgium, Germany, etc. 
One of the heaviest hit riders is German jumper Sven Schlüsselburg who lost two of his competition horses and six foals so far to EHV-1. He travelled from Valencia to Doha and brought to their German barn suspected through clothes and the dog (read more here).
While outbreaks continues to take place across Europe, the FEI is all systems go for the 2021 World Cup Finals in Gothenburg, the first weekend after 28 March. The show is not open to the audience and hygiene measures are put in place. 
Photo © Lukasz Kowalski
Related Links
Participants for the 2021 World Cup Finals Announced
2021 World Cup Finals in Gothenburg Are On, List of Participants Taking Shape
Eurodressage Coverage of the 2021 World Cup Finals