2021 CDIO Wellington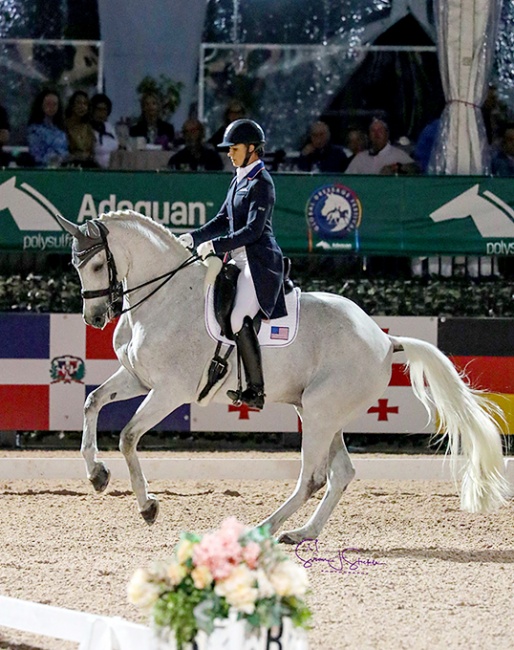 Week ten of the 2021 Global Dressage Festival (AGDF) continued on Friday 19 March with a winning ride for Adrienne Lyle (USA) and Harmony's Duval in the Grand Prix Freestyle CDIO3* ridden under floodlight. 
Friday was an action packed day at the 2021 CDIO Wellington with Frederic Wandres winning the CDIO Small tour Kur, Camille Carier Bergeron taking the blue in the Under 25 CDIO Kur and Korean Dong Seon Kim claiming victory in the CDI 3* Grand Prix Kur.
Lyle: "It was worth staying up past my bedtime"
Lyle and Harmony's Duval, Duval Partners LLC's 2008 KWPN gelding by Rousseau, conquered the freestyle under the lights, riding to a score of 80.020%. "It was worth staying up past my bedtime!" she joked.
"There's really nothing that compares to riding at Global on a Friday Night Stars," continued Lyle. "It's one of my favorite experiences in the horse world. To do this on Duval, who we had from when he was unbroke, all the way up to becoming an individual gold medalist here, is just really special. I've got an unbelievable group of owners that have supported me along the way. "
Lyle noted that her freestyle is from her previous mount Wizard in 2011 at Dressage at Devon, but thought it would fit well for her mount's second ever freestyle.
"I wanted to go back to something I knew since Duval has done one freestyle in his life, so I could give him a good experience out there," she explained.
Lyle and the gelding produced top performances all week, achieving the highest scores in both the grand prix and grand prix special before contesting the freestyle. "I started with the canter work with him [when planning the degree of difficulty]" she remarked. "I think he's got some fun, powerful canter work. It's not the most difficult freestyle out there nowadays. When I made it, they didn't have the degree of difficulty score the way that they do now. But it still has double pirouettes [and] piaffe pirouettes, so it gets enough [degree of difficulty points]. I think it's a really fun one; it doesn't always have to be for him the most difficult every time he goes out."
Judge at C Stephen Clarke (GBR) awarded Lyle with an 82.775%, and commented on her strong performance. "The reason why I gave Adrienne such a high mark," he explained, "was an easy one – the hair on the back of my neck was standing up because the music and power and expression of the whole performance was outstanding."
Rookie on the Rise
Second place went to the night's youngest competitor, 21-year-old Benjamin Ebeling, who excelled in his first senior grand prix freestyle under the lights in Wellington with Illuster Van De Kampert, a 2008 Belgian Warmblood gelding by Spielberg, owned by Amy Roberts Ebeling and Sasha Cutter for Nuvolari Holdings LLC.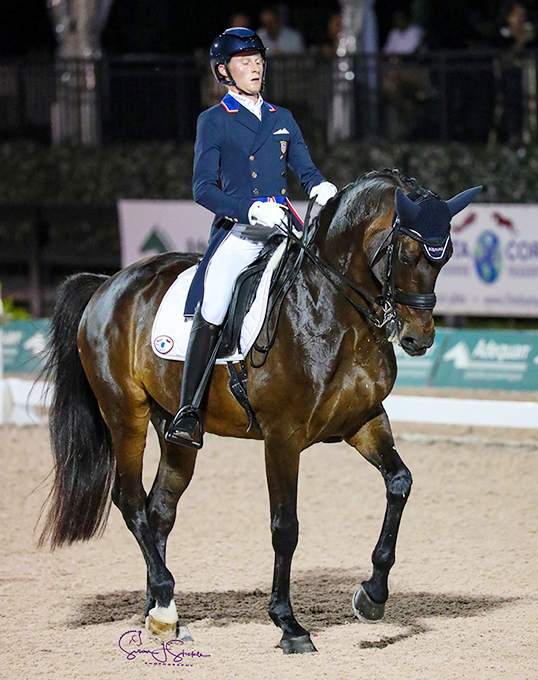 "I was talking with my teammates Adrienne [Lyle] and Katherine [Bateson Chandler] and Jennifer [Williams], [about the fact that] it's so cool that I got to grow up watching Adrienne and Katherine and people like my dad [Jan Ebeling] all ride on a team together," he said. "Finally I'm here, and it's surreal."
Ebeling had a successful career in the Under 25 division and worked his way up to the senior level with Illuster. "I would be remiss if I did not mention George Williams and Charlotte Bredahl," he continued, "going through the pipeline of junior, young rider, U25, and now the international grand prix. The support I've had from them has really been amazing. Like Adrienne said, I don't think there's anything like riding under the lights here. I've always wanted to do it for the last four years that I've been in Wellington. To do this for the first time is really, really cool."
The pair had never ridden this freestyle together, and Ebeling noted that the "Star Wars"-themed ride had just been finished the day before. "It was ready yesterday, and I ran through it on foot before I got here. That was the first time ever riding to it," he stated. "This is his first time competing for three days in a row. In the warm-up he was a little tired, which is to be expected. But then as we got in that arena, he perked up. Let me tell you, I had so much fun riding that freestyle, because I'm also a 'Star Wars' fan!"
He concluded, "I need to mention the support of the two owners, my mom, Amy Ebeling, and Sasha Cutter. They've been behind me all of the way and have been a big part of our development along with my dad who's my day-to-day coach, and Christoph Koschel who has really helped me fine tune the horse. I'm so proud of his development. At the beginning of last season we weren't doing so well, but we finally managed to calm down his nerves and bring a presence into the show arena that I'm so proud of, and I'm so proud of the whole team."
Bad Allergies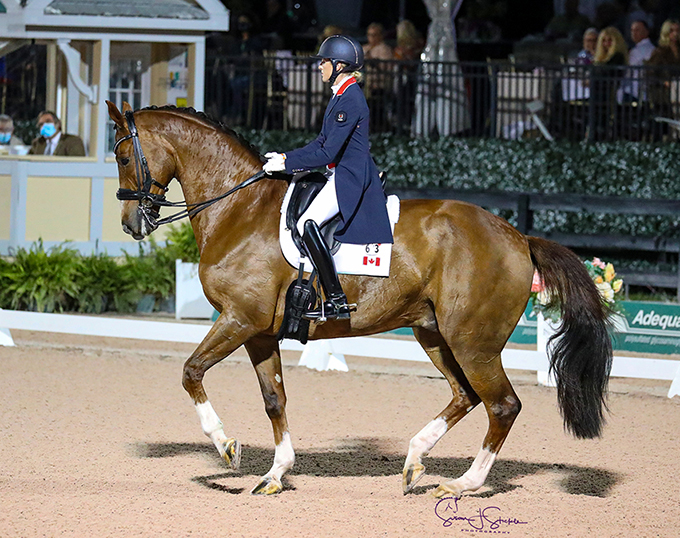 Third place was awarded to Canada's Brittany Fraser-Beaulieu and All In, Brittany Fraser and Marc Andre Beaulieu's 2005 KWPN gelding by Tango, who received a 77.065% for their test.
"All In had to have 10 days off because he had really bad allergies," explained Fraser-Beaulieu. "That's why I had to withdraw from the five star. Personally he wasn't as fit as I would have liked him to be for the Grand Prix and the Grand Prix Special this week, but each day I felt him get better and better.
"Tonight he felt like his old self again," she said. "That, for me, made me very happy, and it was a relief to say, 'He's back, and he has this.' He's so fun under the lights. He has so much power, so much scope. Last time we competed under the lights was a year ago at Nations Cup. It's always such a fun time."
Germany's Frederic Wandres Win Intermediaire I Freestyle CDIO3*
Frederic Wandres (GER) and Quizmaster, Hof Kasselmann's 2012 Hanoverian stallion by Quasar de Charry, captured another win this week, this time in the Intermediaire I Freestyle CDIO3*.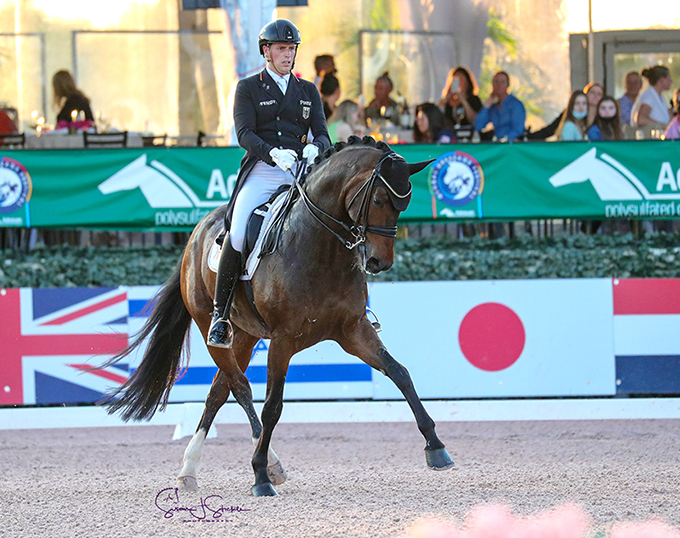 "I jumped into cold water a little bit tonight," admitted Wandres, who earned a 78.875% for the performance. "It was the first freestyle for the horse and for the both of us together. He's still young. We did our first freestyle together here, and on top of that, it was under the lights, but he managed everything very well. When the music started I got a super powerful trot tour from him, and in the walk he's always easy and relaxed, but when we started the canter I wished our music was a little lower, because I felt him come a little up, and I had to make sure he wasn't very tense. Overall I am very happy. He had three days with this weather, super results all three days with a powerful and expressive horse, so I'm very happy."
This is Wandres' first season competing in Wellington, and he expressed his gratitude for being able to put show miles and experience on his up-and-coming mounts in the welcoming atmosphere.
"I think that I'm very privileged to be here this season," he expressed. "At home in Germany there is nothing going on, and we will have to see when we can start to do more shows. To come here and to compete and see how the horses develop – it was time to bring them out – and to do it here in Wellington with this atmosphere, around those who support us even when it's not so good, I feel super lucky to be here."
Second place was awarded to Kevin Kohmann (GER) and Five Star, Equitas LLC's 2010 KWPN stallion by Amazing Star, earning a 77.040% for their efforts. Third place was presented to Australia's Sally Lofting and Quinlan CF, Janet Rubino's 2009 Oldenburg stallion by Quarterback, with 69.345%.
Carier Bergeron Ends Successful GDF Season with CDIO U25 Freestyle Victory
Canada's Camille Carier Bergeron added a second gold medal to her week's collection after riding to the top of the podium in the FEI Grand Prix Freestyle CDIO-U25, presented by Diamante Farms.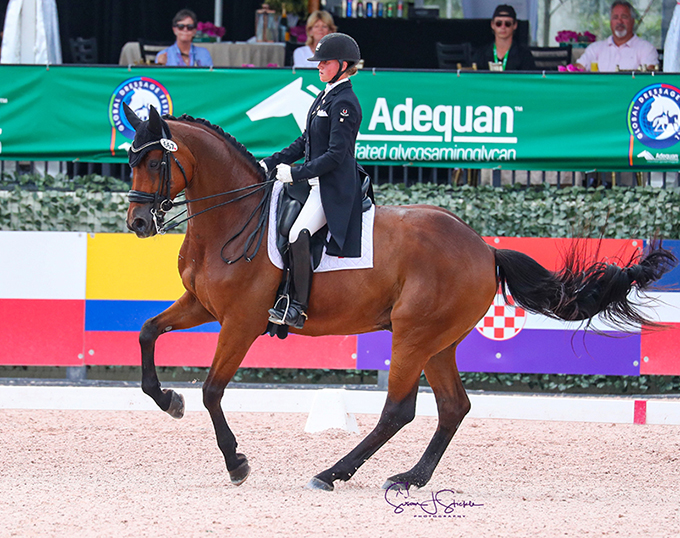 The 20-year-old piloted Acoeur, Gilles Bergeron's 2007 Württemberger gelding by Acordelli, to a score of 74.485%. "I'm over the moon," she admitted. "I can't really believe what a successful few weeks it's been; it feels unreal. It makes me happy to see that our hard work has paid off and that we can be successful in the ring. I'm thrilled."
The pair rode to a personal best in their freestyle created by Karen Robinson, and Carier Bergeron noted her horse's strengths and her fondness for the music. "Acoeur is very strong in all of the movements from the canter tour," she explained. "We usually get higher points there. When our test is clean and the canter tour is strong, we can end up in the 70s."
She continued, "I first rode [my freestyle] here at the Nations Cup last year; it was my first time riding it and then everything shut down, and we went home. This is only my fourth time riding it, and we achieved a personal best, so it is really exciting. The inspiration for some of it comes from the advertisements for my uncle's private game preserve in South Africa. When I saw the videos I loved it, and my uncle thought that it was a great idea. So now each time I ride it, I think of my family, my uncle, South Africa, so it also makes me travel."
This week marked the last at GDF 2021 for Carier Bergeron, and she concluded by thanking those that made her successful season possible: "When I first got down here, it took us a few shows before we really had our game face on. When we finally got that back, I had a personal best at the [Florida International Youth Dressage Championships] during Week 8, and now a personal best in the freestyle today, so I feel like this season was a success. I'm sad to leave and go home because I feel like we are on such an up. But that is life, and I am just thankful to the organizers here for hosting a show and competing here safely."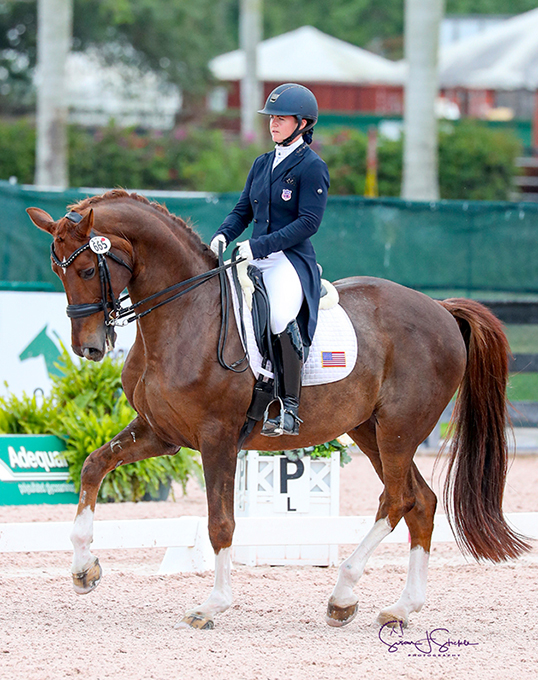 Codi Harrison (USA) earned her third silver medal of the week, keeping things consistent aboard Katholt's Bossco, her own 2007 Danish Warmblood stallion by Blue Hors Don Schufro, riding to a 74.030%. "My freestyle actually belongs to my trainer Lars (Petersen)," revealed Harrison. "Marlene Whitaker made it for him, and he didn't end up using it. I needed a freestyle a few years ago, and he let me borrow it and it matched the horse quite well, so we've stuck with it."
The 24-year-old has been partnered with her mount for seven years, and the pair has worked their way up together from the young rider levels of the sport. "I got him as a young rider horse," said Harrison, "and we struggled through that, and then he ended up actually being a better grand prix horse. He's been so fun to learn the grand prix with, and he's so consistent. We're finally able to take the performance we have at home and bring it into this ring. He's a good boy with a good heart, and he's a lot of fun."
Third place went to the USA's Hope Cooper and Hot Chocolate W, Mary Mansfield's 2005 Hanoverian gelding by Hochadel, winners of yesterday's Short Grand Prix with 70.695%. "I'm really happy to be sitting here with these two amazing riders," began Cooper. "We grew up together, and I can't say I'm disappointed to be sitting here next to them."
She continued, "I don't think it was our best test today. I think he was a bit tired, and that made him a little less focused on me and a little more focused on the surroundings, which happens to the best of us. He really did try and is always amazing and tries to really be on it, so I couldn't ask for more from him. Three days in a row at this level is hard, but he did his best, and I'm happy to be here."
Dong Seon Kim Does the Double
Earlier in the afternoon, Dong Seon Kim (KOR) rode his own DSK Belstaff to victory in the Grand Prix Freestyle 3*. Kim and the 2007 Hanoverian stallion by Brentano II rode to a score of 72.910%.
"In 2008, I was here [in Wellington] and getting 56% and always on the bottom," explained Kim. "Thirteen years later, to win something like this is an amazing feeling. I want to repeat this experience on horses that I have trained myself. I'm competing one horse in the Grand Prix Special tomorrow that I've owned since two [years old] and trained since three [years old]. I want to repeat the winning experience on horses that I've trained myself. That would be a real goal for me."
Kim has ridden DSK Belstaff for three years; the talented horse was previously trained by Hubertus Schmidt and competed at the 2018 FEI World Equestrian Games in Tryon for Denmark.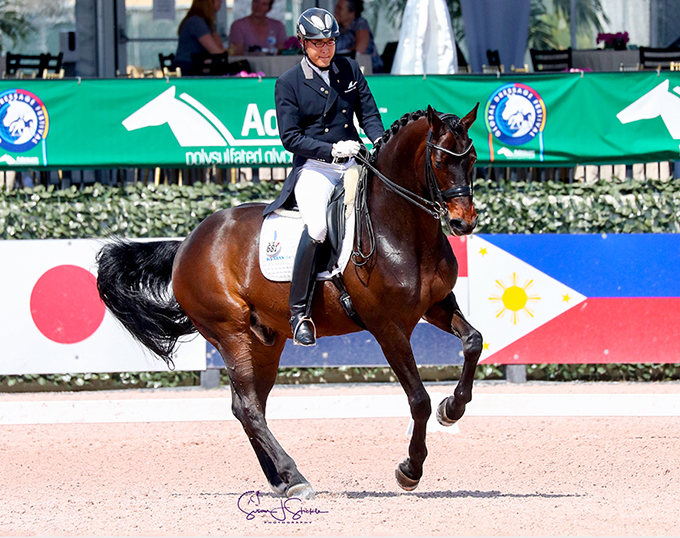 "He has lots of experience," said Kim. "He's a little bit of a heavier type of horse, and my previous horses were much lighter, so he's taught me to really sit and ride well and get a heavy horse sensitive."
This is the 32-year-old's third time competing at AGDF, and he spends the remainder of his year in Seoul, Korea. "I'd really like to thank Cho Won-Tae, the Chairman and CEO of Korean Air," expressed Kim, "for sponsoring me to come here and flying my horses from Korea to here. It's a great gesture for him to do that. It's a big trip for them to come here [from South Korea], and if it wasn't for Chairman Cho Won-Tae of Korean Air, it wouldn't have been possible."
Kim has his sights set on the Tokyo Olympics, and after a successful season in Wellington, he hopes to be chosen to represent his country when the time comes. He concluded, "Korea has qualified an individual for the Tokyo Olympics. I would really like to be the one who gets to go, but we don't know until June."
Second place went to the USA's Jan Ebeling riding Ann Romney's 2010 Oldenburg gelding, Status Royal OLD (Statesman), to a score of 72.645%. Third went to Canada's Evi Strasser on Déjà Vu Tyme, Erika Murphy and Evi Strasser's 2007 Hanoverian gelding by Dauphin, with 68.045%.
In the Intermediaire 3* Dong Seon Kim (KOR) rode his own 2012 Rhinelander stallion by Lord Loxley I, Lord Nunes, to a score of 69.029%, winning his second class of the day.
White-O'Connor and Hudson M Win 1* Prix St Georges
The Prix St. Georges CDI1* was topped by the USA's Dawn White-O'Connor and Hudson M, a 2012 KWPN gelding by Cadans M owned by Akiko Yamazaki and Four Winds Farm, earning a 73.118%.
Second place went to the USA's Ashley Holzer on Diane Fellows and Ashley Holzer's 2012 Oldenburg mare by Bordeaux, Bliss, with a 70.824%. Third was rounded out by Luuk Mourits (NED) and Harmony Sporthorses' Harmony's Don't Stop the Feeling, a 2009 Hanoverian gelding by Don Primus, riding to a 70.676%.
- GDF Press Release, edited by Eurodressage
Photos © Sue Stickle
Related Links
Scores: 2021 CDIO Wellington
Team Germany Wins Nations Cup at 2021 CDIO Wellington
Team Canada Wins Under 25 Nations' Cup at 2021 CDIO Wellington