2021 CDIO Wellington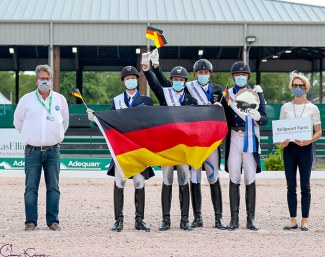 It was the second day of competition for the FEI Nations Cup CDIO3* at the Global Dressage Festival (GDF), and the team from Germany took home their first ever gold medal at the Wellington Nations Cup with 448.568% on Thursday, March 18.
A hairsbreadth behind for the silver medal was the team from the United States, who earned 448.381%. Canada was awarded the bronze medal with 437.071%.
Unlike the European based Nations' Cups, the Wellington one allows mixed teams of small and big tour combinations with the Grand Prix horses getting bonus points. 
Germany Dominates with Three Small Tour Horses
First in the ring for the Germans was Michael Klimke piloting Domino, Uwe Kappel's 2012 Westfalian mare by Den Haag, to a score of 68.000% in the Intermediaire I CDIO3*, which ultimately became the drop score for the team.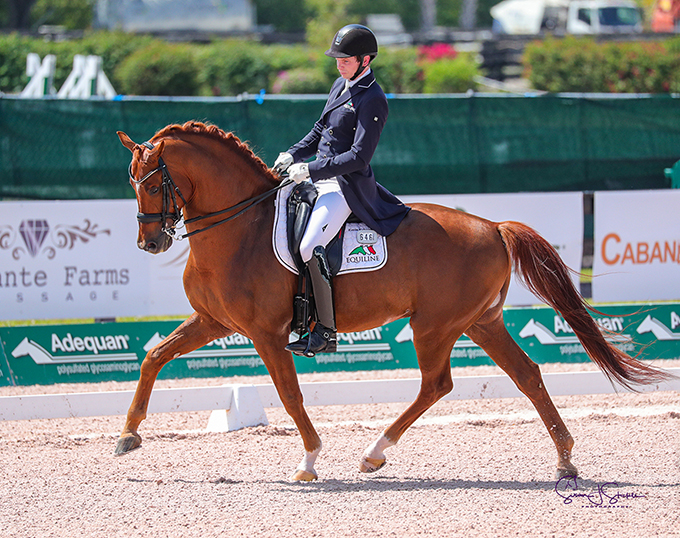 "First I want to say thank you to the organizers," said Klimke. "It's a very difficult time with the pandemic and the outbreaks, and the show has gone on perfectly organized. We all come from Germany and there is [no competition] going on there, so a big thanks from the German riders, the German team, and the German federation to the organizers. We are very, very happy to be sitting here."
Klimke, who was also serving as the team's Chef d'Equipe, noted the strength of the other three riders he was leading. "We have three top riders here. My mare was a little tired but the other three did a super, super job, and it was so close and we are more than happy that Germany won. Christoph and I have been here for eight years, and Germany has never won. Normally the Germans are only winning in Germany, so it makes us more happy and more proud."
Kevin Kohmann rode Equitas LLC's 2010 KWPN stallion Five Star (by Amazing Star)  to two solid finishes in the Nations Cup classes on Wednesday and Thursday, concluding the FEI Intermediaire I CDIO3*, presented by Stillpoint Farm with a score of 74.206%.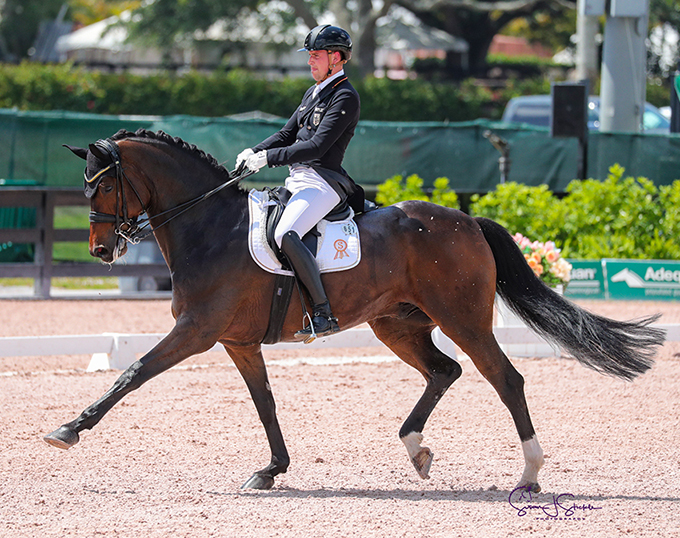 "I'm super proud to represent Germany once again," he explained. "Five Star just hasn't let me down all season. Yesterday was his high score in the Prix St. Georges, so it felt especially good to do that with the team here with me. Super proud, super happy." Interesting to note is that Kohmann received his U.S. citizenship two days ago and will be declaring to ride for the U.S.A. in the future.
It was Frederic Wandres' first time competing in the FEI Nations Cup in Wellington, and he also posted two strong scores for his team aboard Quizmaster, Hof Kasselmann's 2012 Hanoverian stallion by Quasar de Charry, riding to a 76.529% in the Intermediaire I CDIO3*.
Of his first North American Nations Cup experience, Wandres said, "I am very happy with my horse. He also put in two super rounds. Today he was very concentrated, and we were able to achieve a high score. I am very proud to compete here in the Nations Cup. I did some in Europe, but here in America, the Americans also had a super team, so I am more proud that we are here now."
Last to go for the team was anchor rider Christoph Koschel, who was also the only team member to contest the Grand Prix Special CDIO3*. Riding Eaton Unitechno, Unitechno Inc's 2009 KWPN gelding by Wynton, the pair was the deciding factor after earning a score of 73.000% from judges.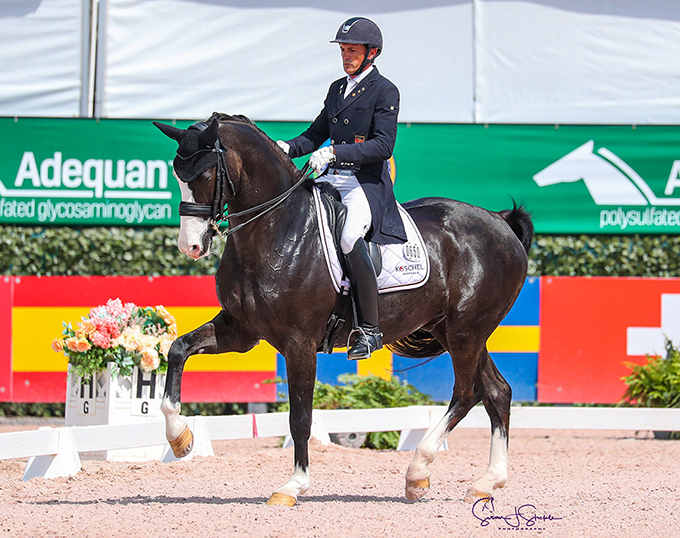 "I didn't know what percentage I needed," admitted Koschel, "and they didn't tell me thank God! I heard that Adrienne's [Lyle] score was high, and the others were very good, too. First I was coaching Ben Ebeling on the USA team, and that was very exciting as a trainer, and then I knew that I had to ride even more for our team."
Koschel joked, "I had a really good start there, and everyone knows how expensive it is when you canter in the half-pass, so after that I knew that I wasn't allowed to make any more mistakes. My horse can be pretty sharp and is still a little green, but we really had to stay clear and it worked out well. At the end of the day it was very close, and we are very proud."
GDF Director of Sport Thomas Baur concluded, " I think it's very important to start the FEI Nations Cup series here in Wellington. We are happy to start the season here, and I hope that the other CDIOs in Europe will go on."
U.S.A. Second, Canada Third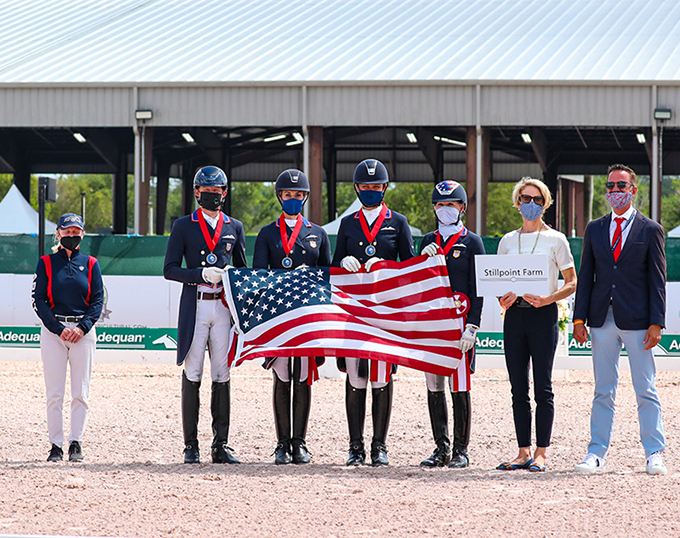 Missing the gold medal by only two-tenths of a percent was the team from the United States, consisting of Katherine Bateson Chandler on Alcazar, Benjamin Ebeling on Illuster Van De Kampert, Adrienne Lyle on Harmony's Duval, and Jennifer Williams on Millione.
Chef d'Equipe Debbie McDonald was proud of her team, half of whom had never ridden in a senior Nations Cup before.
"I can always expect our team to deliver," she said. "We have two more or less rookies in their first Nations Cup and two that have been there several times. Today we were one-two-three in the Grand Prix. The Germans did a very good job. More than half of their team was Small Tour. It was an amazing competition and an exciting ending. I congratulate the Germans, and I'm so proud of Team USA."
Canada finished with the bronze medal with 437.071%, while Australia was fourth on 391.089%.
Hope Cooper Tops Podium in the Under 25 Short Grand Prix
The U25 riders took to the CDIO arena once again, this time in the Short Grand Prix, presented by Diamante Farms. It was the USA's Hope Cooper that reigned victorious, after piloting Hot Chocolate W, Mary Mansfield's 2005 Hanoverian gelding by Hochadel, to a score of 70.590%.
"I was really thrilled with today's ride," began Cooper. "He [Hot Chocolate W] has come a long way in the last few months. I wouldn't say I was totally expecting that incredible feeling, but he was really with me the whole time today. Yesterday we had a few mistakes in our test that were entirely my fault, but he is such an honest horse and I really couldn't ask for more with him.He puts his heart and soul into everything he does. I was thrilled and over the moon about it today."
Cooper has been riding the horse since he was 11 years old and commented on their partnership and what it feels like learning with a horse. "He was doing around third level at the time," she explained "I don't know what it is about him, but he learns so fast and never gets stressed. The thing that is really different this year, [trainer] Christoph [Koschel] has helped me learn how to get the most energy out of him. He's not always the spiciest horse, but this year he feels like he's ready to go all of the time. He and I learned together all of the way up to the U25 Grand Prix, and he has taught me almost everything I know. I feel like I got to teach him a bit too, and it's an amazing thing to have a relationship like that that grows and matures."
It is the 24-year-old's last year at the U25 level, and she concluded by noting her gratitude to finally stand atop the podium and for the supporters that helped her get there. "I was very close to the podium last year," she said, "so it feels incredible [to be atop it]. This is my last year at the U25 level, and it's certainly been a long road. There are a lot of ups and downs in this sport as anyone who does it knows, and I've definitely had many [downs], so to have this be one of the ways that we get to finish our Florida season, I don't really have any words. It's kind of surreal.
"I want to thank Diamante Farms and Terri Kane for everything that she does for youth dressage, The Dutta Corporation for supporting Team USA, our Chef Charlotte Bredahl, AGDF for making this possible, my coach Christoph Koschel, my mom and our team, and of course Hot Chocolate's other mother and owner, Mary Mansfield, who is not here with us but is the best person that I could ask to have our back in all of this."
Sponsor Terri Kane of Diamante Farms has been a longtime sponsor of the youth disciplines at GDF, and stated: "I really enjoy watching these young riders. There are so many good riders, and every week you don't know which one is going to win, which makes it even more fun. I kind of call them my 'kids.' I've watched so many of them grow up, and it feels a bit like I'm their show mom on the side cheering them on each week. I just love it, and that I'm able to be here to support them."
Second place in the Short Grand Prix went to another USA rider, 24-year-old Codi Harrison, who piloted Katholt's Bossco, her own 2007 Danish Warmblood stallion by Blue Hors Don Schufro, to a 70.282%. Third went to Canada's Camile Carier Bergeron on Acoeur, Gilles Bergeron's 2007 Württemberger gelding by Acordelli, with 68.205%.
Kim Takes Second Victory on Lord Nunes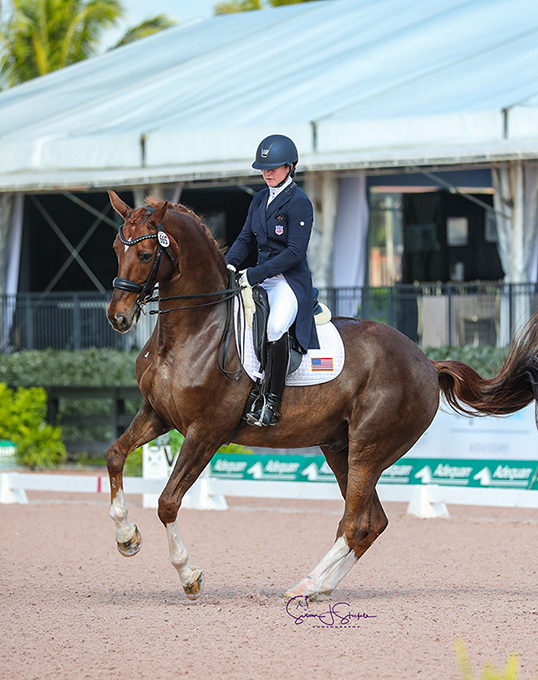 In the Prix St. Georges CDI3*, Dongseon Kim (KOR) rode his own 2012 Rhinelander stallion by Lord Loxley I, Lord Nunes, to a score of 69.853% as the sole competitor, winning the class. This is his second victory of the season.
Jan Ebeling (USA) topped the Grand Prix for Freestyle 3*. Ebeling rode Ann Romney's 2010 Oldenburg gelding Status Royal OLD (Statesman) to a score of 68.022%. Dong Son Kim (KOR) claimed second aboard his own DSK Belstaff, a 2007 Hanoverian stallion by Brentano II, with 67.304%. Third went to Canada's Evi Strasser on Déjà vu Tyme, Erika Murphy and Evi Strasser's 2007 Hanoverian gelding by Dauphin, with 62.913%.
- GDF Press Release, edited by Eurodressage
Photos © Sue Stickle
Related Links
Scores: 2021 CDIO Wellington
Team Canada Wins Under 25 Nations' Cup at 2021 CDIO Wellington
Teams Announced for 2021 CDIO Nations Cup in Wellington
FEI Nations' Cup Series for 2021 Announced, New CDIO in Portugal