Germany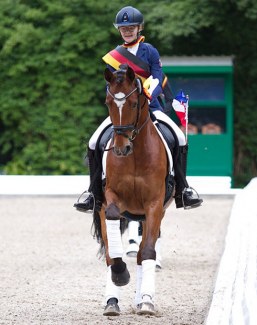 The German Equestrian Federation took some important decisions for its breeders and riders in the wake of the lockdown caused by the EHV-1 outbreak.
Competition Resumes on 29 March
Although the FEI has barred international competition until 11 April 2021, the German NF has decided to resume national competition in Germany on 29 March 2021. 
Show and breeding events hosted between 29 March and 11 April 2021 can only be one-day events with no horses stabled on site or stay-overs.
Horses blocked in the FEI database because of their attendance in one of the shows where EHV-1 broke out, are only allowed to participate in shows again when their 21-day quarantine has expired, they have tested negative for EHV-1 and the test results are available from the FN and FEI. 
"As things stand today, we know that those riders have quarantined their horses after their return to their home stables and took the necessary hygiene measures," said FN General Secretary Soenke Lauterbach.  "Of course, especially in the winter and spring months, we always have herpes outbreaks somewhere in Germany and we have never reach a point in time that  there were no outbreaks. However, we have no evidence that the virus has spread beyond the returnees' stables. That was the aim stop competition over the past few weeks. That is why we can now take responsibility for starting the outdoor season on March 29th."
One of the first important, national dressage events restarting is the Preis der Besten qualifier in Hagen will take place on 9 and 11 April 2021. Although the training seminars, where candidates for the qualifiers, have not all taken place yet, the German NF allows the regional societies to host their regional seminars/selection trials as of 29 March.
Newly Licensed Colts Can Breed in 2021
Just like in 2020 at the start of the corona pandemic, the German NF has decided to allow newly licensed stallions to breed this 2021 season without the mandatory performance test. The German studbooks decided this jointly with a majority vote in a zoom meeting with the FN. 
Because of the EHV-1 lockdown until 11 April 2021, the scheduled stallion suitability and sport tests for March and April in Elmshorn, Adelheidsdorf and Neustadt/Dosse have been cancelled. All other testings will take place at the originally scheduled dates. 
This means that 3- and 4-year-old licensed stallions can be provisionally entered in the Stallion Book I for the 2021 breeding season without a stallion performance test. The 5- and 6-year-old licensed stallions must be able to present at least one result from a 14-day assessment test in order to be provisionally entered in Stallion Book I for 2021. There is no special solution for 7-year-old stallions.
"With the special resolution for 2021, mare owners now have sufficient security to plan the current breeding season when selecting their stallions," said Dr. Klaus Miesner, managing director of the breeding division of the German Equestrian Association (FN).
For the provisional or final Stallion Book I entry in the 2022 breeding season, the stallions must provide the following proof of performance.
3-year-old licensed stallions (year of birth 2018):
Result of a 50-day stallion performance test in 2021 or a 14-day assessment test in 2021/2022 as well as a sport test for stallions part I in spring 2022
4-year-old licensed stallions (born 2017):
Result of a 14-day assessment test (2020/2021) as well as the sport tests for stallions (Part I in 2021 and Part II in 2022) or a 50-day stallion performance test in 2021
5- and 6-year-old licensed stallions (born 2015/2016) with results from a 14-day assessment test:
A result of a sport test for stallions Part II in 2021 (also sufficient once) or qualification for the Bundeschampionate in the course of 2021 or a result of a 50-day stallion performance test in autumn 2021.
Related Links
FEI Blocks 2021 CDI Doha Dressage Horses After Two Jumpers Test Positive to EHV-1
German Breed Societies Follow Suit: Untested Colts Allowed to Breed in 2020
FEI Cancels all European Mainland Events till 28 March 2021 due to EHV-1 Outbreak
Aggressive Strain of EHV-1 in Valencia: "Most Serious EHV-1 Outbreak in Europe for Decades"