FEI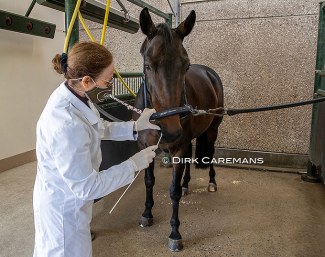 Following confirmation of the two positive tests in Jumping horses that had participated in Doha (QAT), the FEI blocked all 19 Dressage and 17 Para Dressage horses that competed in Al Shaqab at the end of February.
These dressage horses flew back separately from the Jumping horses, but a negative PCR test will have to be provided to the FEI before these horses will be unblocked in the FEI Database.
Photo © Dirk Caremans
CDI Doha
The 2021 CDI and CPEDI Doha took place on 2021 CDI Doha - 26 - 27 February 2021, during which also a CSI 5* competition took place. A few days later, 4 - 6 March 2021, the CSI 5* Global Champions' Tour took place in Doha. 
These 19 dressage horses are Jessica von Bredow Werndl's Zaire E, Dorothee Schneider's Faustus, Henri Ruoste's Kontestro DB, Morgan Barbançon's Sir Donnerhall II, Nicolas Wagner's Quater back Junior, Helen Langehanenberg's Damsey, Sandra Dahlin's Ichi, Thamar Zweistra's Hexagons Double Dutch, Borja Carrascosa's Laponia, Maria Caetano's Fenix de Tineo, Dennis Fisker's Delatio, Claudio Castilla Ruiz' Fogo de Lyw, Kebie van der Heijden's Beach Boy, Tatyana Kosterina's Diavolessa, Marc Peter Spahn 's Elias, Dane Rawlins - Espoire, Margo Timmermans' Catch Me, Alejandro Ascencio Mendez' Focus, and Patrik Kittel's Well Done de la Roche CMF.
All 85 jumping horses that competed in Doha were already blocked by the FEI. Two tested positive so far, one in Belgium and one in France.
Blocked in the Database
The FEI has now blocked 3,782  horses in its database. 
All jumping horses that competed in Valencia (752) were first blocked in the FEI database, followed by the 2,053 jumpers that competed in the jumping tour in Vejer de la Frontera.
On 16 March the FEI further blocked all 856 horses that participated in in the Mediterranean Equestrian Tour (MET) in Oliva (ESP), which started on 9 February. The MET jumping tour in Oliva is just 40 minutes away from Valencia. 
The FEI blocks these horses in the FEI database to make sure they cannot be entered in any international competition until they have completed the necessary biosecurity measures. It also recommends that these horses are isolated until they test negative.
The FEI has notified the national federations of the blocked horses, so they can also not compete at national events and potentially spread the EHV-1 virus.
Italy
Also in the Italian show jumping tour in Gorla Minore (ITA) an EHV-1 outbreak has been confirmed. 
The FEI posted that a horse returning from Gorla Minore (ITA) has tested positive for EHV-1 following a precautionary test at its home stables in Austria. The horse was not showing any clinical symptoms. The FEI has investigated this positive and concluded it is unlikely that this is linked to the Valencia outbreak. 
The Italian Equestrian Federation has confirmed five cases on its website.
Lockdown till 11 April 2021, in Italy until 21 March
The FEI has extended the lockdown to all countries that have international scheduled events in the period to 11 April – Austria, Belgium, Spain, Estonia, France, Germany, Italy, Netherlands, Poland, Portugal and Sweden.
The FEI also strongly recommended that all National Federations in mainland Europe cancel their national events in order to minimise horse movement.
The majority of countries followed suit, but in Italy national competitions have only been suspended until 21 March 2021 and not the recommended date of 11 April. A competitions can restart after 21 March, and only a few select jumper events have been postponed until after 12 April.
17 Dead
On 16 March 2021, The FEI was notified of five new deaths– two in Belgium and three in Germany (including a neonatal foal), where it was also confirmed that five mares had aborted foals at the same stables.
This brought the total number of related deaths in this outbreak to 17.
You can follow the Timeline of how the FEI handles the EHV-1 Outbreak here.
Related Links
2021 World Cup Finals Cancelled - FEI Extends EHV-1 Lockdown till 11 April
EHV-1 Outbreak at Haim-Swarovski's Schindlhof
Developments in Wellington Concerning EHV-1 Outbreak
Measures Taken in Wellington After Positive EHV-1 Case in Ocala. No New Horses Allowed on Showgrounds
FEI Cancels all European Mainland Events till 28 March 2021 due to EHV-1 Outbreak
Aggressive Strain of EHV-1 in Valencia: "Most Serious EHV-1 Outbreak in Europe for Decades"