Austria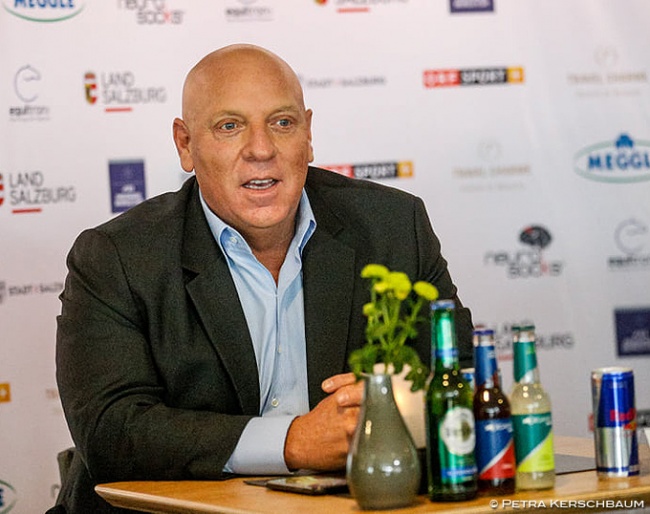 Josef "Sepp" Göllner, the show organizers of the Amadeus Indoor Horse Show in Salzburg, has died unexpectedly on 22 March 2021. The 53-year old died from a heart attack. 
"The tragic loss of Sepp is hard to understand and hit us totally unexpectedly and deeply," said Ernst Greibnits, the president of the Salzburg equestrian federation. 
Lamprechtshausen
Through his wife Doris, a dressage rider, Sepp was introducer into the horse sport world.
The entrepreneur engaged himself to get more kids into riding and closely collaborated with the Lamprechtshausen riding club, which he bought in 2004 and renovated in 2005.
In 2005 he hosted the first competition in Lamprechtshausen, in 2017 he staged the European Under 25 Championships there. Unfortunately the kur had to be cancelled due to bad weather. 
Salzburg
Göllner was the founder of the Amadeus Horse Indoors in 2006.
Fifteen editions took place, the latest one as a World Cup qualifier in a postponed version in January 2021, as the dates were traditionally set for December. 
Göllner was involved in equestrian event organisation in Vienna, Graz, Stadl Paura, Maria Wörth, and established the European Youngster Cup for U25 show jumpers.
Driving Force for Austrian Equestrian Sport
"Sepp was certainly a person who polarized. He had his friends, but also his opponents," said Thomas Kreidl. "Maybe that has to be the case if you want to be successful. But when you look at what Sepp and his team have achieved for Austrian equestrian sport, and show jumping in particular, over the past few years, then you can only take off your hat."
Kreidl continued, "If you look at his life's work in a quiet minute, then you really realize how much Sepp has done in Austrian equestrian sport and how many people have benefited from his work. Sepp was a man with rough edges, but he was a doer in the best sense of the word. Until the very end."
Göllner was an epicurist who lived life to the fullest. He leaves behind his wife Doris, two children from a first marriage - Jenny (a show jumping rider ) and Sandro (a nightclub owner)  - and a 3-year old son from his second family.
Related Links
EQWO: Mach's Gut Sepp
2020 CDI-W Salzburg Postponed to 21 - 24 January 2021, Who Will Qualify for the Finals?
Salzburg to Become World Cup Station in 2015
Freestyle Final Cancelled Due to Technical Difficulties at 2017 European Under 25 Championships