Great Britain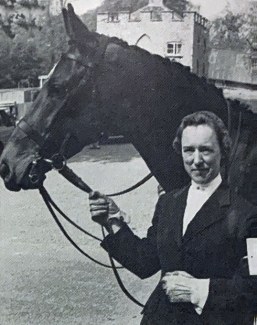 British Olympian Sarah Whitmore passed away on Saturday 27 March 2021. She was 89 years old
Sarah Whitmore represented Great Britain at two major intercontinental championships between 1976 and 1982.
"Sarah is quiet, reserved person with a ovely dry sense of humor. Slender, brown baired, she is recognized as a very experienced rider, but thinks of herself as a farmer," author Jennifer Stobart wrote in an article published in 1976. 
Eventing 
Whitmore started out as an eventing rider and was coached by Baron Hans von Blixen-Finicke. Her eventing horse Manniken ended up going to the Tokyo Olympics as the eventing team reserve. 
After a back-breaking fall off Foxdor at the "Coffin" obstacle at the Badminton Horse Trails, she settled down to dressage.  Foxdor went on to compete at the 1966 World Championships and was a British team reserve for the 1968 Mexico Olympics under Sgt. Ben Jones.
1976 Olympics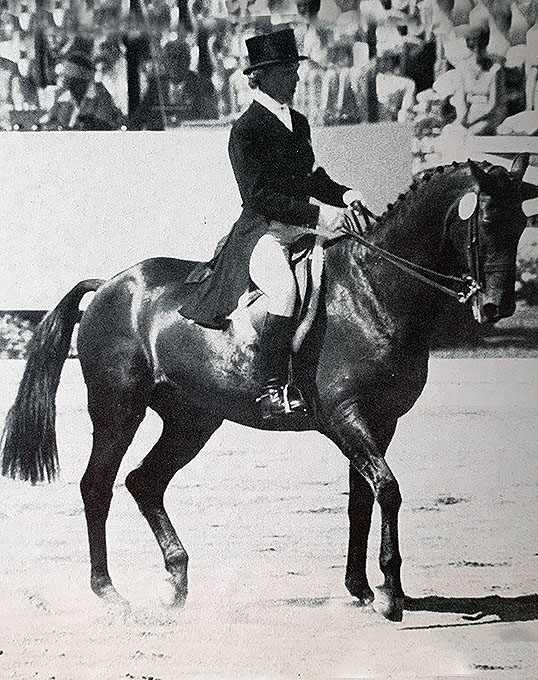 Sarah Whitmore's Olympic ride was Junker, a Swedish warmblood gelding which Von Blixen-Finicke sourced for her directly in Sweden as a 7-year old. 
He was her first advanced level dressage and they won competitions in Fontainebleau and Aachen.
Junker was a seasoned traveller, but not by air. He required a specially built crate because with his asthma he needed to get his head down to blow his nose when he flew to the 1976 Olympics in Montreal (Bromont), Canada. 
Whitmore and Junker placed 8th with the team, alongside Diana Mason on Special Ed and Jennie Loriston-Clarke on Kadett,  and 22nd individually. 
She concluded the year with her first and only British Grand Prix champion's title.
1982 World Championships
Her second international top Grand Prix horse was Dutchman, a KWPN gelding. 
Whitmore rode Dutchman at the 1978 World Championships in Goodwood (GBR), but in the CDI tour and not as member of the British team. She placed 23rd place in the Grand Prix kur. 
At the 1982 World Championships in Lausanne, she was member of the team and placed 36th in the Grand Prix. 
Trainer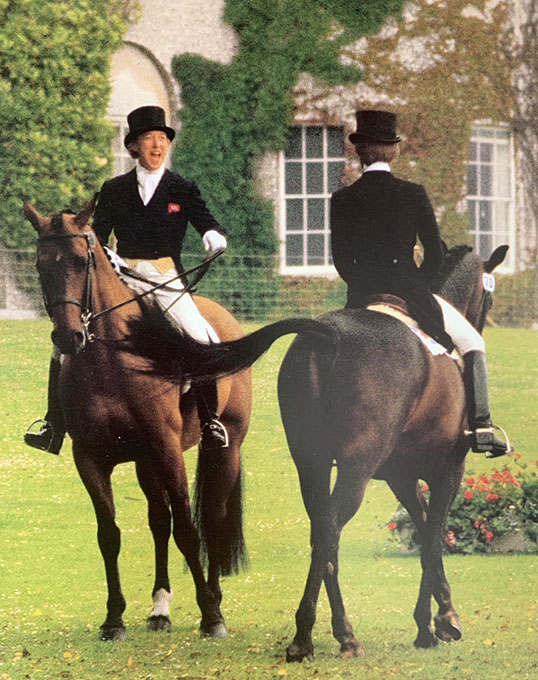 Sarah lived her entire life at Hilders Farm in Edenbridge, in Kent, where her family had beef cattle and sheep on 150 acres. She ran the local Pony Club branch, the Old Surrey and Burstow, which was the original Club from which all the rest grew. 
Whitmore brought former SRS trainer  Franz "Rocky" Rochowansky to her yard, who based himself at her Hilders home when he was not away teaching. 
Edenbridge became a respected dressage training and livery yard, where many British dressage riders had their beginnings, such as Vicky Winfield-Thompson and Laura Fry, as well as British junior team rider Joelle Bishop
In 1986 Laura Fry was a working student at Sarah Whitmore's, one year before buying her top horse Quarryman and picking up training with Christine Stuckelberger and George Wahl. 
Related Links
The History of British Dressage: "I Thought We Would Get There...In 100 Years!"
In Memory of Laura Fry: 1967 - 2012
Vicki Thompson-Winfield, Riding Force Behind Oldencraig Equestrian Centre
Scores: 1982 World Championships
Scores: 1978 World Championships
Olympic Dressage Judges Officiating at Olympic Games 1912 - 2016