2021 CDI Wellington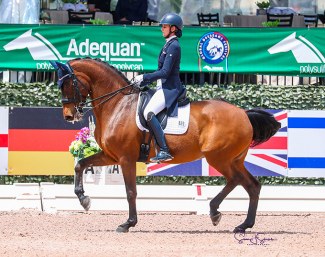 It was Yvonne Losos De Muñiz (DOM) and Aquamarijn who notched another victory on Saturday, April 3, at the Global Dressage Festival in Wellington, this time in the Grand Prix Freestyle 4*, after riding to yet another personal best score of 80.745%.
The final week of the 2021 GDF concludes tomorrow, Sunday, April 4. 
First Time in the 80s
"Right now I think I'm still on cloud nine," said Losos De Muñiz after her performance with the 2005 KWPN mare by United. "The whole week has been incredible. As I mentioned yesterday, I am incredibly satisfied in knowing that the training is working, that I'm on and she's on."
She continued, "I'm thrilled where I ended up. I've reached all of my personal goals, and right now I'm exactly where I wanted to be going into this next part of training while setting up for the Olympics, so I'm going to go on vacation now! This season I made my freestyle more difficult, and there was a period of time once or twice after riding it that I have been tempted to back off and tone it down, but I knew that if I could ride it at home then I could ride it here. I just needed to figure out the amount of pressure where, when, and how, and today I figured it out. We nailed it, and it was such a cool feeling going down that center line, and I just wanted to cheer the whole way. It's really an amazing feeling when you're at that point with your equine partner; there is no other feeling in the world. It's pretty amazing."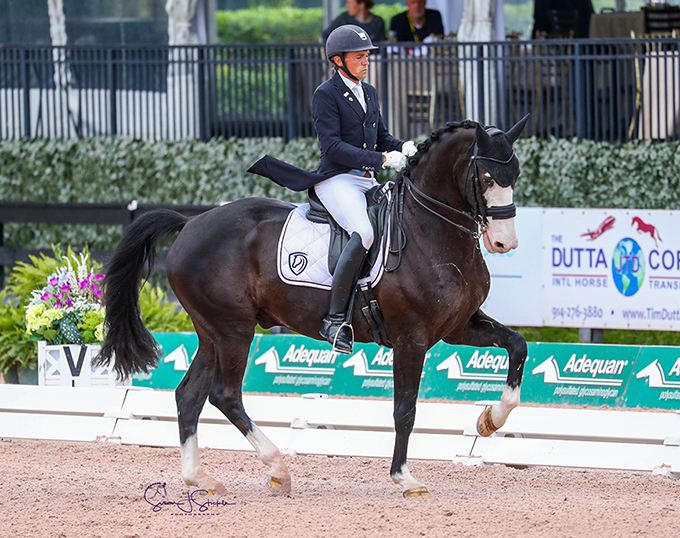 Judge at C Stephen Clarke of Great Britain awarded the pair's performance with an 81.100% and said, "It was quite easy [to decide that this was the winning ride]. It was exciting to watch, beautiful horse, beautiful rider, beautiful music. It didn't make our jobs too difficult. [The test] was difficult and very artistic, and there weren't really any mistakes or problems, just many, many highlights. It was a super class, at a wonderful show, and we're all very, very lucky to be here."
Second place in the Grand Prix Freestyle 4*was awarded to Christoph Koschel (GER) o n Eaton, Unitechno, Inc.'s 2009 KWPN gelding by Wynton, with a personal best score of 76.805%.
Third place was rounded out by Kelly Layne (AUS) on Samhitas, Kelly Layne and Nori Maezawa's 2009 Oldenburg gelding by Sir Donnerhall I, with 72.895%.
Lyle and Salvino Back on 80%
In the Grand Prix Special 4* Adrienne Lyle (USA) and Salvino reigned supreme once more after riding to another personal best of 80.830%.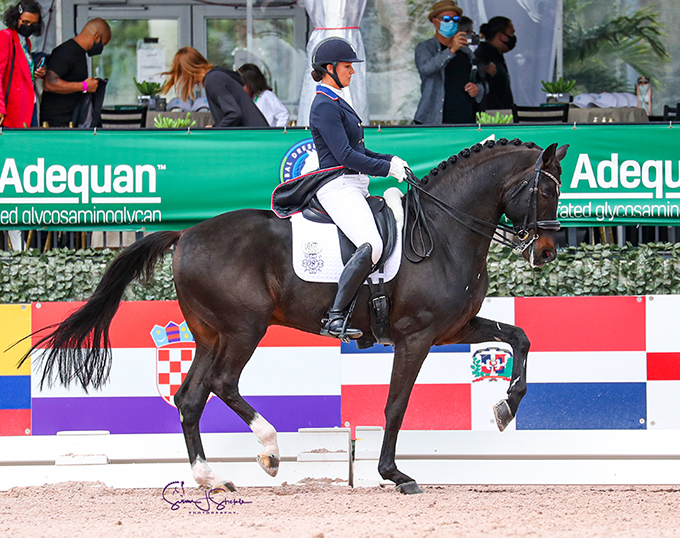 "He absolutely met my expectations," said Lyle. "He tried super hard today. We had one little bobble after the left pirouette. I think he just sat really deep in that pirouette and he went to move up to the one tempis, and he got his legs tangled for a split second, but was able to get his head back in the game and pull off the nine [one-tempis] and then the right pirouette. For being as long as it's been since we rode through a Special, I'm very happy with him. To get two scores over 80% this week is everything we were hoping for, but it's a huge relief to get there and I'm very proud of him."
She continued, "His piaffe and passage are always great strengths, and even when turning down centerline after that long test, he's just as fiery and excited as he is to start, and that to me is really important, that he's enjoying it that much."
The pair didn't work on much on their off day between the Grand Prix and the Grand Prix Special, and Lyle explained, "I tried to just stay with trusting the fact that he knows his job after our last ride. Yesterday we just stretched and walked and trotted. I didn't school him on the off-day, and then today we kept the warm-up pretty short because it's such a long test that I didn't want to burn him up too much in warm-up."
Second place in the Grand Prix Special 4* went to Olivia LaGoy-Weltz (USA) on Rassing's Lonoir, Mary Anne McPhail and Olivia LaGoy-Weltz's 2004 Danish Warmblood gelding by de Noir, who also earned another personal best score with 76.021%. Canada's Naima Moreira Laliberte on Statesman, KML S.a.r.l.'s 2007 Hanoverian stallion by Sandro Hit, rode to another personal best score of 73.170%.
GDF press release, edited by Eurodressage
Photos © Sue Stickle
Related Links
Scores: 2021 CDI Wellington
Kim and Lord Nunes Score Fifth Trophy in Final Week of 2021 Global Dressage Festival
Lyle and Salvino Return after 13-Month Hiatus to Score 80% at 2021 CDI 4* Wellington
Personal Best Instead of World Cup Final for Yvonne Losos de Muniz at 2021 CDI Wellington