Luxembourg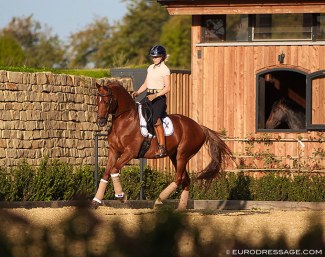 Acclaimed Finnish Grand Prix rider Terhi Stegars has settled in and found her groove at the Contern Dressage Center in Luxembourg. She is looking forward to the future with a barn full of promising horses and three, special new comers. 
From Germany to Luxembourg
Terhi knew from the start that horses were her path in life. In 1995 she moved to Germany to become a professional rider. She worked with Jurgen Böckmann and Holger Schmezer and became a two-time Finnish Grand Prix Champion on the Trakehner Payano.
In 2010 she moved to Luxembourg to work for Tanja Kayser and claimed career defining successes with the Trakehner elite licensed stallion Axis TSF. She represented Finland at the 2011 and 2015 European Dressage Championships, the 2013, 2015 and 2016 World Cup Finals and at the 2014 World Equestrian Games.
Aboard the Oldenburg mare Thai Pee she represented Finland at the the 2017 and 2019 European Championships. 
Contern Dressage Center
In November 2019, Terhi turned a page and began a new chapter in her career as head rider and general manager of the Contern Dressage Center.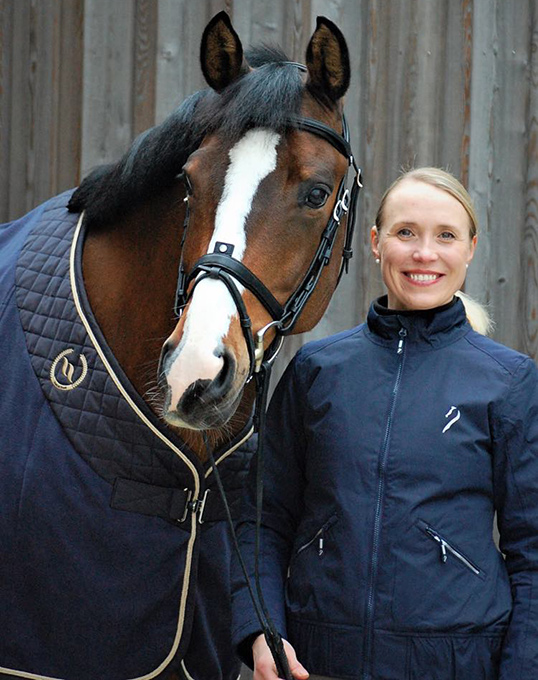 The facility reflects the owner's innate love for horses and his eye for detail. This passion carries through in the construction of the state-of-the art equestrian stable by meeting the highest standards of horse-keeping for breeding and sport.
"I accepted the position at the Contern Dressage Center because it is a step up for me. With years training horses to Grand Prix under my belt , I can bring my expertise to this stable. Here I will get horses with potential and quality to train and ride," Stegars explained. 
Stegars is serious about her job and works with focus and drive. Aware that as a rider you never stop learning, she welcomes trainers such as Richard White, Morten Thomsen, and Finnish senior team trainer Rien van der Schaft to the barn for regular coaching. In addition she collaborates with Will Rogers on in-hand work, ground work and the de-sensitization of spooky horses through natural horsemanship. 
This boutique dressage yard is welcoming new clients, who want to focus on top sport dressage and savour the experience of what international competition life as an owner or rider can be like.
Olympic Vision
Terhi's illustrious career as a professional has taken her across the globe. She has ridden at all major Championships the sport has to offer, except one: the Olympic Games. Paris 2024 is marked as a clear goal.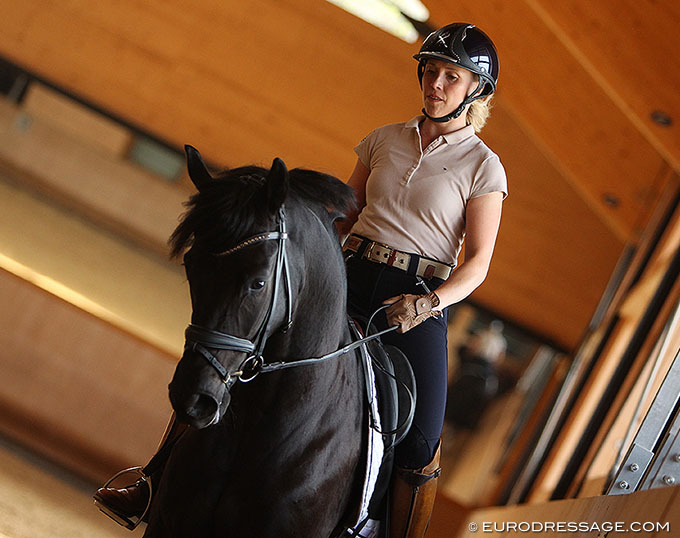 Although the move to Contern fifteen months ago meant that Terhi had to start from scratch, she was dealt a new book of cards: new horses, mostly young ones, and no immediate FEI level horse to keep her in the slipstream of highest levels of dressage sport. However, the quality she has received to ride from the stable owner and some clients is unparalleled and can take her career to the next level.
"I'm not afraid to start from scratch and build again," Terhi disclosed. "I have a clear vision and that is Paris 2024. So many Olympics passed me by for various reasons, and I'm not going to stop until I get there. Kyra Kyrklund once gave me a very good life lesson about missing out on team selection. She said, "stop moaning and make sure you you are twice as good, so they can't throw you out. That is what I plan to do."
Playbook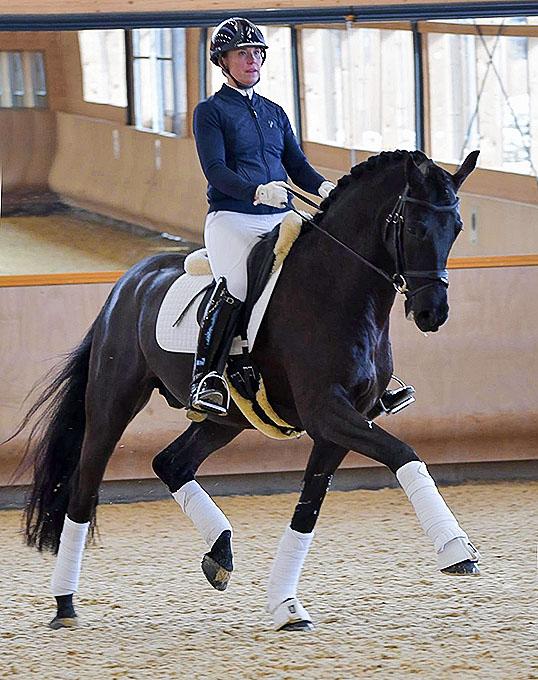 At Contern Dressage Center, Terhi has the playbook in her hands for a bright future. The barn is stocked with talented young horses and backed-up by some highly dedicated clients, who are on the same wavelength about horse-management and sport goals.
The Contern Dressage Center owns four brood mares with the best bloodlines Europe has to offer, as well as of the highly promising young, licensed breeding stallion Life Time (by Livaldon x Fürstenball) who is being developed by business partner Pascal Kandziora and standing at stud at Rene Tebbel's station.  Terhi focuses on the training of the 5 and 6-year olds and older horses towards Grand Prix level.
One of those extremely talented horses that makes Terhi's heart flutter is the 6-year old Hanoverian gelding Costa Brava (by Christ x Londontime). The black star was a former licensed breeding stallion, but gelded to be focused on sport. He was a bronze medalist at the 2019 Bundeschampionate and qualified for the 2020 Bundeschampionate. Instead of returning to Warendorf he sold to Luxembourg and is now being prepared for small tour level.
"He' s a big mover and gorgeous to look at with his stallion-like expression," said Terhi. "I am thrilled to develop this horse to FEI level."
Paris Mon Amour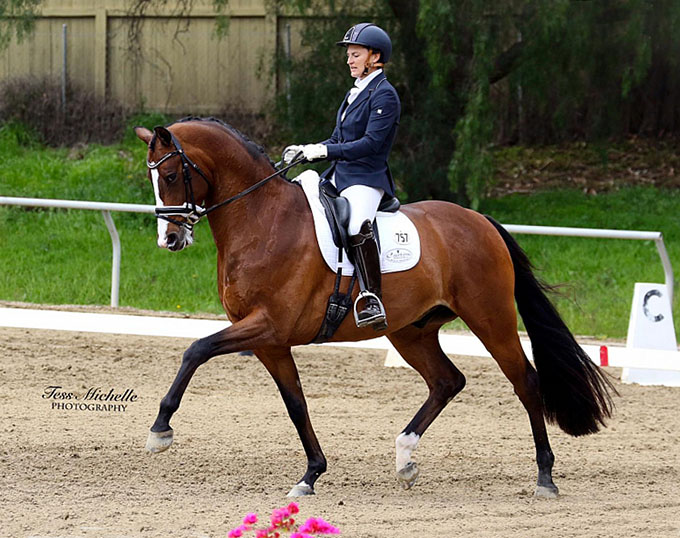 Who doesn't dream of competing in the manicured French garden of the Versailles castle at the 2024 Olympic Games? Terhi is certainly one of those dreamers and she currently has two horses marked as Olympic hopefuls and several more standing in the wings.
One of the big hopes for the future is newest acquisition Ivar VH, an 8-year old Dutch warmblood gelding (by Desperado x OO Seven), which Terhi found in The Netherlands but who was trained to FEI level in California, USA, by Croatian Amelie Kovac. Amelie has a keen eye for young horse talent. She also scouted Gio (by Apache) and sold him to Charlotte Dujardin in 2016 as the Brit's Tokyo hopeful. Kovac immediately bought Ivar VH as a 3-year old in Holland and developed him to small tour level. The bay gelding has now relocated to the Contern Dressage Center and is being schooled to Grand Prix by Terhi. 
"Ivar has a super talent for the collected work," said Terhi. "It is great to have a horse in the barn of which I know it has Olympic potential."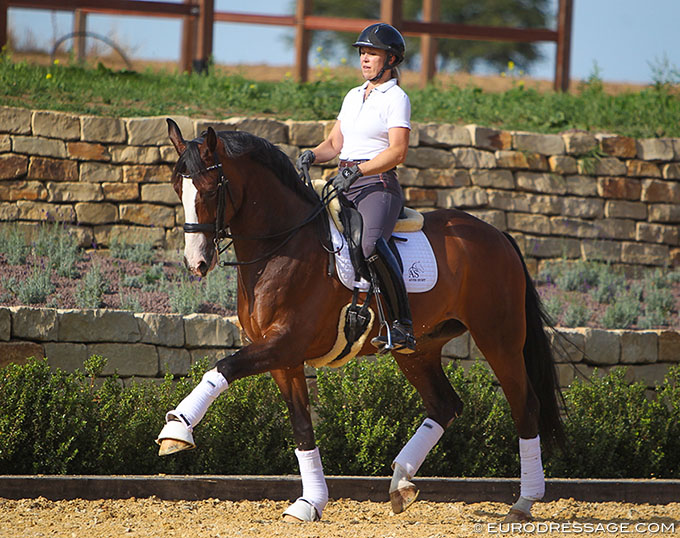 A second Grand Prix hopeful that Terhi is riding is the 8-year old Hanoverian gelding San Cloud's Lucky (by San Amour x Wolkenstein II). The big bay with striking blaze competed at the 2018 and 2019 Bundeschampionate and is schooling the Grand Prix movements.
The Contern Dressage Center has launched a brand new website at www.conterndressage.com. 
Explore Terhi's complete horse collection on this website or follow her on Facebook. The Contern Dressage Center is on Facebook and Instagram.
Photos © Astrid Appels - private - 
Related Links
Terhi Stegars Reunites with Grand Prix ride Thai Pee, Thrilled with New Life at Contern Dressage Center
Terhi Stegars Relocates in Luxembourg
Terhi Stegars Back in Full Swing and Expanding Dressage Training Business
Terhi Stegars on the Road to Recovery
Finnish Terhi Stegars Relocates to Luxembourg