NRPS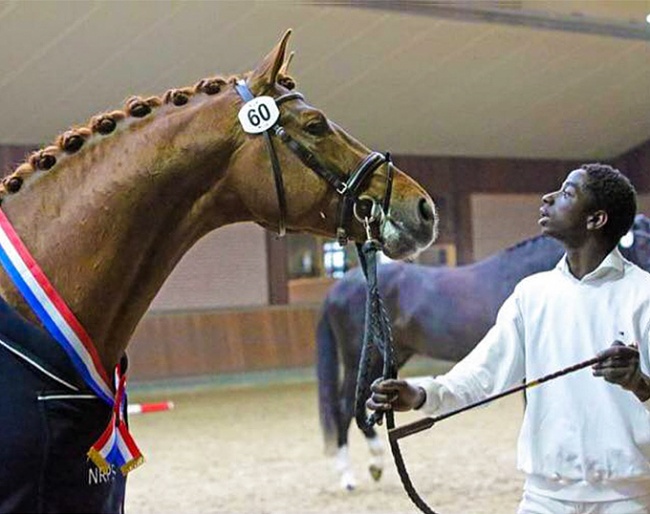 The KWPN bred S'Next Generation was named the champion of the 2021 NRPS Stallion Licensing in Lunteren, The Netherlands, on 3 April 2021.
It was the 40th edition of the NRPS Stallion Licensing.
Fifteen dressage bred colts were licensed of the sixteen that were selected to appear on 3 April. Many of the stallions received a new name, as their original Dutch (KWPN) name was dropped for an NRPS licensed stallion now.
The champion of the licensed is S'Next Generation, who was originally named Next Generation (by Secret x Vitalis). He is bred by Frank Moorman. and owned by Wilma Wernsen in partnership with Deejay Horses. 
The reserve champion is First No Nonsense R (by Furstenball x Olivia), bred and owned by P. Remmits. His original name was No Nonsense R. 
The licensed colts are:
S'Next Generation (by Secret x Vitalis)
First No Nonsense R (by Fürstenball x Olivi)
Nacho (by Negro x Krack C)
All the way (by Apache x Gribaldi) - originally named No-Way
Everest (by Especial x Negro)  - originally named Nadal
Flexman B.K. (by Feinrich x Cocktail's Whinny) 
Willem Normandi (by For Romance I x Ferro) 
Vivre Nabucco B.K. (by Vivaldi x Rhodium) -  - originally named Nabucco BK
Happy Nirvana BMH (by Hennessy x Davino VOD) -  originally named Nirvana BMH
Next One ACB (by Hero ACB x Dream Boy)
Just No Mercy AVO (by Just Wimphof x Jazz) -  originally named No Mercy AVO
This is Naqueen (by Trafalgar x Samba Hit I) - originally named Naqueen
Pinot Noir d'Or (by Painted Black x Chippendale) -  originally named Nino d'Or
Try Noqueen (by Trafalgar x Apache) -  - originally named Noqueen
Johnson Montgomery C (by Johnson x Ferro) -  originally named Montgomery C
Related Links
Sixteen Dressage Colts Accepted for Final Phase 2021 NRPS Stallion Licensing
Gorgeous Latino, High Scorer of the 2020-2021 NRPS Stallion Performance Test
Previous Licensing Results
Licor, Champion of the 2020 NRPS Stallion Licensing
Glamourboy, Champion of the 2019 NRPS Stallion Licensing
D'Joep, High Scorer of the 2019 NRPS Stallion Performance Test
D'Joep Named Champion of the 2017 NRPS Stallion Licensing
Nagano, High Scorer at the 2017 NRPS Stallion Performance Testing
Fideniro, Crowd Favourite of the 2014 NRPS Stallion Licensing
Guidam's Willow the Second, Champion of the 2013 NRPS Stallion Licensing
Thirteen Stallions Approved at 2012 NRPS Stallion Licensing
Twenty Colts Accepted at 2011 NRPS Stallion Licensing
Twenty-Five Colts Approved at 2010 NRPS Stallion Licensing
Fifteen Stallions Approved for the NRPS Studbook
Sunliner, Champion of the 2009 NRPS Stallion Licensing
Ferrero Wins 2006 NRPS Stallion Licensing