New Zealand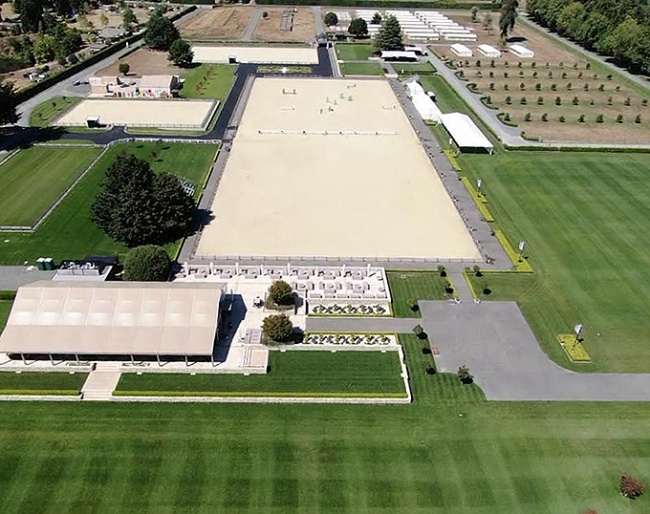 New Zealand's annual Horse of the Year Show in Hastings has been cancelled for 2021. The HOYS in Hastings is the second biggest dressage competition in New Zealand of the year aside from the National Championships. 
A new alternative dressage event will be staged at the stunning Takapoto Estate.
2021 HOYS Cancelled
The 2021 HOYS were scheduled to take place in March, but have now been postponed to 8 - 13 March 2022. 
"We know there is huge support for us to go ahead however there are many factors we have had to consider," the HOYS OC explained. "These include financial implications for our show and its ongoing sustainability, the travel and time pressures for riders, the experience we can deliver for our riders and spectators, and most importantly of all, the health & wellbeing of everyone who attends the show. We are truly devastated."
Dressage by the Lake
Providing alternative competition opportunities for New Zealand dressage riders, a national show called "Dressage by the Lake" at Takapoto Estate has been staged for 1 - 2 May 2021. 
With its breathtaking views of Lake Karapiro, and world class facilities, Dressage by the Lake hopes to attract dressage riders from far and wide. Being close to Cambridge, the equine capital of New Zealand, this also provides a new opportunity to promote musical dressage at its best to a wider audience.   
"Watching the Horse of the Year team make the hard decision to cancel its show this year was devastating for the equestrian community," said Dressage New Zealand Sport Manager, Wendy Hamerton. "We all know the hours of hard work that organisers, sponsors, riders, volunteers and trade stands put in leading up to that show, but we all support their decision, and know they made the right one."
Hamerton continued, "in lieu of being able to hold the Musical Freestyle finals at the Horse of the Year, a group of dedicated volunteers, supported by the Dressage NZ board, have been busy pulling together Dressage by the Lake."
The event has been scheduled  on the same weekend as AMDG Dressage at Clevedon.  "While this is something our sport really did not want to do, the Covid climate has bought its own challenges resulting in limited options available," said Hamerton.
The current top 15 combinations in each level on the North Island Zilco Musical Freestyle leaderboard will be given first option to enter by a date to be set in the schedule, then entries will then be taken on first in first served basis.
The family owned Takapoto Estate, is a 600 acre property that sits on three kilometres of water front on Lake Karapiro. The estate includes an Angus beef cattle ranch, equestrian yard and vineyard. 
Related Links
Wendi Williamson Wins 2019 New Zealand Horse of the Year Show
Thompson Wins 2018 New Zealand Horse of the Year Show
Abbie Deken Wins 2017 New Zealand Horse of the Year Title after Plot Twist in Freestyle
John Thompson Wins Horse of the Year Show at 2016 CDI Hastings 
Julie Brougham and Vom Feinsten Win 2015 Horse of the Year Crown at CDI Hastings
Historic Grand Prix Score for Penny Castle at 2015 CDI Hastings
A Royal Win for Bill Noble at the 2014 New Zealand Horse of the Year Show
Louisa Hill Wins Grand Prix Title at 2012 New Zealand Horse of the Year Show
Vanessa Way Claims 2011 New Zealand Horse of the Year Title
2009 Horse of the Year Title for Jody Hartstone, At Last!
Hattrick for Noble at 2007 New Zealand Horse of the Year Show