Great Britain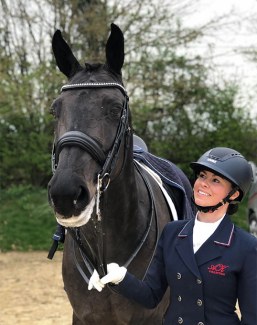 The British affiliated show at Hunters Equestrian on 7 April 2021 was not only the debut competition for Fiona Bigwood on Hawtins Delicato as wel as the come back show for Nikolas Kröncke. Another familiar face was printed on the results list: Laura Tomlinson-Bechtolsheimer's former international Grand Prix mare Rosalie B. 
Rogers has been an assistant rider at Laura Bechtolsheimer's yard since 2017 and for the 32-year old professional rider has come full circle after a educational tour on the European mainland. 
With Balkenhol in Germany
Sarah started riding at the age of three at her family's farm in Gloucestershire. She first took riding lessons at the local pony club and throughout her teenage years was more keen on show jumping. 
"My dressage fascination began in my late teens when I had my first lesson with international dressage rider and judge Isobel Wessels," Rogers told Eurodressage. "From there I started working for the Bechtolsheimer family, who introduced me to Klaus Balkenhol."
At the age of 20, Rogers knew she wanted to pursue a career as a professional rider and was offered a job by Balkenhol in 2008. 
"Klaus offered me a job at his highly regarded stable in Germany which, of course, I couldn't refuse," said Sarah.  "After five incredible years under the watchful eyes of the Balkenhol family, I had competed up the levels including my first Grand Prix win."
With Almasy in France
In 2013 Sarah moved to Paris to ride and complete for French dressage judge Marietta Almasy.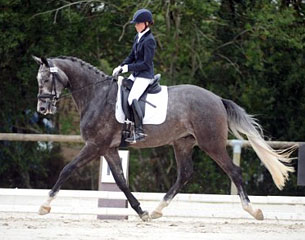 During her time in Paris, Sarah  represented Great Britain for the first time on her international show debut in Saumur, France, in September 2015. She rode Frederic Winckler's Westfalian bred Rokoko (by Rittmeister x Prince Thatch xx) in the small tour and Almasy's Hanoverian Habanera (by Hochadel x Cordial Medoc) in the medium tour. 
Rogers achieved her first major career title in this period, winning the 2015 French Young Horse Championships aboard Almasy's 4-year old Oldenburg gelding Flair Royal (by Fairbanks x Royal Diamond). A year later, at the 2016 Nationals, she was fourth with Flair Royal and 10th with Schabernack (by Sandro Hit x De Niro) in the 5-year old division.
With Bechtolsheimer in Great Britain
"After three years of working in Paris and eight years in total of living abroad, I received a phone call from the Bechtolsheimer family offering me a riding position - another job I couldn't refuse. I decided to move home," Rogers reminisced. 
As soon as she arrived back home in the UK, she realised her life had come full circle. Not only was she back at her first professional base, but she also has been allocated a horse that she had ridden before, Rosalie B. 
"All of the horses I am currently riding, I am doing so under the watchful eye of Carl Cuypers who trains us all on a daily basis," she said. "He has a wealth of knowledge, lots of experience and a great eye for attention to detail. We have a fantastic team around us and I'm incredibly excited for the future at Team B. I am extremely thankful for family Bechtolsheimer for giving me all these opportunities."
Rogers has been competing three Bechtolsheimer home breds: the 10-year old Viva Lotta (by Vivaldi x Landadel), which recently scored 80% in the Prix St Georges, and the two 5-year olds Full Moon II (by Furstenball x Gribaldi) and First Light (by Furstenball x Don Davidoff).  Her top ride in the barn, at the moment, is the internationally competed Grand Prix mare Rosalie B
Rosalie B
In 2018 Laura handed over Rosalie B, who had recovered from injury. While Tomlinson runs her own yard together with her husband Mark, Sarah is based together with Lara Butler-Griffith at the homestead stable 20 minutes away.
"Sarah rides more of the younger home breds but Rosie is her "perk"," Laura Tomlinson told Eurodressage.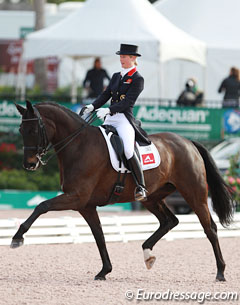 "Rosalie and I first met years before when she had just been broken in at Klaus' stable in Germany," Rogers explained. "I started riding her when she was 4 years old and I immediately fell in love. She's incredibly talented, a very easy horse to work with every day and has been a joy to watch develop."
Rosalie B is by Rubin Royal out of Nordmaid (by Newcastle x Diamantino) and bred by Klaus. She was ridden by Sarah and first competed by Vera Nass before Anabel Balkenhol began showing her. Rosalie B did her first Grand Prix at the 2015 CDI Perl-Borg in the Louisdor Cup qualifier.
In 2015 she sold to Ursula and Wilfried Bechtolsheimer for Laura. They new duo made its show debut on Rosalie B at the  CDI Wellington in February 2016. Laura and Rosalie B went full steam ahead in 2016 with multiple starts in Wellington, Hagen, Compiegne, Rotterdam, Deauville, Oldenburg and London. In June 2017 they represented Britain in the Nations Cup in Rotterdam The national show at Wellington in October 2017 was Laura's last before an injury sidelined the mare. 
Fortunately Rosalie fully recovered, but she didn't come back with the quite the same fire. 
"She is really well and enjoys her job but for that last bit of umph in the ring for top international sport, she wasn't quite there anymore," Laura explained. "Shame as she had so much potential and I had won 3 international classes abroad with her but then she had a bad reaction to a vaccine combined with a very sore back for a while. When I came back to her after the birth of my son we never got back to that same level," Laura added with some regret. "She had some rest and is fit and well and enjoys lots of variety and Sarah enjoys the experience on a lovely GP horse!"
Hunters Equestrian
For Rogers riding Rosalie B has been an ideal opportunity to perfect her skills at Grand Prix.  They made their national show debut in February 2019 at Summerhouse Equestrian in an Intermediaire II and competed several more times in national Grand Prix tests through 2020.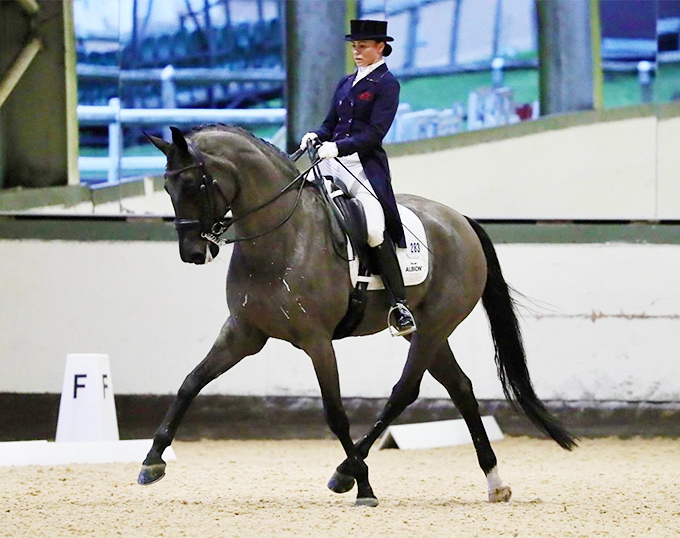 This week the pair competed at the affiliated show at Hunters Equestrian, where they finished 3rd in the Grand Prix with 68.30%.
"I was delighted with how Rosalie went," said Sarah. "She gave me the best feeling we've had at a show so far. In our previous two Grand Prix tests we scored over 72%  We get to know each other better and better every time we go out.  This show was our fourth Grand Prix together, and by far our best. Unfortunately, our scores didn't reflect this - but I guess that's dressage for you!"
Sarah is taking it one day at a time, but hopes to learn more from the mare in the future.
"As she knows all the tricks, we only train a few days a week in the arena, the rest of the time she loves working on the canter track, hacking and being in the paddock," said Sarah. "I feel incredibly lucky to have been given the opportunity to compete Rosalie. Our plan is to continue to compete at Grand Prix, whilst gaining more experience and hopefully bettering our scores."
Photos © Les Garennes - Lotty Elizabeth Photo - private
Related Links
Scores: 2016 CDI Saumur
Scores: 2015 CDI Saumur
Valentin, Diamondgio, Barroso Win 2016 French Young Horse Championships
Flair Royal, Quaterdance, Quaterbold du Payrol Win 2015 French Young Horse Championships
Rosalie B Sold to the Bechtolsheimer Family
Photo Report: Merkulova and Tomlinson Sweep 2016 CDI Oldenburg
The Future is "Rosie" for Tomlinson at 2016 CDI Deauville