New Zealand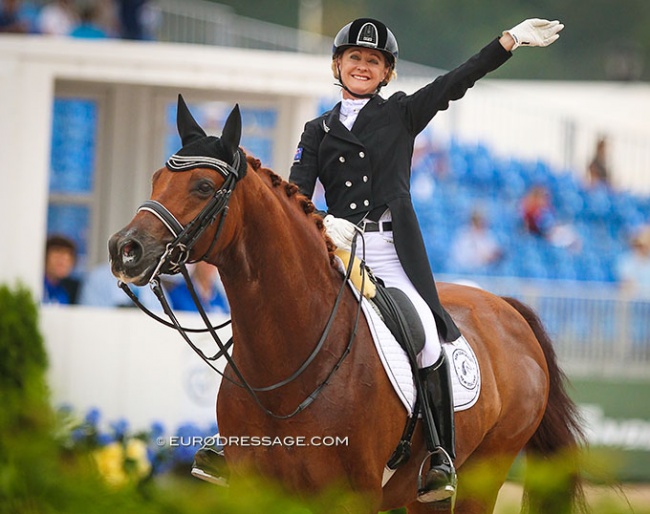 Julie Brougham has retired her top ride Vom Feinsten from competition sport at the national dressage show, Dressage by the Lake at Takapoto Estate on 1 May 2021.
Vom Feinsten is an 18-year old Rhinelander gelding by Fidermark out of Wellcome (by Weltmeyer x Wangenheim). 
German Start
Vom Feinsten is bred in Germany by Rudi Henn. 
Although he was not officially licensed, according to the German FN database, Vom Feinsten did the stallion performance test as a 4-year old in Schlieckau. He scored 122.55 points for dressage and finished second, but underwehlmed in show jumping with just 64.26 points (25th out of 27 participating stallions). With a total of 97.13 points he finished the 70-day test ranking 16th. 
The chestnut's career was always in dressage and he was first shown by Jana Freund at a local show in Mönchengladbach in May 2006. 
She competed him through 2007 in the riding horse classes, before he sold to New Zealand.
From Unruly Macho to Record Holder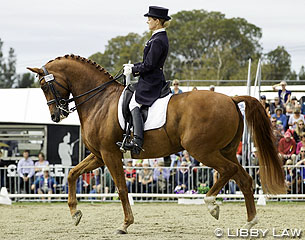 New Zealand's Julie Brougham discovered the Rhinelander during a visit at Ton de Ridder's stable in Aachen, Germany, where he had just been gelded because his behaviour was more than unruly from the testosterone.
Brougham bought him with the money she got from selling her Grand Prix horse JK Supersonic, but it took around two years for "Steiny" temperament to settle down.
He became a dressage NZ legend, writing history for his new country. 
Writing History
Julie and Vom Feinsten set their first New Zealand record in 2011 at the World Dressage Challenge, when they scored 71.67% in the Prix St Georges. A strained suspensory ligament kept him 18 months out of the running and they only returning to competition in 2014.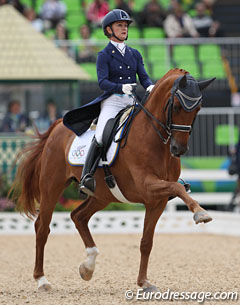 At the 2015 NZ Horse of the Year show in Hastings, the pair set New Zealand records in both the Grand Prix Kur (76.02%) and the Grand Prix Special (69.94%).
Brougham represented New Zealand as an individual at the 2016 Olympics, where they produced the country's best Olympic dressage score to date (68.543%). They were only the third New Zealand pair to ride dressage at an Olympic Games.
Vom Feinsten injured himself after Rio and needed more than a year to come back to show shape. Their return show was the 2017 CDI Boneo in Australia.  The won the 2018 New Zealand Grand Prix Championship and secured their ticket for the 2018 World Equestrian Games in Tryon. They placed 36th in the Grand Prix with 68.991%.
Tryon was Vom Feinsten's last international competition. A month after Tryon, Brougham was diagnosed with abdominal cancer and underwent  six rounds of chemotherapy to fight the aggressive cancer. She recovered and returned to the arena at national level in September 2019.
Retirement
Brougham officially retired Vom Feinsten after winning the Grand Prix at Oro Dressage by the Lake, a national show held at the Takapoto estate on 30 April - 2 May 2021.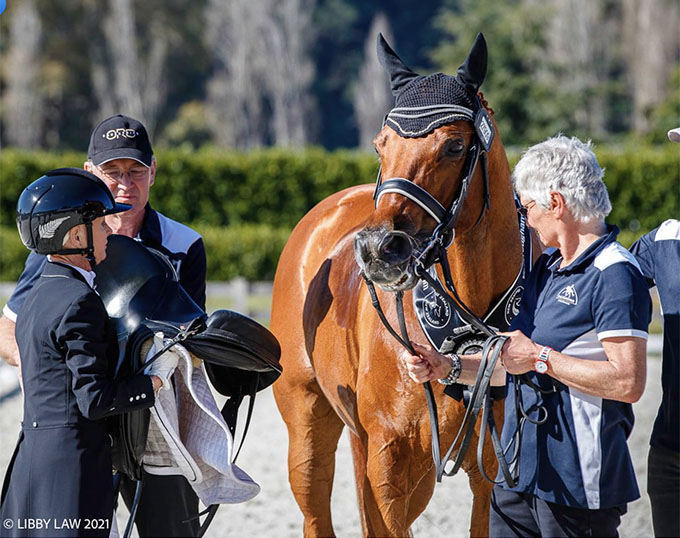 The pair won the Grand Prix with 71.812%, beating Vanessa Way on NSC Andreas and New Zealand's 2021 Grand Prix Champion and Tokyo hopeful Melissa Galloway on Windermere J'Obei W. The pair also won the Grand Prix Freestyle with 74.706%, edging out Galloway who was second with 73.312%.
A special ceremony was held in which Vom Feinsten was untacked and celebrated for his achievements. 
Photos © Astrid Appels - Libby Law
Related Links
Eurodressage Photo Database: Vom Feinsten
New Zealand's Horse of the Year Show 2021 Cancelled, Alternative "Dressage By the Lake"
Julie Brougham Returns to the Arena After Battling Cancer
Brougham and Thompson Nominated as New Zealand Individuals for 2018 World Equestrian Games
Brougham on her Way to 2018 NZL Grand Prix Title, WEG Qualification Secure
Julie Brougham Wins 2018 New Zealand Grand Prix Championship
Brougham and Von Feinsten Do the Double at the Inaugural 2017 CDN Equitana Auckland
New Zealand's Julie Brougham on Board with IRT To Go All the Way To Rio
Dolley and Brougham Take First Steps Towards Securing 2016 New Zealand Dressage Champion's Title
Brougham Sets the Bar High at 2016 CDI Hastings
Julie Brougham and Vom Feinsten Win 2015 Horse of the Year Crown at CDI Hastings
New Zealand's Julie Brougham Puts in Stirling Effort at 2015 Australian Championships