Trakehner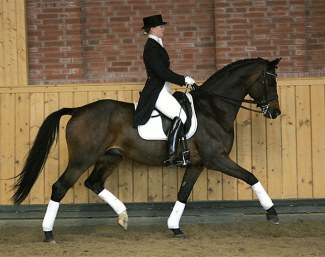 The Trakehner breeding stallion Couracius died suddenly and unexpectedly at his home, Gestut Hörstein, on 27 April 2021. He was 20 years old. 
Couracius was a 2001 born Trakehner stallion by Sixtus out of Couracia (by Caprimond x Kassiber x Auftakt), bred by Günter Heitfeld at Gestüt Bönninghardt.
Reserve Licensing Champion
Couracius was presented at the 2003 Trakehner Stallion Licensing in Neumunster and named reserve champion. He sold at auction for 60,000 euro to Wolfgang Diehm of Gestüt Hörstein. 
He did his 30-day performance test in March 2004 in Neustadt/Dosse and scored 7.94 for dressage and 7.59 for show jumping to finish on 7.92 points. In October of that year he did the 70-day testing in Neustadt/Dosse and scored a dressage index of 141.75 (1st place) and a jumping index of 106.77 (16th), to finish on a total of 129.01 points (3rd overall).
No Sport
Couracius' sport career was limited to just one show, according to the FN database.
In 2008 he competed as a 6-year old at the local show in Rohlsdorfer Beek under Finnish Grand Prix rider Terhi Stegars. He placed third in an L-level dressage test. 
Legacy
As a breeding stallion he produced no licensed sons and four state premium mares. 
Twenty-five of his offspring are registered for sport with the German equestrian federation. One of them competes at S-level dressage: Clondike (under Tjorven Carina Keunecke).  In Austria, his daughter Shannon Queen is competing in international eventing sport. 
As a dam sire, however, Couracius can be found in the pedigree of 2020 Trakehner licensing champion Rheinglanz
Related Links
April First Auction Highlight of the 2003 Trakehner Stallion Licencing
Rheinglanz, Champion of the 2020 Trakehner Stallion Licensing
Inzaghi and Iniesta, Price Highlights of 2018 Trakehner Foal Auction
Fifty-Four Foals Selected on Final Day of 2012 German Foal Show Circuit