Denmark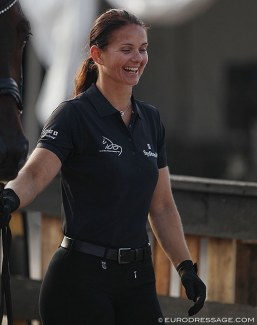 Danish 2018 WEG Team rider Betina Jaeger Jensen will have to spend some time out of the saddle. The 46-year old professional has been operated on. 
Helgstrand Rider
Employed at Helgstrand Dressage since 1 November 2014, Jaeger joined the team at the sales barn when Severo Jurado Lopez announced he would return back to The Netherlands after one year in Denmark. The Spaniard ended up changing his mind and stayed on, while Jaeger also got settled in at Helgstrand. 
Jaeger made her international debut with Helgstrand based horses in 2015, riding Kristin Schwarz' Hanoverian stallion Belstaff (by Brentano II) in the small tour. The horse sold to American Rowan O' Riley that year and moved to the U.S.A as a gelding to be trained and ridden by Catherine Haddad. In 2018 he was sent back to Denmark to be sold and Jaeger thrived on the horse, qualifying it for the Danish team for the 2018 World Equestrian Games, her major intercontinental championship. 
After WEG Belstaff sold again, but Jaeger continued competing internationally with sales horses Heartbreaker, Honnausseur SJ, Skovens Tzarina, and Bondermann. In 2019 she was briefly reunited with Belstaff when new owner Dong-Seon Kim took a brief break. In 2020 she began campaigning breeding stallion Franklin at small tour level.
Operation
Helgstrand announced this week that Betina would not be riding for a while and that two of the many horses on her roster, Springbank II and Franklin, have been temporarily taken over by different riders. 
"Betina underwent a hip operation, which is why Eric and Anne-Mette keep the two stallions going until Betina is flying again," said Helgstand. 
Jaeger told Eurodressage that "I'm operated on for hip dysplasia and I'm doing fine, but I still (need) a little time for some rehab."
She expects to start riding some horses again in four weeks.
Photo © Astrid Appels
Related Links
Severo Jurado Lopez Leaves Helgstrand Dressage
Danish 2018 WEG Team Horse Belstaff Sold to Korea
Bonderman Sold to Signe Kirk Kristiansen, Dionysos de Massa and Milione Sold to U25 Riders
Hesselhøj Donkey Boy Relocates to Helgstrand for Breeding and Training
Rockson, Fiontina, Esperance Win 2015 Danish Young Horse Championships
Danish Job Carousel in Full Swing. Six Riders Change Employers