KWPN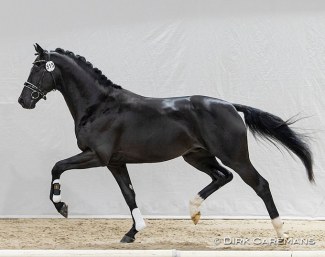 On Friday 14 May the 2021 KWPN Spring Stallion Performance Testing will finish in Ermelo, The Netherlands and just a lonely two 4-year old colts have made it to the finish line. Eight 3-year olds will complete the testing tomorrow. 
Fourteen 3-year olds
Fourteen 3-year old colts began the spring testing on 21 April. The testing lasts 21 days. 
At the half-way point, three colts left the testing and were taken home: Nero DDH (by Everdale), Nolegro (by Painted Black), and No Way (by Governor).
Right before the last day of the 21-day testing, three more 3-year olds were removed and will not do the final exam. Nebrasko Bo (by Ferdinand x OO Seven), Nescio (by For Ferrero x Osmium), and Nachtwacht in 't Veld (by Incognito x Everdale) did not complete the test. 
Still in the running for the final exam on 14 May are:
New Orleans (original name: Navarro) (by Blue Hors Farrell x Jazz) - Breeder & Owner: De Dalhoeve
Nephew (by Daily Diamond x Johnson) - Breeder: S. Wijnveen - Owner: Jan Greve
Next Romancier (by Furst Romancier x San Amour) - Breeder: J. Huls - Owner: Rom Vermunt
Neil (original name: Nirvana) (by Governor x Vivaldi) - Breeder: Ad Valk - Owner: Valk & Andeweg
Night Shadow (original name: Night Sjadow) (by Guardian S x Florencio) - Breeder: W. van der Aa - Owner: breeder & Stal van der Sande
Nick Wimphof (by Just Wimphof x Bordeaux) - Breeder: J. Naber - Owner: Van Uytert & Brouwer
Number Two (by Just Wimphof x Ferro) - Breeder: G. van Esterik - Owner: Breeder & van Uytert
Nacho (by Negro x Krack C) - Breeder: S. Maakenschijn - Owner: Gert-Jan van Olst (not yet licensed)
Massive Drop Out in 4-year old Division
Thirteen 4-year old colts began the 21-day testing as the corona year of 2020 upended the normal calendar and colts were given a pass to breed without having done the performance test due to the extraordinary circumstances. 
They have been covering mares in 2020, but by dropping out now, they have no completed the mandatory phases to obtain full approval. 
Sent home right before their final exam on 14 May were Maddock (by Dettori x Krack C), My Romance (by For Romance x Lord Leatherdale), Magic Boy (by Fürstenball x Damsey), Moulijn (by Glamourdale x Son de Niro), Max (by Sezuan x Johnson), and Mac Madison (by Ferdinand x Jazz).
The two colts still doing their final exam are:
Merlot VDL (by Bordeaux x Florencio) - Breeder: Fam. Klinkhamer - Owner: S. Van Musscher & VDL Stud. 
Mauro Turfhorst (by Zonik x Negro) - Breeder: Jan Greve - Owner: Turfhorst x Eugene Reesink
Photo © Dirk Caremans
Related Links
Nero DDH, Nolegro, No Way Drop Out of 2021 KWPN Spring Performance Testing
Fourteen Dressage Colts Begin 2021 KWPN Spring Stallion Performance Testing