Westfalian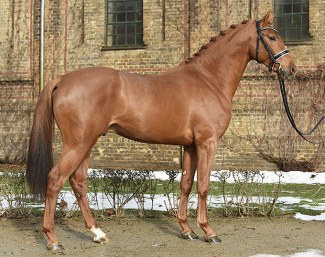 Zavattini became the high scoring stallion in the 14-day suitability test held in Schlieckau, Germany, on 5 - 18 May 2021. 
Twenty-four colts participated in the testing and the group was a mix of dressage and show jumping stallions. Only one dressage stallion was able to finish on a total over 8.0 points!
Jumpers Rules
The Brandenburg bred Zavattini (by Zinedream x Quiz x Fighting Alpha) was the top scorer of the lot, finishing with a total of 8,48 points. Bred by Hans-Adolf Lembke, Zavattini got 7,29 for dressage and 9,43 for show jumping. 
The show jumpers clearly outperformed the dressage horses: Classic Conthero (by Conthargos) scored 8,25 points, Maverik (by Monti Obolensky) got 8,20 points,  Zanzano Blue (by Zirocco Blue) earned 8,13 points and Charmeur Blanc (by Cornado) finished with 8,08 points. A Belgian warmblood bred Cicero Z also received 8,08.
Sir Diamond, Best Dressage Scorer
A still nameless (!) 4-year old colt by Sir Heinrich x Real Diamond x Florestan, bred by Gerda Schulze-Zumloh, was the top scoring dressage stallion and the only dressage bred colt to finish with a total score above 8.0. 
The chestnut received 9.5 for character, 8 for walk, 8.5 for trot and 9 for canter, 7 for jumping and 9 under the test rider. He totalled 8,63 for dressage, 7.6 for show jumping and finished on a grand total of 8.30 points. 
This 4-year old colt was licensed at the 2019 Westfalian Stallion Licensing in Munster-Handorf. He did not make it into the premium ring. He was presented in Schlieckau by Sina Aringer and she confirmed that his name is "Sir Diamond."
The dressage high score was achieved by Fänomenal (by Fantastic), who got 8.50 for dressage, but the colt underwhelmed in jumping (6,75 pts), so finished on a total of 7.83 points. Gryffindor (by Grey Flanell) earned a dressage score of 8,29 points, but with 6.70 for jumping, he averaged 7.65 points. 
Related Links
Dynamic Dream, Champion of 2019 Westfalian Stallion Licensing