The Netherlands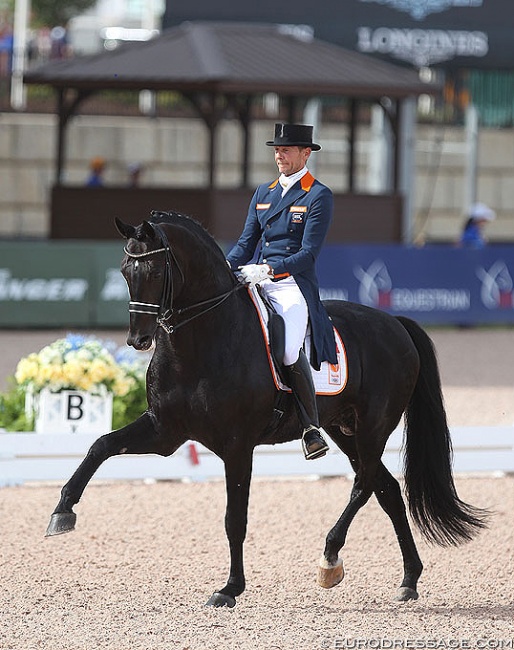 Edward Gal's former Dutch team horse Zonik will continue his competition career under Hans Peter Minderhoud
Zonik is a 13-year old Danish warmblood stallion by Zack out of Romanik (by Romanov). He is bred by Linette Jaeger in Denmark. 
Danish Start
As a 3-year old Zonik became a premium stallion at the 2011 Danish warmblood licensing and finished third at the 35-day stallion performance test in Vilhelmsborg with a score of 8.35 points that same year.
Under Andreas Helgstrand he became the 2012 Danish Young Horse Champion at the Young Horse Nationals in Odense, Denmark, mid October 2012.
Sold to Glock
In December 2012 Zonik sold to Austrian Gaston Glock and the horse moved to the Netherlands to Edward Gal and Hans Peter Minderhoud.
The stallion was first competed by Hans Peter, who rode him to an 8th place in the consolation finals at the 2013 World Young Horse Championships in Verden. 
Gal's Grand Prix Horse
In 2015 Edward made his first international appearance on a 7-year old Zonik at the 2015 CDI-W 's Hertogenbosch. Gal had ridden Zonik only at one small local warm up show in Uden before his appearance in De Bosch. The duo won the PSG exhibition class with 78.289%.
In April 2017 they made their national Grand Prix debut in Kootwijk as a late entry, scoring 76.05%. Their international GP debut was two months later in Roosendaal, where they won the Grand Prix with 75.780% and the Special with 76.333%. 
The pair went on to finish eighth at the 2018 World Cup Finals in Paris. They represented The Netherlands at the 2018 World Equestrian Games in Tryon, where they were 7th in the Special. At the 2019 European Championships in Rotterdam, they won team silver and placed 6th in the Kur to Music. Gal and Zonik were Dutch Grand Prix Champions three years in a row, 2017, 2018 and 2019.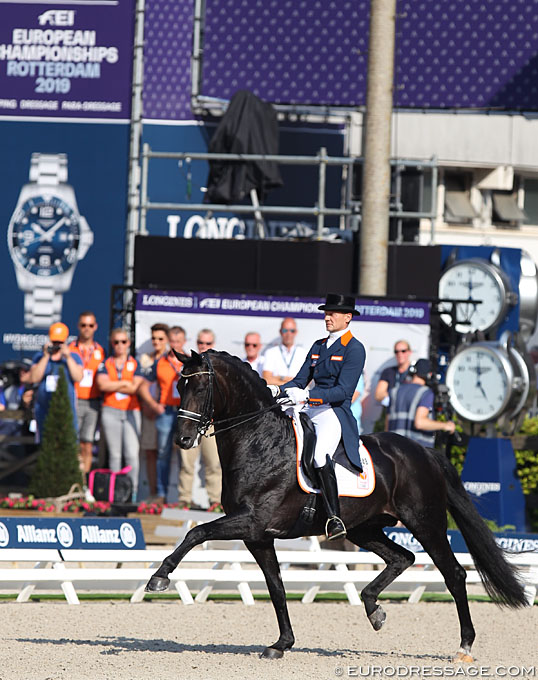 Gal's last competition start on Zonik was in January 2020 at the CDI-W Amsterdam, where they were third in the Kur. Since then Gal has been focusing on his two younger GP horses Toto Jr and Total U.S.
Minderhoud's Turn
Today,  Glock announced that Hans Peter Minderhoud has taken over the ride on Zonik
Minderhoud has been competing three Grand Prix horses most recently: top ride Dream Boy, Zanardi and Casper. With Casper he's entered to compete at the CDIO Compiegne and Zonik has become a late entry to that show too. 
"In corona times Hans Peter rode Zonik a few times for Edward and that turned out as a very good match," Glock stated. "For Edward, who has the comfortable position of three top horses, Zonik and the two Totilas-sons Toto Jr  and Total US, the decision was not difficult to make: Hans Peter (has taken) over the reins from Edward and (has been training) with Zonik for a few months now."
"I am very happy with Zonik," Hans Peter added. "I have a very good 'click' with him and I really enjoy the ride on him. Edward and I both have two top horses now, which of course increases our chances."
Photos © Astrid Appels
Related Links
Edward Gal's Zonik Withdrawn from the 2020 Dutch Dressage Championships
Zonik Receives NOP Status
Zonik Withdrawn from 2019 CDI-W Amsterdam
Edward Gal Makes Winning Debut on Zonik at Sunny 2017 CDI Roosendaal
Edward Gal Makes Grand Prix Debut on Zonik at 2017 CDN Kootwijk
Edward Gal Plans Grand Prix Debut for Zonik during 2017 Outdoor Show Season
Gal Makes Debut on New FEI Ride, Zonik, at 2015 CDI-W 's Hertogenbosch
Zonik and Valentino Sold to Glock
Zonik, Holballes Deeba, Samba King Win 2012 Danish Young Horse Championships