Health Care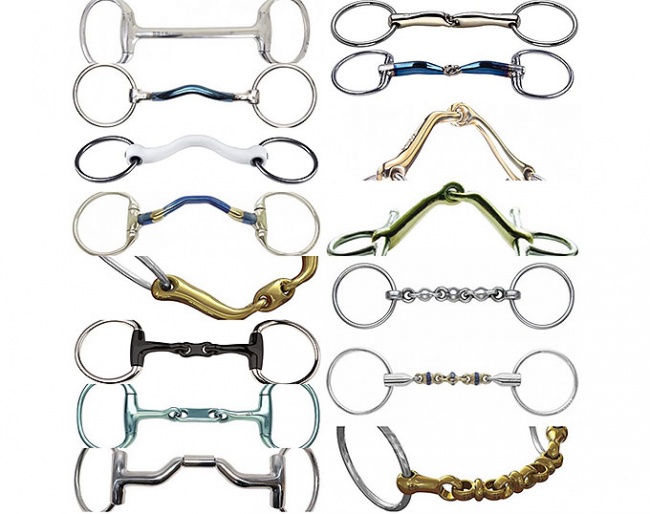 -- by Vikki Fowler, veterinary equine dentist
A bit is only as harsh as the hands that hold it - true.
If the rider is good enough, it doesn't matter what bit the horse has in - false.
Usain Bolt could not have broken those world records if his running shoes were too tight. Cristiano Ronaldo would not have won champion league titles if his boots were too large. Lewis Hamilton would not be a 7 time world champion if he didn't fit perfectly in his car.
Horses are not one size fits all. They might have large tongues, low palates, fleshy lips or knife edge bars. They might have a dry mouth or produce excessive saliva. They may freeze with the bit or they might fidget constantly. Some have a very small interdental space leaving almost no room for a bit, and some have their first cheek teeth ahead of their lip corners. I generally tell clients that they can choose the cheek pieces but the horse gets to choose the mouthpiece of their bit.
But that choice goes deeper than their individual anatomy. Horses are living, breathing, feeling animals that have preferences. Some horses prefer tongue pressure, a lot of horses hate palate pressure and open their mouths to escape it, some will put their tongue over the bit if there is any tongue pressure, where others will throw their head if the bars are pressured. The horse gets to have an opinion on where their bit acts too. A happy horse will be an easy horse.
Anyone can make these assessments. You don't need any specialist equipment. Just experience, and an understanding of what is normal, to know how your horse varies from the "normal". If in doubt, ask your EDT, vet or a bit specialist.
Four Main Types
A little about the bit mouthpieces, there are 4 main types, straight bars, single jointed, double jointed and multi jointed.
Straight bars - a mullen mouth will act mostly on the tongue with a little lip corner pressure. Often straight bars will have a port for tongue relief. The bigger the port, the more tongue relief so the more pressure is placed on the bars and lip corners whilst less is applied on the tongue. Straight bars do not have palate pressure when fitted correctly but if the port is too large, it will hit the palate. Straight bars are very still by their nature. They are good for horses that mess with the bit a lot, crunch the bit, put their tongue over (with an appropriate port for tongue relief), or sit behind the bit, over bent. They are not good for horses that are strong or lean.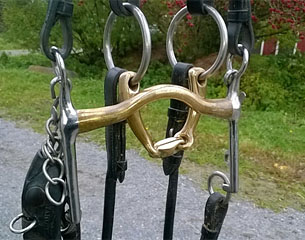 Single jointed - these act mostly on the bars and corners of the mouth and less so on the tongue surface. But they squeeze the tongue from the sides in a nutcracker action, and the joint can hit the horses palate. This will cause the horse to open its mouth to escape that palate pressure. There are some anatomical single jointed bits which curve with the horses mouth and reduce these side effects. Being more mobile than a straight bar, the horse is less likely to lean. Better suited for those that dislike tongue pressure but are too strong for a straight bar.
Double jointed - there are 4 types, peanut, french link, Dr Bristol and barrel. All double jointed bits share pressure equally across the tongue, bars and lip corners.
A peanut is smooth and rounded so very gentle. This is generally the ideal starting place when starting along the journey to find your horses ideal bit, or as the first "grown up" bit for a youngster.
The french link has a plate which sits flat on the tongue, the edges and joints can cause more uneven tongue pressure than the peanut. This bit takes very little space between tongue and palate, suited for those with large tongues and low palates.
A Dr Bristol plate lies opposite to the tongue, meaning the plate edge digs in the tongue making it quite a harsh bit, even in gentle hands. A horse can not move into the riders hands for a true outline with this bit.
Barrel bits act as a straight bar when in action but each side moves independently. Barrel bits can come with ports to offer more tongue relief. These are ideal for horses that like a straight bar but become confused and require the reins to work independently to understand the rider clearly, or perhaps lean on one rein in a straight bar.
Multi jointed - apart from the chain bits which I won't mention, these are mostly Waterfords with many joints across the mouthpiece. These act equally on the tongue, lip corners and bars. Be careful when choosing these bits as the cheaper versions have joints on the lip corners which nip and bruise. Better quality Waterfords have short straight sections for the lips. Lots of joints prevent the horse from taking hold of the bit. Good for those that lean or are strong. Keep in mind they can prevent the horse from moving into the hand for a true outline due to the mobility of the bit. Similar to the French link, the joints can cause uneven pressure across the tongue and those joints tend to make these bits chunky so not ideal for those with big tongues or small mouths.
Other considerations
Bit material - horses with dry mouths find stainless steel very uncomfortable. A horse needs a moist mouth to be comfortable with a bit in their mouth. Warmer metals like sweet iron encourage the horse to salivate and makes them more comfortable. Copper rollers or other mobile parts can encourage a horse to mouth the bit and produce saliva, but may also encourage the horse to mess and fidget with their mouths and heads. Some horses hate all types of metal and prefer the softer feel of nathe or plastic. These need to be inspected very regularly as they are easy to damage and can have sharp points. The plastic/nathe bits are very good for those that over bend or sit behind the bit.
Over salivating - some horses produce large amounts of saliva. This is uncomfortable and distracting for the horse. Consider sitting in the dentists chair desperate to swallow, it's not a pleasant feeling. These horses need a bit that remains as still as possible and does not encourage salivation to be comfortable.
Bit positioning - the old advice use to be you should see 2 wrinkles in the corner of the mouth when the bit is in the correct place but this varies between bits. For example, a straight bar needs to be a little lower than a jointed as a jointed bit lays lower on the tongue so needs to be a little higher at the cheek. Some ponies, in particular shetlands and welsh ponies, have shortened noses with normal sized teeth which brings the first cheek tooth forward of the lip corners. These need the bit to be lower than normal. Those with very fleshy lips will also need the bit a little lower to allow space for them. Be sure to part the horses lips with the bit in place and check the position in relation to the lips, teeth and tongue.
Bit thickness - the fleshier the horses mouth and larger the tongue, the finer the bit needs to be to fit between the tongue and palate, too thick a bit and the horse wont be able to close its mouth. Thicker bits tend to be gentler as the pressure is spread further, where the horses mouth has space to accommodate.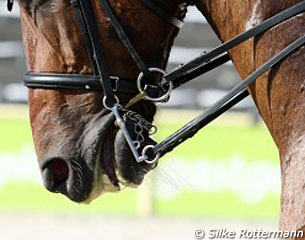 Bit width - if a bit is too narrow, it will pull the lips into the teeth and cause internal bruising (even when the teeth are perfectly smooth and rounded) or cheek and lip ulcers (if the teeth are sharp). It can also cause external nipping if a loose ring. If the bit is too wide, it will not act on the intended areas of the mouth and the bit can slide across the mouth. Generally speaking, with the bit pulled tight across the mouth, a little fingers width should be visible each side, no more, no less.
Bitless/hackamore bridles - some horses have no/almost no space for a bit. With big tongues, low palates, short interdental spaces and fleshy lips, some horses just can't comfortably take a bit and may prefer an alternative.
Bit rings - eggbutts are better for horses that sit behind the bit and over bend, loose rings are better for horses that lean or take hold of the bit.
Cheek pieces - there are many many options for cheek pieces, gags, drop cheeks, full cheeks, D rings, Pelhams etc etc. Once you have found the mouthpiece your horse likes, you can find a cheek piece that suits you and the horse for the discipline you are in and your capabilities. But the horse chooses the mouthpiece.
Check your Horse's Teeth
Please remember to make sure your horse's teeth are perfect before messing around with their bit. Get a BAEDT qualified EDT or a dental trained vet to check out your horse. Do not assume you would know if your horse is in pain. They are very good at hiding pain and humans are very poor at picking up on their subtle signs.
post scriptum: it has been brought to my attention that the Dr Bristol has been used incorrectly for the last century. Apparently according to the patent, the inventer intended the bit to be used the other way up which makes the bit a more 'anatomical' French link and would be a gentler bit.
-- Text by Vikki Fowler, veterinary equine dentist
Photos © Fowler - Silke Rottermann
Related Links
Noseband Special: Part I: The History of the Noseband
Noseband Special: Part II: The Purpose of the Noseband
Noseband Special: Part III: Riders and Trainers on Their Choice in Noseband
Noseband Special: Part IV: The Thicker, the Wider, the Better?
On the Ignorance of Noseband Tightness and Vague FEI Noseband Rules
The Double Bridle: An Instrument of Understanding