Ireland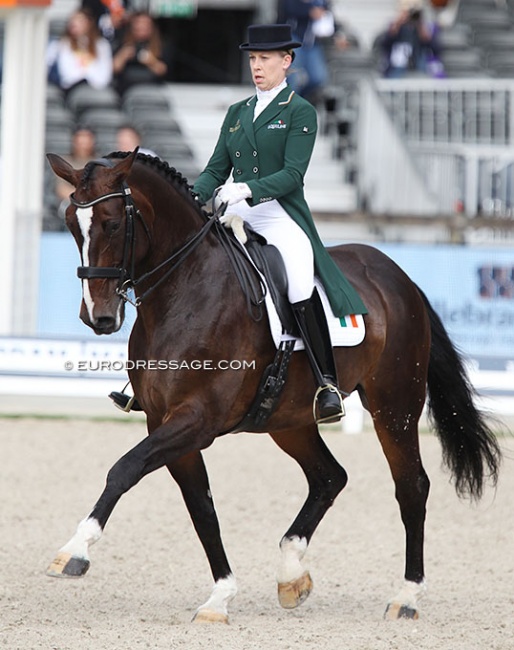 Just two days after the announcement of the retirement of Ireland's anchor Grand Prix horse Vancouver K, Irish rider Kate Dwyer has announced that she has pulled from Irish team contention.
Baby Due
The 37-year old Kate Dwyer is expecting her first baby with husband Alan.
"Due to the distance involved, and the conditions with the pandemic and the weather in Tokyo, I have been advised by my physicians not to travel," Dwyer told Eurodressage.
"My next aim and focus is now the World Equestrian Games in Denmark next year. I am very proud of the fact that I was a member of the Girls in Green that secured the Olympic team place for Ireland," she explained. 
Will Ireland Write History in Tokyo?
For the first time in history, Ireland qualified a full team for the Olympic Games in Tokyo thanks to outstanding results at the 2019 European Dressage Championships in Rotterdam. 
Unfortunately the Irish Team dressed in green tailcoats seems to have become in dire straits in the lead-up to Tokyo, running out of potential team candidates.
Judy Reynolds' 19-year old Vancouver K has been retired, Anna Merveldt's Esporim is rumoured to be dealing with some fitness issues (his last start was January 2021 in Salzburg), and now Kate Dwyer has withdrawn from team selection. 
Who is Still in the Running?
So who is still in the running for an Irish team spot or will the team dream come to an end? 
The remaining team potentials are Heike Holstein, Dane Rawlins, James Connor, and Alex Baker, although the latter still needs one MER score, which she could achieve at the CDI Le Mans.
The Irish Equestrian Federation has not yet confirmed if all these riders have been nominated for team selection. 
Related Links
Judy Reynolds Retires Vancouver K from Competition Sport
Irish 'Girls in Green' Aiming to Write History at the 2019 European Dressage Championships
Kate Dwyer Injured in Riding Accident