Australia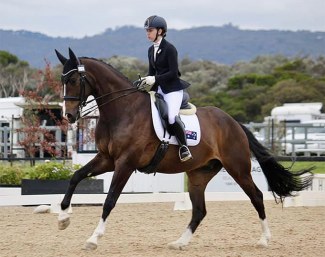 Australian paralympic team candidate Zoe Vorenas has been forced to withdraw from the Paralympic race as her horse sustained an injury. 
The 2021 Paralympics will take place in Tokyo, Japan, on 
The 24-year old Zoe Vorenas has been competing the 10-year old Neversfelde Kipling (by Furst Love out of former international small tour horse Neversfelde Kudu) in Grade IV.
Her last international entry was at the CPEDI Boneo in January 2020 right before the corona outbreak. Since then no international shows have been held in Australia, but the Australian federation has set national Paralympic selection criteria for Tokyo. 
Vorenas was one of just 6 Australian paralympic short-listed combinations for team selection. She has now withdrawn from contention. 
"With the state of the world, the fear and trepidation the Japanese population feel with the Games proceeding, and my own compromised health and immunity, I had begun to wonder if this was the right thing for me," Zoe explained. "Ultimately, the universe made the decision for me, and with Kip injured, I've realised that this is just not our time. This sport has made me no stranger to heartbreak, alas, we will pick ourselves up and dust off the disappointment. WEG is in our sights, and we will continue to push onwards."
She continued, "I have experienced the best and hardest times these last 12 months, and I'm so proud of the things I've achieved. All of which wouldn't be possible without the unwavering support around me."
Related Links
Equestrian Australia Announces Tokyo Paralympic Short List
Alycia Targa to Represent Australia at the 2007 Young Rider World Cup Final
Australia Looks Towards Tokyo Paralympic Success after 2020 CPEDI Boneo