2021 CDI-W Samorin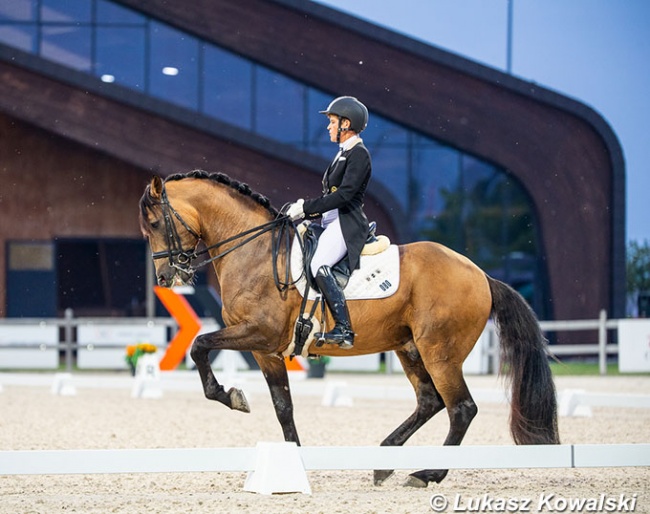 Polish Grand Prix rider Katarzyna Milczarek became the winner of the World Cup qualifier hosted at the magnificent X-Bionic Sphere Equestrian Centre in Samorin, Slovakia, on 3 - 6 June 2021. 
Samorin has twice been a candidate to host the World Equestrian Games, the first time in 2018 and the second time for 2022,  but each time the organisation withdrew its bid. So far the venue has hosted three international dressage competitions. The first time in 2015, the second time in 2016. After a four year break from CDI dressage, Samorin returned on the calendar in 2021 with a CDI-W. 
An unexpected 106 entries filled the programme of the CDI-W, even though the group of World Cup riders was rather small with just four in that division. With Robert Pal as show director, Samorin modernized this year doing paperless eDressage, there was a live stream of the entire competition and the ground jury included two 5* star judges, Peter Holler and Sissy Max-Theurer. 
Aboard her new ride of 2021, 10-year old Lusitano stallion Guapo (by Almansor x Nordeste), Milczarek placed third in the Grand Prix with 66.217% behind winners Aniko Losonczy on Dior S (by Spielberg) and Zaneta Skowronska-Kozubik on Romantic P (by Rosenstein x Furst Heinrich). However in the freestyle Katarzyna and Guapo surfaced at the top of the ranking with 73.095% to claim valuable world cup points. 
The Grand Prix Special tour also had two different winners. Austrian Katharina Haas and her 11-year old Westfalian Let It Be (by Lissaro van de Helle x Florestan) won the Grand Prix for Special with 69.370% and were second in the Special with 69.021%. The Special was won by local hero Michael Bugan aboard the 13-year old Austrian warmblood For President (by Fontane x Brentano II).
Photos © Lukasz Kowalski
Related Links
Scores: 2021 CDI-W Samorin
Samorin Withdraws as Candidate for Hosting 2022 World Equestrian Games
Samorin Thrown into the Mix as 2018 World Equestrian Games' Candidate
Pia Laus-Schneider In the Money with Shadow at 2016 CDI Samorin
CDI's in Samorin, Barcelona and Drachten Cancelled