FEI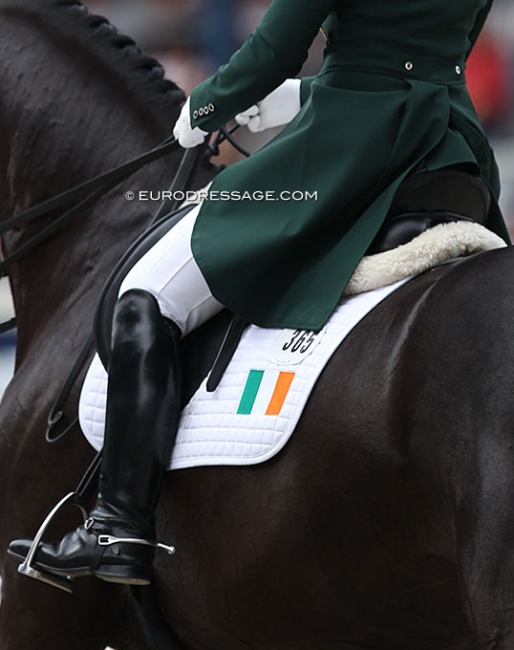 Yesterday, Horse Sport Ireland officially announced that it will not be sending a team to the 2021 Olympic Games in Tokyo, sending a shock wave of disappointment, disbelief, anger and frustration through the Irish dressage community.
Ireland Out
At the 2019 European Championships in Rotterdam, Ireland wrote history by qualifying its first ever dressage team for an Olympic Games. However, the one year postponement did not turn out beneficial for the Rotterdam riders: 19-year old Vancouver K has been retired from sport, Kate Dwyer is pregnant, and Anna Merveldt's Esporim is not fit to compete.
This leaves Rotterdam team rider Heike Holstein left to form a new team with two other qualifier riders. Two riders did achieve the FEI's mandatory MER (Minimum Eligibility Requirement) of two times 66%: British based Dane Rawlins and Italian based James Connor. However, Horse Sport Ireland decided to invoke its own rule that these combinations had to score 68% at least or would not be sent. 
Instead of honouring the Olympic spirt of inclusion, honing upcoming talent, and supporting its riders in this glorious occasion of writing history in Tokyo, HSI decided to send no one.
The Team Trainer that Doesn't Select Teams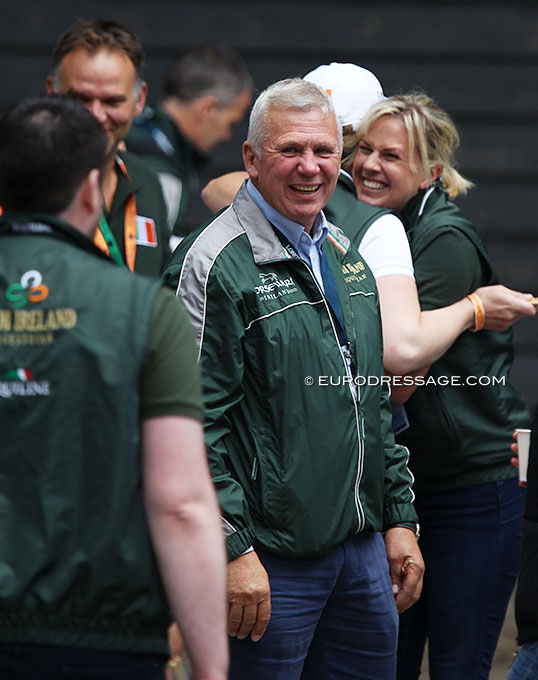 An interesting observation is that Johann Hinnemann has been the official senior team trainer of Italy in 2019 and right on the nomination deadline the Italian federation (FISE) announced it would not send at team to the Europeans in Rotterdam due to "lack of medal chances".
In 2020-2021 Hinnemann accepted the job of team trainer for Ireland for a generous stipend and on the deadline of 21 June the Irish Federation announced it won't send a team to Tokyo upon Hinnemann's recommendation ("Director Hinnemann advised the Board that two combinations have not met the specific criteria as set by the HPD, and as such, the HPD is not in a position to nominate these combinations").
For the past two years Hinnemann has been based in California. At the beginning of 2021 HSI announced that squad riders would get "weekly pixio training" from Hinnemann, but these sessions in the end happened far less than announced and an actual live, physical check up or training of the squad riders and team potentials did not take place in 2021, as riders reported.
Appeal Lodged
Dane Rawlins announced that he and James Connor are legally appealing HSI's decision not to send them to Tokyo. Rawlins said he was never personally notified of HSI's decision but had to find out about it in the press. 
In an interview with Horse & Hound, Rawlins stated that "we are fit, our horses are fit and prepared – we are eligible and qualified and want to go. The sport in Ireland has grown so much that even though we have lost out leading lights we have a second team. (...) It's a real shame to have lost the leading lights, because they all deserved their place, but that means that nobody else gets to go? The Olympics particularly are about participation – the whole idea of the new rules having three on a team is to increase participation."
So What Happens to those Team Spots
With Ireland officially releasing the team, the next in line for a composite team can take over, in principle.
The FEI rule (page 4) reads that if a team withdraws another team can step in.
"The team quota place(s) will be redistributed to the Composite Team(s) (as defined in the Appendix), provided that the NOC(s) had the minimum three eligible combinations," the FEI rule reads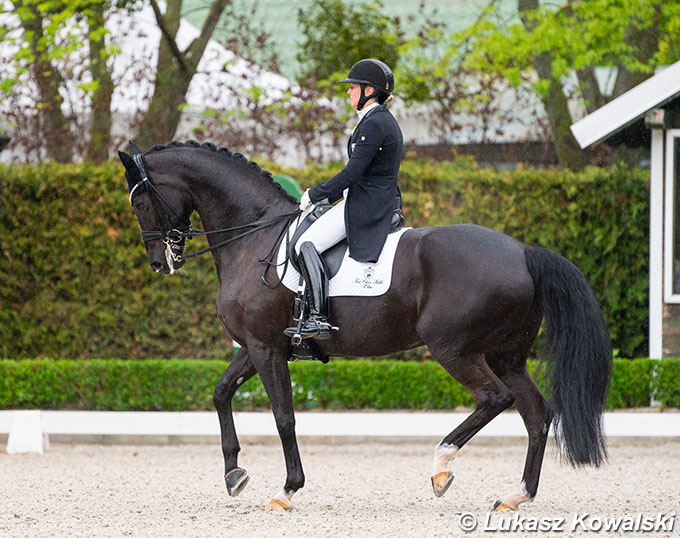 The next in line is Luxembourg, followed by Belgium, and Switzerland. 
It is still unclear if Ireland will get one individual spot, despite having relinquished its team quota, but it seems unlikely upon our reading of the rules.
Does Luxembourg  Even Have a Team?
The small grand duchy of Luxembourg is next in line to send a team. They have several international Grand Prix riders and already have Nicolas Wagner on Quater Back Junior qualified as an individual. 
At the moment Luxembourg only has four FEI ranked riders: Wagner, Fie Skarsoe, Sascha Schulz and Diana Erpelding.
Fie Skarsoe has obtained the MER aboard So Dark (Dortmund 2020, Mariakalnok 2021), but Sascha Schulz failed to achieve MER. He has not competed Dragao since 2019 (so no confirmation score) and with Dayman he only did one show (Achleiten in May). Diana Erpelding has not competed Woltair since 2019.
This means that Luxembourg has no three riders to make a team.
Can Belgium Rejoice?
So the question is, can Belgium rejoice? With Luxembourg failing to make a team, Belgium is next in line.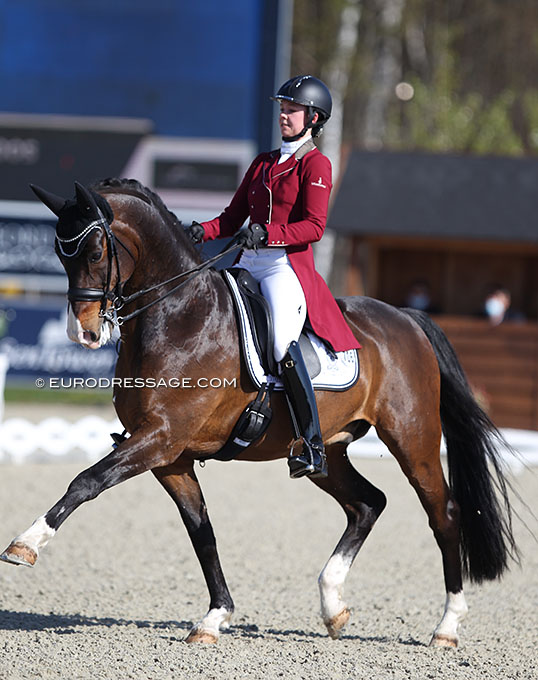 Belgian has one individual rider qualified: Laurence Roos on Fil Rouge. She achieved her confirmation result easily at the 2021 CDI Opglabbeek in May and then went on to score well again at the 2021 CDI Achleiten in June. 
A whole string of Belgian international Grand Prix riders has achieved their MER scores in the 1 January 2020 - 21 June 2021 time period: Larissa Pauluis (Flambeau, Valentin), Domien Michiels (Intermezzo van het Meerdaalhof), Alexa Fairchild (Dabanos d'O4), Laurence Vanommeslaghe (Edison, Havalon), Thibault Vandenberghe (Santiago Song), Charlotte Delfaque (Botticelli), Jorinde Verwimp (Cape Town) and Marc Peter Spahn (Elias).
Fanny Verliefden also has her MER confirmation result on Indoctro van de Steenblok, but she hasn't show her horse since March 2020. Simon Missiaen with Charlie last scored 68.718% in the Grand Prix at the CDI-W Salzburg, but then he gave the ride to his partner, Under 25 rider Laura de Graeve. 
Who Has Been Nominated by the KBRSF?
The Belgian Equestrian Federation (KBRSF) had to send in its nominative entries to the FEI by 21 June 2021. At this moment, the question remains unanswered who in fact was nominated and if the KBRSF was smart enough to consider a scenario of team selection.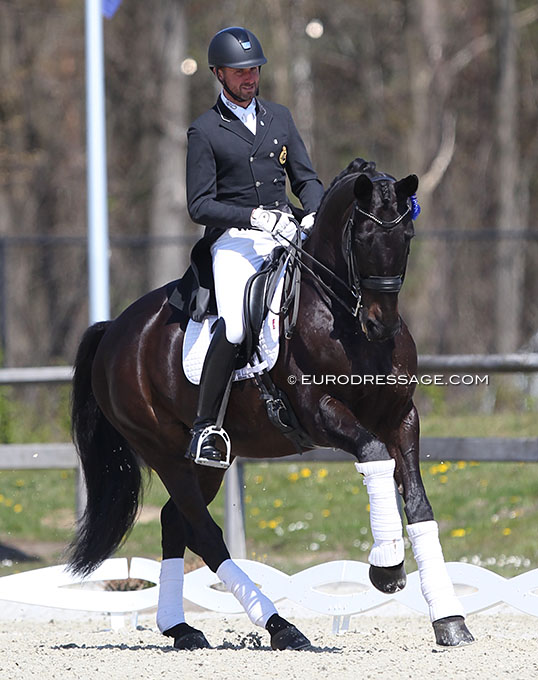 Belgian team captain Jeroen van Lent told Eurodressage that he believes only three riders have been officially nominated by the Belgian equestrian federation (KBRSF) and sent to the FEI: Laurence Roos (Fil Rouge), Larissa Pauluis (Flambeau and Valentin) and Domien Michiels (Intermezzo van het Meerdaalhof). The horses of these riders that have already undergone a vet check by the team veterinarian. It's good enough for a team, but there is no reserve nominated.
"We haven't left yet (for Tokyo) and the Belgian Olympic Committee (BOIC) has to give its approval in first instance, which should be OK in this case," Van Lent stated. "Let's not run ahead of the facts."
Van Lent contacted the KBRSF to verify the nominative entry list, but they were not answering the phone. Eurodressage contacted Wendy Laermans, president of the KBRSF, but has not received a reply all day.
Related Links
Horse Sport Ireland Decides not to Send Team to Tokyo, Three Spots Released
The End of the Long Chase for Tokyo Places: Team and Individual Spots Known