Ireland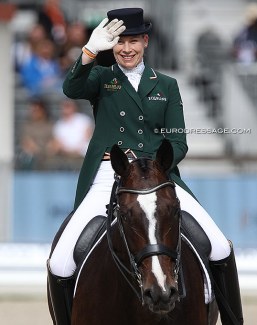 Horse Sport Ireland (HSI) has announced the senior dressage squads going into 2021.  Due to the corona pandemic squads trainings are doing via Pixio and Zoom.  
Athletes in both squads train with HSI Dressage High Performance Director Johann Hinnemann, who is based in California, on a weekly basis by Pixio at the new headquarters and National Training Centre at Greenogue near Dublin and by Zoom for athletes that are not based near Greenogue.
"I myself gave clinics in the German Centre of Excellence for 12 years for the senior squad as well as development squad athletes. There was a huge advantage in having the athletes, coaches, vets and psychologists, all in one location with independent checks on their performance and health – it is a big advantage," commented Hinnemann. ""It gives the athletes great possibilities to develop and to get familiar to being closely monitored which will stand to them in competitions. I believe, and saw it with the German squads, that whoever is allowed to train at the centre, it fills them with a sense of pride and people work harder to achieve that goal and to stay part of the squad."
The 2021 high performance dressage senior squad includes:
Dane Rawlins - Espoire
Heike Holstein - Sambuca
Judy Reynolds - Vancouver K
Anna Merveldt - Esporim
Kate Dwyer - Snowdon Faberge
Carolyn Mellor - Gouverneur M
The high performance development squad includes:
Josephine Delahoyde - Let's Go
Sorrell Klatzko - Turbo
Tara Oliver - Furst Romance
Anne Marie Dunphy - Her Highness Willow
Rachel Dowley - Cadens
Sarah Mellor with Let's Dance
Belinda Brereton with Captain Negro C
Kevin Acres with Ganesh
Marguerite McSweeney with Fidette
Courtney Steward with HH Empire
The HSI National Training Centre at Greenogue will house a breeding education and research centre, a world class performance environment for each of the equestrian disciplines, an equestrian training academy for all levels of equestrian activity and a permanent headquarters for HSI and its affiliates.
Related Links
Reynolds, Stickland Appointed on Irish Dressage High Performance Committee
Horse Sport Ireland Medal Reception celebrates Historic Year for Irish Equestrian Sport
Court Rules in Hinnemann vs Arns-Krogman - Hinnemann is the Breeder of Aweih
Hinnemann and Merveldt Appointed Italian Team Trainers, Endres Pony Consultant