History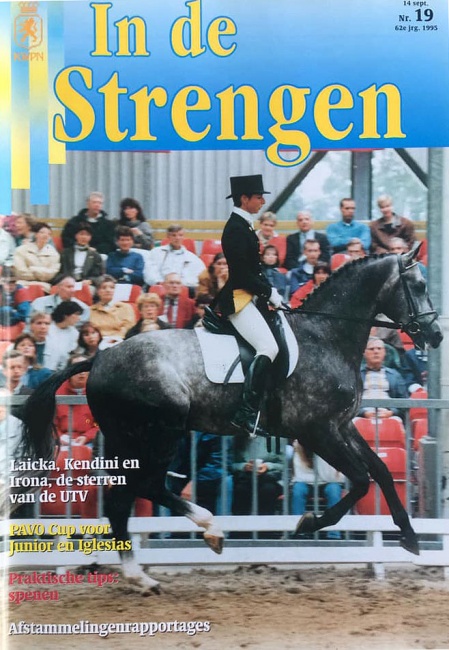 The Pavo Cup is an annual fixture on the show calendar in The Netherlands. The Pavo Cup was Holland's first national Young Horse Championship, exclusively for KWPN bred horses. This first edition was held in 1995.
Because of the presence of the Pavo Cup and the overall dominance of KWPN bred horses in The Netherlands, the Dutch equestrian federation has not felt the need to organize a "Dutch Young Horse Championship", open to all breeds. For a few years there was a similar concept (Subli Cup) but it died a silent death, as the Pavo Cup continues to be considered the Dutch YH Championships. 
Initially the Pavo Cup was only for 4- and 5-year old horses, but a few years ago KWPN also opened it up to 6-year olds. 
Mieke de Kok, First Champion in 1995
Mieke Ruisaard-van Gent, previously known under her first married name Mieke de Kok, was the winner of the very first Pavo Cup edition held in 1995. 
The first Pavo Cup was only open to 4-year olds and Mieke de Kok and the KWPN licensed stallion Junior STV (by Uniform x Variant x Eros) were the champions. 
"It was a brand new concept," Mieke reminisced. "At the time we only knew those classes for the 'best moving riding horse'. We all entered the arena at the same time and the horse with the best trot and canter would be placed first. The Pavo Cup was a huge improvement. Junior STV was a nice horse to work with. He was pretty to look at and moved well. I had him in my barn for a while the year before the Pavo Cup, but by then he had moved to Anky. She had no time to present him and that is why I got to ride the Pavo Cup. It was so cool to win it with such a good horse. I remember I was very proud."
Mieke went on to present more horses in the Pavo Cup. She placed third with Nostradamus (by Hofnar) in 2000.
"With my home bred Orinoco (by Junior STV) I had the highest scores of all qualifiers in Holland. Because of an injury the mare never went to the semi-finals and became a broodmare," Mieke explained. 
Junior STV and Iglesias Win in 1995
The 1995 Pavo Cup judging panel had Jan Peeters, Bert Rutten and Frans Vrencken and featured Monica Theodorescu and Ellen Bontje as guest judge riders.  The 4-year old Junior STV and 5-year old Iglesias were the winners. 
Theodorescu test rode Junior STV and rewarded him with a 10.  "What does a dressage horse need to have more. He is fully in balance, has rhythm and swing, and reacts very well to the aids. Without a doubt the best horse I rode here," Monica commented at the time.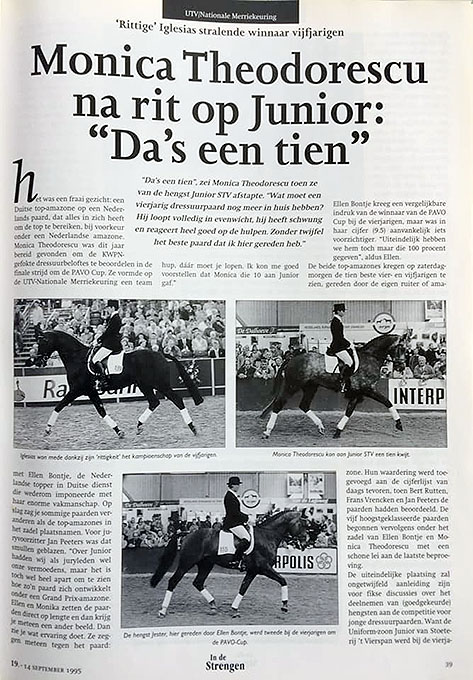 Judge Peeters was in agreement. "We already had our suspicions about Junior, but it's unique to see such a horse develop under a Grand Prix rider (referring to Junior and Monica)," said Jan Peeters in an article in magazine In de Strengen. "Ellen and Monica put the horses in the right long frame and it immediately gives a different image. You see what experience can do. They tell a horse straight away, 'come on, that's where you need to be'. I can really imagine that Monica gives Junior a 10."
In 1996 Junior STV won the Pavo Cup again as a 5-year old. That time he was presented by Anky van Grunsven and test ridden by Klaus Balkenhol, who gave the grey stallion a 9.5 score.
A Different Time
Mieke says the times of horse management and competition were very different back in the 1990s. 
"In that time we had a lot of stallions under saddle, but you can't compare it to the way stallions are presented in sport now," Mieke stated. "We got the stallions at the end of the breeding season and had to cook them in one month time for the stallion competition. In March they returned to their stallion keepers."
She continued, "in the old days there also were many good good horses, but nowadays a lot of young horses get very well trained from an early age. The organisation of the young horse competitions fit well into that philosophy. It started with the Pavo Cup, but now there are many similar initiatives. So much has changed in the horse world. The sport really took flight."
Source: KWPN
Related Links
A Dapple for a Dapple: Junior STV to Hans Peter Minderhoud
Anne van Olst's Future with Junior STV
KWPN Foundation Sires and Their Get: Uniform, Cocktail, Ferro
Anky van Grunsven and Junior STV went on to win the KWPN Stallion Competition 1995-1996