Denmark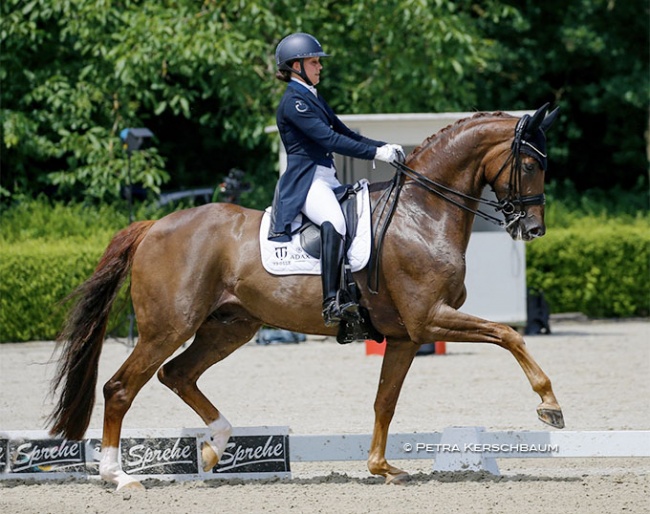 The Danish equestrian federation has announced the team of three riders and one reserve that will represent Denmark at the 2021 Olympic Games in Tokyo. 
Extra Time
Team trainer Nathalie zu Sayn-Wittgenstein waited a little longer than expected for her to announce the team.
After the team selection trial at the 2021 CDIO Compiegne - where most experienced rider Cathrine Dufour was eliminated on Bohemian - the short listed pairs went into a final training camp at Blue Hors stud on 14 - 15 June. The team would have been announced after that camp, but instead Dufour was sent to the CDI Herzlake to reconfirm her reliability as a team rider with the sensitive Bohemian.
The pair won the Grand Prix and Special and received 80 percentage marks, not from a 5* but 4* judging panel. Bohemian was back to his usual form with no spooky behaviour. 
Danish Team for Tokyo
Zu Sayn-Wittgenstein today confirmed the Danish Olympic team:
Cathrine Dufour - Bohemian
Carina Cassoe Kruth - Heiline's Dancier
Nanna Skodborg Merrald - Blue Hors Zack or Atterupgaards Orthilia
The reserve combination is Charlotte Heering and Bufranco. 
Merrald is selected with two horses and the fittest one will be put on the plane to Japan. 
Four Leaf Clover
Nathalie zu Sayn-Wittgenstein, herself a double Olympian (2008, 2012) and historic Olympic team bronze medal winner (2008), is thrilled with the team. 
"I'm very happy to happy to leave with this four-leaf clover," said Nathalie about the foursome she picked. "These are fantastic riders and horses and Anne-Mette and I are convinced that were are in the battle for the medals."
Team captain for Denmark is Anne-Mette Binder
Photo © Petra Kerschbaum
Related Links
Eurodressage Coverage of the 2021 Olympic Games
Merrald and Bachmann Promoted to Danish A-Squad, Compiegne Tokyo Team Selection Trial
Danish Grand Prix Squads for 2021 Announced
Anders Dahl and Fidelio van het Bloemenhof Removed from Danish A-Squad