Interview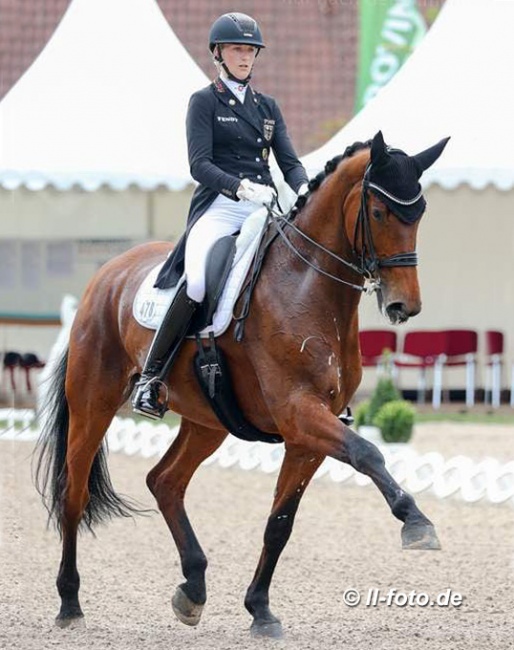 In a new interview series #RoadtoHagen the OC of the 2021 European Under 25/Senior Dressage Championships in Hagen want to meet the potential candidates for the Championships and kick off with the reigning German U25 Freestyle Champion, Ellen Richter.⁠
The interview is conducted by Kim Kreling, the English text provided by Hof Kasselmann
Ellen Richter, the Reigning German Under 25 Kur Champion
Have you since recovered from the 'shock'? You didn't really expect to win freestyle gold at the U25 German Championships at the beginning of June...
Ellen Richter: (laughs) It really was a total surprise, but I have come to terms with it a little. The first few days after Balve there was so much going on, so many people came to congratulate me, but slowly I don't have to pinch myself every day to see if it was all just a dream.
This medal has put a big exclamation mark behind your name in view of the upcoming U25 European Championships. How much is the event in Hagen already on your mind?
ER: Before Balve I wasn't thinking about the European Championships at all, but I would be lying if I said that it wasn't a goal for me now. That's what we're working towards and it would be very cool if it worked out! But it's still quite a long time until then, Vinay has to stay fit and at his performance level. A lot can still happen and I don't want to get too excited too soon.
Vinay is only ten and you have already joined the national squad. What makes him such a special partner?
ER: His character and his attitude. You could see that again at the German Championships. It was humid and the days were long, but Vinay gave everything even on the last day. He might have been a bit tired too, but you can't tell. I think I could ride him in two tests a day and he would still give 120 percent. And I can rely on him. We are both not that experienced yet. If mistakes happen, it's because of that. But for him to simply have a bad day, not feel like it or not focus, is very rare. I don't know much about football, but I think he's like 'Toni Kroos' on the pitch: very focused and reliable.
At the end of July, beginning of August, the second selection for the European Championships U25 will take place in Elmlohe. What does your schedule look like until then?
ER: After the DM we reduced Vinay's training, but at the beginning of July we will slowly train a bit more again and build him up for Elmlohe. I probably won't be able to train so often with Oli (Oliver Oelrich) during that time, he is preparing some students for Tokyo. But luckily I have two great coaches! I will certainly go to Klaus (meaning Klaus Balkenhol) a few times. It takes me almost two hours to get there, but Vinay travels very relaxed, he doesn't mind. A few days before the German Championships I went to train with him again. The changes didn't work out so well then. After the freestyle, he called me immediately and was just as happy as I was. He's always really excited.
You have already competed in a European Championship with Fontane in your junior days. What does it mean to you to be in the German team?
ER: In general, you don't often compete as a team. That in itself is something special. For the German team in dressage it is of course even more special.  It's one thing if you mess up your own test, but for the team you really want to show a safe round to help the others. That's why you risk less.
In 2014 you competed in the European Championships in Arezzo, in 2016 you travelled with your sister to the European Championships in Oliva, Spain, with sun, beach and sea. This year, the event is held at Hagen near the Teutoburg Forest. Which do you prefer: away or at home?
ER: Well, the beach was great, but I'm really looking forward to the European Championships at Hagen, whether as a rider on the team or as a spectator. The journey is nice and short, which is good for the horses. And I know the shows of the Kasselmann family — they are always very well organised. They simply know exactly what they are doing. And then here in Germany, together with the seniors and with the home crowd, that will certainly be very special and a great experience.
Assuming that you are writing a diary. If you were on the European Championship team, what would you write in the evening before the start?
ER: I think I would write about how many years I have worked towards this. And how incredibly grateful I am. I will probably never have a horse like Vinay again. A lot of riders never get to ride a horse like that. I am incredibly lucky with this horse and I am infinitely grateful for that!
-- Hof Kasselmann PR - Photo © LL-foto
Related Links
Eurodressage Coverage of the E021 European Dressage Championships - U25/Seniors
Ann-Kathrin Lindner and Ellen Richter Win Gold at 2021 German Under 25 Championships