2021 German Dressage Championships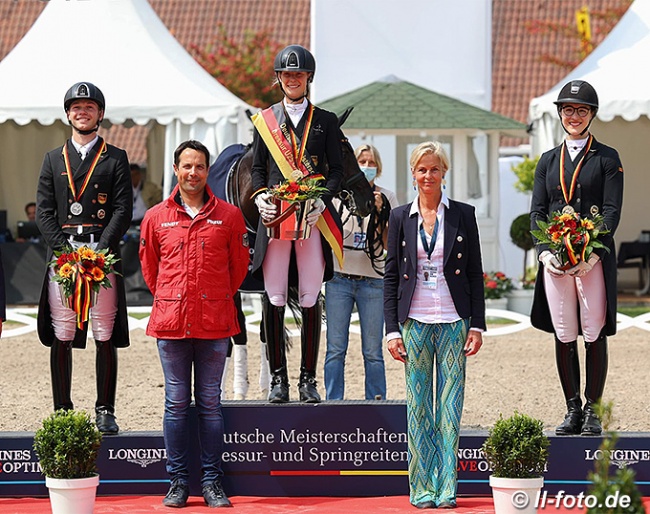 Ann-Kathrin Lindner and Ellen Richter became the gold medal winners at the inaugural German Under 25 Championships held in Balve (GER) on 4 - 6 June 2021. 
For years German has had its Piaff Forderpreis show circuit for Under 25 Grand Prix riders and with annual finals in Stuttgart. These were considered the "inofficial" Under 25 Championships. However the German equestrian federation has now decided to host an "official" version of the Under 25 Championships, remarkably as one of the last nations in Europe to do so. 
Short Grand Prix Gold for Lindner
The German Under 25 Championships consisted of a warm-up round (Intermediaire II), but the first set of medals was to be won in the Short Grand Prix. The judges were not at all unanimous in their decision and ranking of the podium placegetters.
The 2020 Piaff Forderpreis winner and 2020 European U25 Championship Short Grand Prix gold medal winner Ann-Kathrin Lindner continued her winning ways into 2021. Aboard the 12-year old Baden-Wurttemberger bred Sunfire (by San Amour x Freudenfeuer), Lindner scored a winning 74.651%. She placed first with four judges, one judge had them sixth! Lindner is trained by Karkl-Heinz Streng. She worked part time as a physiotherapist but gave that up last year to become a full-time rider.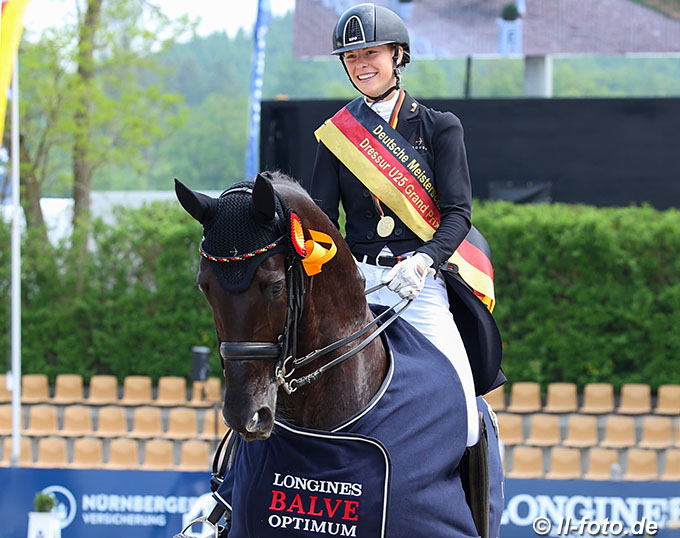 The silver medal went to Raphael Netz aboard Akane Kuroki's 12-year old KWPN stallion Elastico (by Johnson x Concorde). He posted 74.581% and was breathing down Lindner's neck. One judge had him first, one second and three third.  "He still misses about 10% in energy and still needs to gain more strength," Netz stated. The rider probably lost the gold in a not so polish halt. Netz works and trains with the Werndls in Aubenhausen. 
The bronze went to Hannah Erbe and the 14-year old Rhinelander gelding Carlos (by Carabas x Weltmeyer), who landed third place with 73.651%. She was second with three judges, third with one and fifth with another one. Erbe has been riding Carlos for eight, initially with the help of Heiner Schiergen, but the last few years she's been working with Stefanie Wolf. 
Kur Gold for Richter
In the Kur to Music finals on Sunday 6 June, Ellen Richter surprised all as the outsider who worked her way up to the highest step of the podium to earn Kur gold.
The 25-year old Richter and the 10-year old Westfalian gelding Vinay (by Vitalis x Warkant) aced the class with a 78.000% earning freestyle. Two judges had her first, one second, one third and one fifth.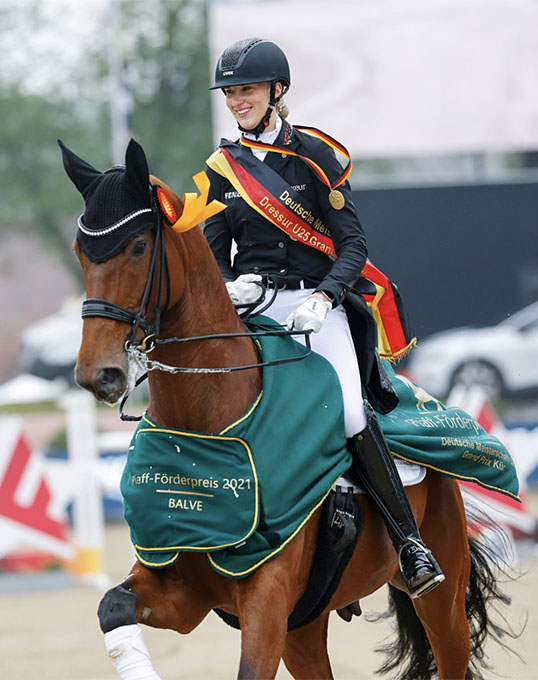 "This was the first time I rode this Kur. I only got my music on Tuesday," said the beaming gold medal winner. Richter has been riding Vinay for the past four years and took him from L-level to Grand Prix with the help of coaches Oliver Oelrich and Klaus Balkenhol. She has also trained a few times with Isabell Werth. "I learn a lot from all of them. Each have their own different angle and it all complements excellently," Ellen explained. 
Richter is not a professional rider. She recently finished her Masters and will soon start working in Munster in Marketing. "I will only have a 30-hour per week post, so there is plenty of time to ride two to three horses per day," she added. 
Lindner and Sunfire landed the silver medal with a 77.775% freestyle, while Erbe got the bronze with 77.725%.
The silver medal winner of the Short Grand Prix, Raphael Netz, missed out on the Kur Finals after horse developed a fever on Friday night. Fortunately he tested negative for EHV-1 and the fever disappeared overnight, but on Saturday it was decided in the best interest of the horse to withdraw from the Kur. 
Photos © LL-foto - Stefan Lafrentz
Related Links
Scores: 2021 German Dressage Championships
Netz and Elastico Withdraw from 2021 German U25 Championship, Fever in Balve
Germany to Stage National Championships for Under 25 Riders as of 2021
Germany Team Selection Process for 2021 European Under 25 Championships
Alina Schrader Surprises and Wins 2021 Piaff Forderpreis Selection Trial, Thirteen Qualified for 2021 Show Circuit
German Dressage Squads for 2021 Announced