France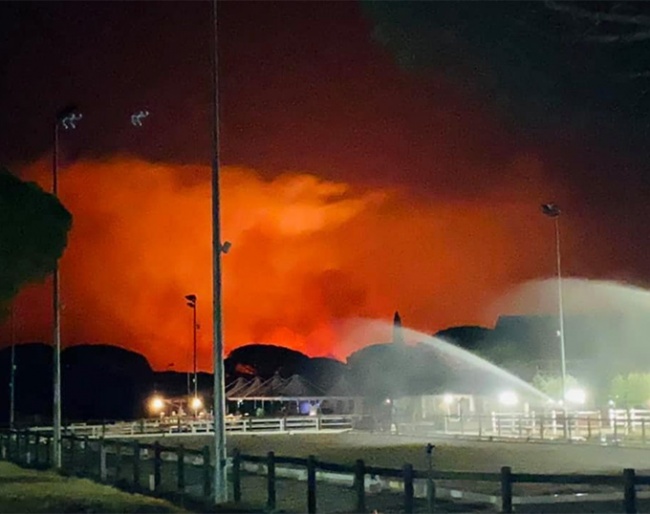 Around 100 horses stabled at Bernadette Brune's yard Domaine Equestre des Grands Pins (DEGP) in Vidauban, France, were evacuated on 18 August as wildfire threatened to burn the yard. 
DEGP is located in the Var region in the south of France close to the glitzy Riviera resort of Saint-Tropez.
8,400 Hectares Burnt
Over 8,400 hectares of land has been burnt this week. 3,000 people were evacuated.
The hot, dry weather which has persisted in south-east France over recent weeks, paired with strong gusts of wind, is making it difficult for firefighters to control the flames. Flames have ripped through the arid Plaine des Maures nature reserve towards Saint-Tropez.
1,200 firemen and 120 police officers have been working to extinguish the fire and secure the area.  Local news reports that firefighting is affecting the drinking water supply. Already dozens of people have been treated for the effects of smoke inhalation and at least two people have died in the areas affected by the fire.
Evacuation Horses of DEGP
The wildfire approached Brune's French base by 2 kilometres. 
"My team had to evacuate the 100 horses. Fortunately the fire did not reach the stable and everything has been preserved," Brune commented on social media.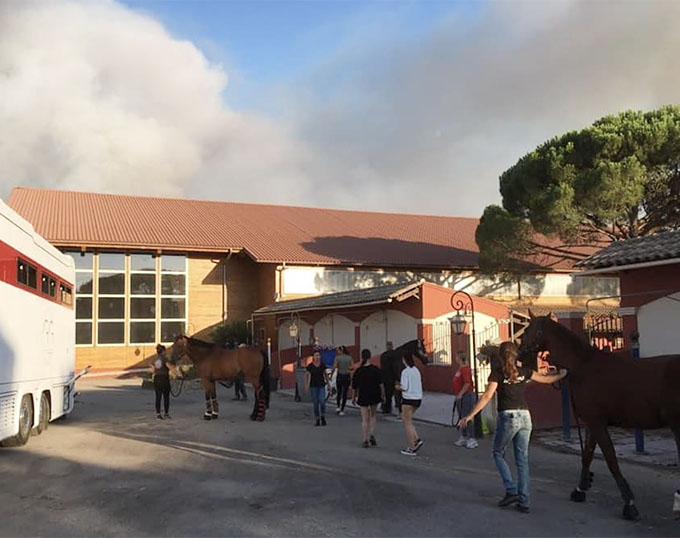 To Eurodressage, Bernadette added, "we had some tough few days but evacuated horses and all the important stuff on time. The fire burned up to the Chateau Verez with is 800 meters away from us. But due to the fact that we are surrounded by wine plants, we are quite protected. Only if some ashes came on the indoor arena then it would have been a disaster. The fire is still burning around but it is not a threat, so horses are coming back today. Some stables around have been devastated."
Solidarity
Bernadette added that she was able to rely on the amazing help of her team at the stable as well as the solidarity from the neighbours. 
"I have an amazing team at the DEGP, who organised everything perfectly and with calmness," she explained. "Because I am far away, lots of people  from  the surrounding stables helped with trucks, boxes. It was a great solidarity!"
Photos © DEGP
Related Links
Bernadette Brune and Feel Free OLD Keeping the Fun Alive on the Way to Grand Prix
Bernadette Brune Achieves Sensational Double Victory at 2016 CDI-W Salzburg
Bernadette Brune on Spirit of the Age OLD, Her Once in a Lifetime Horse
2015 Vidauban Dressage Festival - Table of Contents
2015 Vidauban Dressage Festival Promising to be Spectacular Dressage Extravaganza
2014 CDI Vidauban to Become World Dressage Masters Station
2012 CDI Vidauban - Table of Contents
2012 CDI Vidauban Gathers the Stars for Olympic Qualification Attempt