Westfalian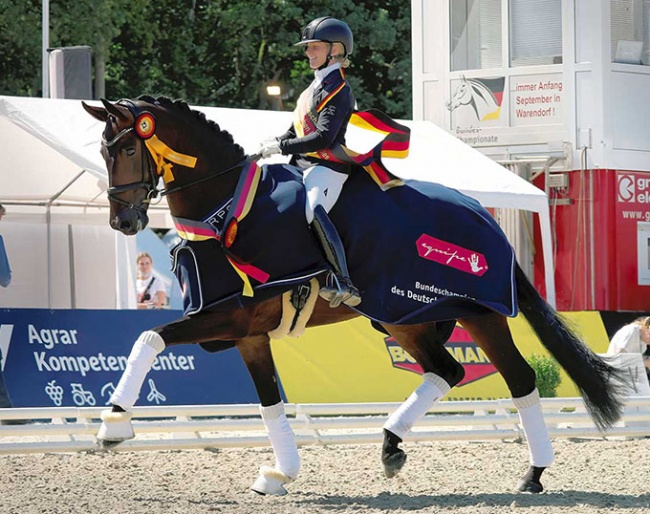 The 1st Westphalian Online Auction Special ended this evening with Bundeschampion Feine Bella NRW selling for 305,000 euro to Helgstrand Dressage.
Two weeks ago, Feine Bella NRW won the Bundeschampionat for four-year-old riding horses. Now the Fürstenball x Bordeaux daughter (breeder: ZG Artmeier, Becker, Delling, Wibbecke) was up for sale at the 1st Westphalian Online Auction Special.
The bidding duel for the mare started on Tuesday with an opening bid of 150,000 euros. Eleven parties fought for the bid for the talented dark bay mare. In the end she sold to Helgstrand Dressage for 305,000 euro.
Feine Bella NRW is not only the current Bundeschampion of four-year-old riding horses. Shortly before the Bundeschampionate, she became the celebrated Westfalian young hporse champion in Münster-Handorf. Last year she was the champion mare of the Westfalian Elite Mare Show. An exceptional horse with a great future ahead of her.
Feine Bella descends from the same dam line as Isabell Werth's successful horse Bella Rose. The grand dam of the Tokyo gold medal winner is also the fourth dam of Feine Bella NRW. 
Related Links
Feine Bella NRW in the Footsteps of Bella Rose
1st Westphalian Online Auction Special: Bundeschampion Feine Bella NRW for sale
Baroness Bibi, For Real, Feine Bella, Vitalos Riding Horse Champions at 2021 Bundeschampionate
Feine Bella, Champion of the 2020 Westfalian Elite Mare Show