F.O.C.U.S.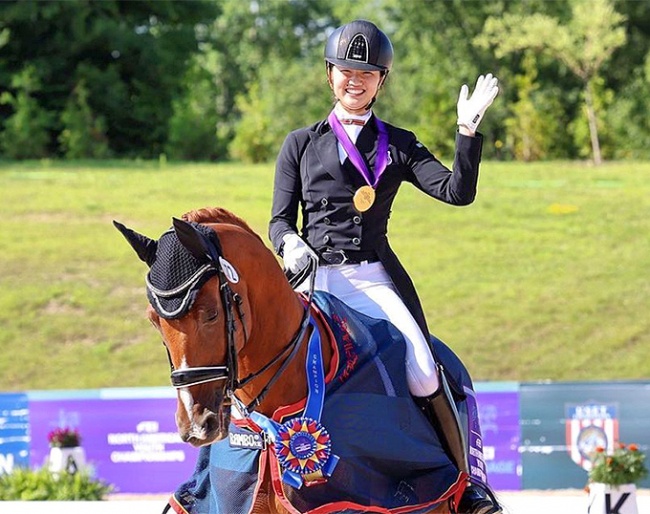 For German horse dealer Jochen Arl the summer of 2021 has been one of great success for the customers of his sales horses world wide. Particularly the horses he sold to the United States have been doing particularly well, winning medals at the national and continental championships. 
Jochen has been a long-time supplier of top quality dressage horses for high performance sport as well as talented schoolmasters for youth riders with plenty of quality for an unlimited future.
From Vaulting to Dressage
Miki Yang, the 17-year old daughter of American dressage sponsor and Grand Prix rider in her own right Akiko Yamazaki, has proven that she can master several disciplines in horse sport. Miki represented the U.S.A. on the vaulting team at the 2014 World Equestrian Games in Caen, France, age 9, while younger sister Emi Yang just won team bronze last week at the 2021 World Vaulting Championships in Budapest. Miki is now also standing her ground in dressage. 
In 2015 Akiko purchased the Dutch warmblood gelding Donavan (by Vivaldi x San Remo) through Arl in The Netherlands. Akiko first competed the horse at national small tour level herself, after which U.S. Olympic silver medal winner Steffen Peters campaigned him in the Prix St Georges and Inter I at the CHIO Aachen in the summer of 2018. 
Donavan has quality and rideability in buckets and proved to be the perfect Young Riders' horse for Miki. After their winning CDI debut in Sacramento in April 2021, the pair was nominated on the Region 7 team for the 2021 North American Young Riders Championships
NAYRC Gold and Silver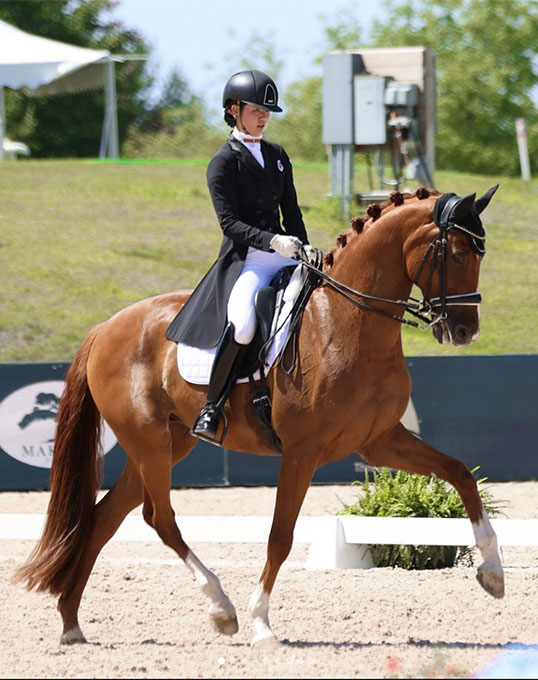 2021 not only turned out to be Yang's first year in the international dressage arena, but her team debut at the 2021 NAYRC became a golden one. 
"This is my first NAYC, and this has just been an amazing experience," Yang told The Chronicle of the Horse. "This is my first time competing on a dressage team. When I was vaulting, I was always on a team, so being able to integrate what I've learned from vaulting on a team to competing on a team in dressage, was a cool way to intersect the experience."
Throughout the week of competition at the NAYRC in Travese City, MI, Yang and Donavan improved their scores, first claiming team gold and then individual test silver.
"I'm on cloud 9," said a beaming Yang after her second medal. "I cannot even begin to describe how proud I am of Donavan for each of the 3 days of competition. In the individual test, we had a personal best of 69.29% and claimed the silver medal. And in the freestyle we had a score of 71.7% with a couple of errors in the changes and lack of experience, resulting in a 4th place finish! Considering that this was only our second time competing the freestyle made me realize that Donavan tried his heart out despite not being 100% comfortable with the patterns and the music."
U.S. Small Tour Champion
Akiko Yamazaki celebrated even more success with the horses she acquired through Jochen. Dawn White-O'Connor became the 2021 U.S. Small Tour Champion on Akiko's Hudson M.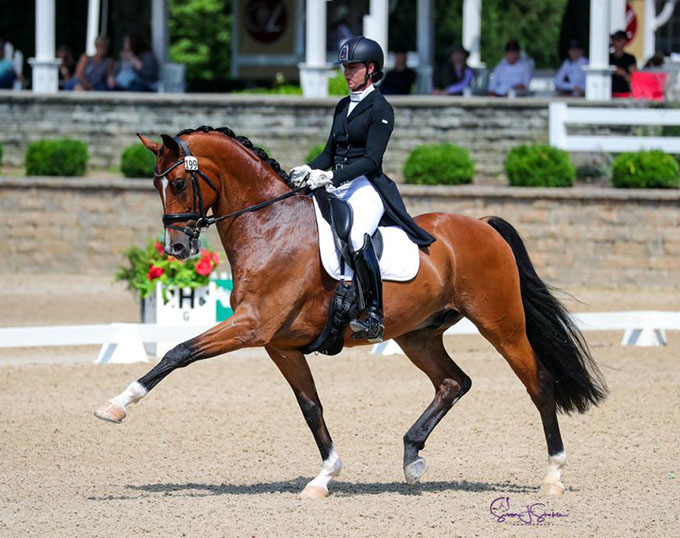 In March of 2020 White-O'Connor was sent to sunny Spain to try out Jochen's 2012 born KWPN gelding Hudson M (by Cadans M x Tuschinski) and it was an instant connection. Yamazaki, who decided to sponsor the next generation of American riders, purchased the horse as a Grand Prix hopeful.
The new pair used the 2020 corona year to get acquainted and consolidate the FEI level work. In November of 2020 they had their CDI premier at Thermal and in March 2021 clocked a double victory at the CDI Wellington. Scores have only been going up from there. After another win at the CDI Temecula, Dawn and Hudson were ready for the 2021 U.S. Dressage Championships held at Lamplight in August. 
Dawn and Hudson M led from start to finish at the Nationals to clinch the small tour championship title with whopping scores of 74.117 in the Prix St Georges, 75.970% in the Inter I, and 76.355% in the Inter I Kur to Music.
"I have had him just over a year and a half. He is the best horse; I could probably talk about him all day," White-O'Connor said of Hudson M. "I think everyone gets sick of me constantly showing them videos of what he is doing. He is a really, incredibly special horse. Even if he wasn't as talented as he is, he has got the best personality and he is the most fun horse to be around. He is pretty much good about everything. He is one of a kind I think."
Eyes Towards Hagen and Aachen
Jochen's eyes are now turning towards the 2021 European Dressage Championships in Hagen and CHIO Aachen.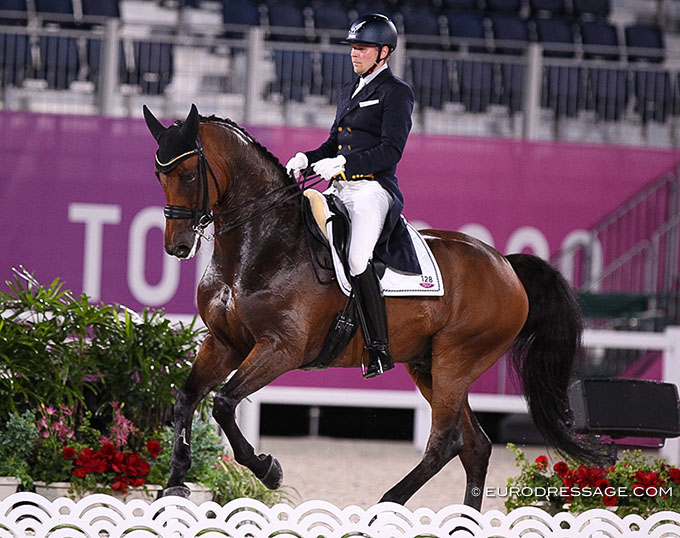 His business partner Henri Ruoste will ride on the team of Finland aboard his own and Jochen's co-owned Belgian warmblood gelding Kontestro DB (by Contendro x Cassini II). The 11-year old bay gelding is hyper talented for Grand Prix with exceptional piaffe and passage work and already enabled Henri's long-time dream, competing at his first Olympic Games. The pair travelled to Tokyo and fulfilled that unique dream in July.  Now the European Dressage Championships are the next platform to shine for Henri on Kontestro. 
At the 2021 CHIO Aachen American Benjamin Ebeling will be living his dream when he rides down the centreline at the CHIO Aachen, the most prestigious international equestrian competition on the calendar. Ebeling has been nominated to represent the U.S.A. on the 13-year old Belgian warmblood Illuster van de Kampert (by Spielberg x Contango), which Jochen discovered and sold to America.  Illuster has carried young Ebeling from Young Riders level through U25 straight into the senior Grand Prix division. Their spectacular ascent to the top in the U.S.A. was rewarded by being short listed for the U.S. Olympic team this year. They do a warm-up show before Aachen but also competing in Hagen in the CDI 3* tour.
Photos © Private - Sue Stickle - Astrid Appels
Related Links
Kontestro DB, Talk of the Town at 2020 CDI Le Mans
Akiko Yamazaki Acquires Jochen Arl's Hudson M as Grand Prix Hopeful for Dawn White-O'Connor
Alice Tarjan Wins 2021 U.S. Grand Prix Championship, White-O'Connor Small Tour Champion
Christian Simonson Wins Individual Test Gold at 2021 North American Young Riders Championships
California's Region 7 Wins Team Gold at 2021 North American Young Riders Championships
Akiko Yamazaki Acquires FEI Prospect Donavan
Illuster van de Kampert, New Ride for Benjamin Ebeling
Ben Ebeling: Lightspeed Ascent for Rising Dressage Star with Olympic Bloodlines