Danish Warmblood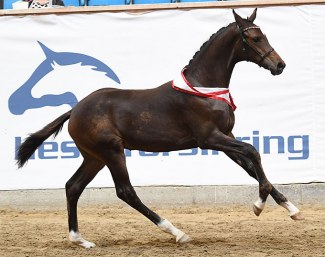 At the 2021 Danish Warmblood Elite Mare and foal Show at Vilhelmsborg last week, the best foals from the seven regional foal shows in Denmark gathered to compete for the titles of  best DWB foals of the year. Two powerful movers claimed the titles in the dressage filly and colt category.
In her sister's hoof steps
Of the 13 dressage filly foals qualified from the seven regions in Danish Warmblood, the judges appointed four finalists. Last year the Elite Show was cancelled due to COVID-19, so the most recent show was two years ago where the dressage filly foal champion was called Vilard's Frina.
This year at Vilhelmsborg, the coveted title once again went to breeders Heidi Vilhelmsen and Lars Arndt from Stutteri Vilard for a full-sister of their previous champion filly. She was the regional champion in Vallensbæk, and at Vilhelmsborg Vilard's Fina (by Franklin x Blue Hors Don Romantic) was invincible.
The judges described her as a"feminine, refined and at the same time large-framed filly with lots of energy and not least three supple, ground-covering and rhythmic gaits."
A colt with supreme gaits
In a very strong collection of dressage colt foals no less than six were selected for the final round, in which the regional winner from Esbjerg, Chicago Majlund (by Vivino x Tailormade Temptation), once again stood out as a spectacular mover.  He is bred and owned by Annika Pagård form Majlund Dressage.
The judges said that Chicago is "large-framed and masculine colt foal with a good expression." He showed the best walk of the day; "his walk is ground-covering and supple, swinging through his body." The trot is "rhythmic, supple and with very good self-carriage and his canter is powerful and uphill." Chicago Majlund was named dressage colt foal of the year.
Dressage filleies selected for the final:
Vilard's Fina (by Franklin x Blue Hors Don Romantic) - Breeder: Stutteri Vilard 
Jubilee (by Jovian x Blue Hors Don Romantic) - Breeder: Lisbeth B. Andersen
Midnights Florentina (by Knock-Out x Fürstenball) - Breeder: Karina & Heidi Lorentzen
Vendetta CL (by Vitalis x Sezuan) - Breeder: Cecilie Lyndrup
Dressage colts selected for the final:
Facina Hena (by Blue Hors Farrell x  L'Espoir) - Breeder: Hena Dressage
Faustino Maxima (by Franklin x  Sir Donnerhall) - Breeder: Maxima Horses of Maria Wibroe
Faretto (by  Franklin x  Don Frederico) - Breeder: Henrik Hansen
Gambit (by Glamourdale x  Tailormade Temptation) - Breeder: Hanne Hertzberg, Lena & Ulrik Kristensen
Schnell's Sokrates (by Secret x  Danciano) - Breeder: Stutteri Schnell of Jens-Martin Due Laursen
Chicago Majlund (by Vivino x Tailormade Temptation) - Breeder: Majlund Dressage of Annika Pagård
Related Links
Vilard's Frina and Grand Quest-Bell Named Danish Warmblood Foals of the Year 2019
Remember Me and Diaz Skovvang Named 2018 Danish Warmblood Foal Champion
Svalegards Hot Boy and Faretti Named 2017 Danish Warmblood Foal Champions
Francisca Lightfoot and Bogegardens Santiago Bernabeu, 2016 Danish Warmblood Champion Foals
Delicious, Mildura, Schwarze Schwalbe, Tebaldo Winners of 2015 Danish Warmblood Elite Show
Strandagergards Sirocco and JJ Sasha, 2014 Danish Warmblood Foal Champions
Horgaard Tabasco and Springborgs Gateway, 2013 Danish Dressage Foal Champions
JJ Filippa and Tailormade Attraction Named 2012 Danish Dressage Foal Champions
JJ Fuji and Ellely's Tornado Named 2011 Danish Dressage Foal Champions
Dancing Boy and Stigma, Danish Dressage Foals of the Year 2010
Bjerggaards Don Perignon, 2006 Danish Warmblood Foal of the Year and Top Auction Foal