P.R.E.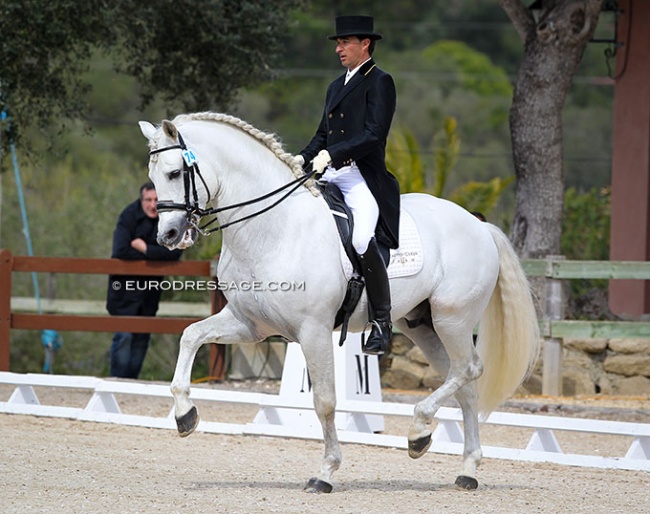 Jose Daniel Martin Dockx' career starting dressage horse, Hampton Green Farm's home bred PRE stallion Encanto XI, has passed away. He was 19 years old. 
Encanto XI was a 2002 born P.R.E. stallion by Spanish dressage legend Evento x Golondrino XIV. He was bred by Kimberly van Kampen and was born in Spain out of HGF's Cantora XVI, which van Kampen had purchased there in 2001.
Jose Daniel Martin Dockx
Encanto moved to Spain in the spring of 2007 to start his training with Jose Daniel Martin Dockx. The grey stallion became the first horse of Hampton Green Farm which Dockx rode into the international arena, shortly afterwards Grandioso followed which he took to the 2012 and 2016 Olympics. Encanto XI was the second horse Jose Daniel produced to Grand Prix in his career, San Rubino, 
The pair won the silver at the 2009 Spanish Young  Horse Championship in the 7-9 year old developing PSG horse category, after just three shows together. Encanto was the only PRE at the Spanish Young Horse Championships to finish on the podium that year. 
Jose Daniel Martin Dockx made his international show debut on Encanto XI in 2010 at small tour level at the Sunshine Tour in Vejer de la Frontera. They headed to the 2020 Spanish Small Tour Championships where they were third in the Prix St Georges, but retired in the Inter I.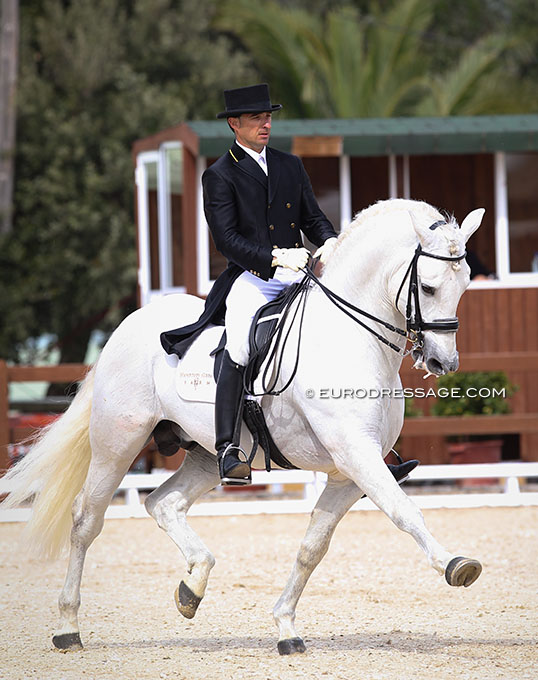 A year later Vejer was the platform for their CDI debut at Grand Prix level. Martin Dockx and Encanto competed at international Grand Prix level between 2011 and 2013 with starts in Vejer, Saumur, and Nambroca. Their personal best score was 67.021% in the Special at the 2013 CDI Vejer, exactly the same score as on their debut in 2011.  The pair was coached by Jan Bemelmens.
Return to the U.S.A.
In 2013 Encanto XI sold to Wellington based American adult amateur rider Dr. Jane Bistline and the grey stallion moved back to the U.S.A.
Encanto XI made regular appearances at U.S. PRE Week during the Global Dressage Festival in the hands of handler Tom Reed. 
Melanoma
Encanto XI was euthanized last week due to  metastatic cancer from melanoma, a very common nodular skin disease of (older) grey horses.
"It's never easy to report when a "unicorn" leaves this world, but in their place we live with the memories, experiences and photos of having known such a magical creature," said Van Kampen. "Encanto's beauty was the subject of many paintings, and the grace of his movement amazed his public.  His beautiful head, sweet eyes, expressive and serene, and his extravagant movement made him a model of the modern Spanish sport horse."
Photos © Astrid Appels
Related Links
Eurodressage Photo Database: Encanto XI - more photos on Lilyforado.com
A Magical Week for PRE Lovers During 2017 USPRE Week in Wellington
Spain's Encanto XI Headed to Florida
Jose Daniel Martin Dockx and Grandioso Big at Sunshine Tour with Quadruple Victory
Garcia Mena and Norte Bring Dash to the Arena at 2011 Sunshine Tour
Scores: 2013 CDI Vejer de la Frontera