F.O.C.U.S.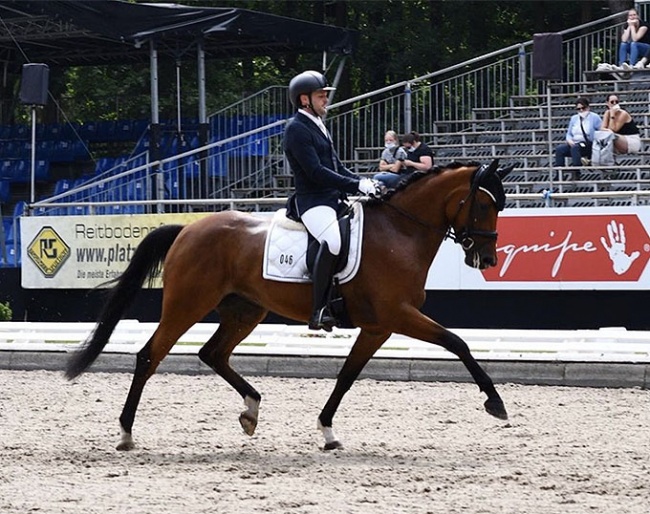 - Article first appeared in Dressage NZ, September 2021 issue. reproduced with kind permission.
In 2015 the Canterbury based New Zealand dressage rider Thomas Oldridge made a life changing decision to sell his team of horses, pack up his world and move to Germany to develop his riding into a professional career.
Thomas started his journey at the stables of Hubertus Hufendiek and Anne Lene Holmen basing there until 2018. After nearly six years he now speaks fluent German, is self employed  and completely settled in the European way of life.
Thomas talks with us about how he came to be the first New Zealand rider to compete in Dressage at the prestigious Bundeschampionate (German  Championships for Young Horses) held in Warendorf each year. The Bundeschampionate showcases the very best young horses in each age group from across Germany in the Olympic disciplines of Dressage, Eventing and Show Jumping.
To compete in the dressage, participants must receive an 8.0 (80%) overall score at local qualifiers.  Now we hand over to Thomas Oldridge. 
Own Business in Germany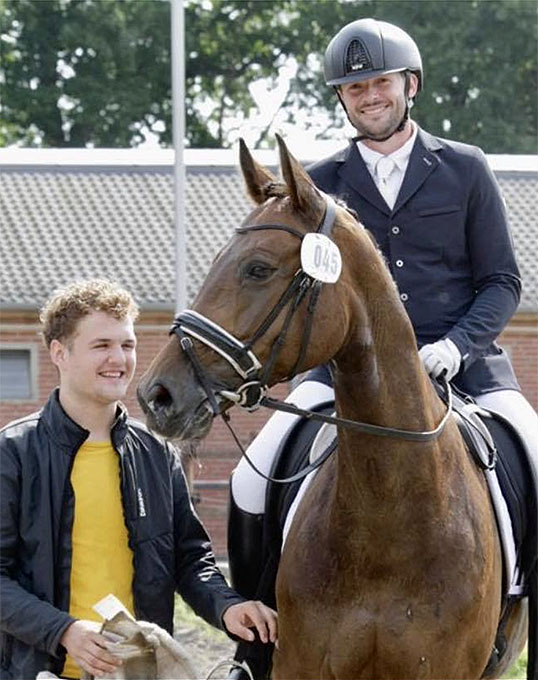 "After working at a couple of other young horse stables in the region as a freelance rider, I made the decision to start my own training stable with my partner Felix Steverding. At the start of 2021 my dreams became a reality and OS Sport horses was born. Based in the small town of Stadtlohn in North Rhine Westphalia, we are lucky enough to rent a private stable with 9 boxes, indoor arena, walking machine, sand (winter) paddocks and nice big fields set on the town border in the middle of a forest, giving us plenty of privacy and great hacking trails.
In 2019 the opportunity came that I could start the training of Beautiful Mind, Vanessa Schillings' small 'Thoroughbred' like 3-year old Westfalian mare (by Baccardi x Conen), who was freshly broken in. The moment I went to see her at the stables I was in love. After the second ride she had me on the floor and then I knew, she was going to be great!
Fast forward two years and she is now a lovely talented 5 year old mare, still lacking in a bit of strength but has the heart and willingness to do anything that is asked of her.
Trying for the Bundeschampionate
The decision to try to qualify for Bundeschampionate was somewhat spontaneous. We headed off to a small competition to test if she was really at the level needed to even attempt this. I was totally blown away with how the mare felt and couldn't believe it when she won her first test, with 78% we were just 2% off what was needed for the Bundeschampionate. So then we decided to take a chance and enter one of the last qualifying possibilities. There are only five competitions in our area every year - they can only be judged by certified judges, making sure that the quality that comes through is of a high standard.
So off we went to Münster for the final qualification. I was feeling pretty relaxed because the bar was never set high and nobody really expected her to qualify....especially when I saw the names that we were competing against. Warming up I was speechless, this little horse did everything I asked and with such ease - nerves started kicking in because I thought that maybe there was a chance.
Riding up the centerline and through the test was such a pleasure, I remember at the final corner I could see the owner and we were both smiling. Then came the results and we were in - 80% was enough to get us there and we nailed it, so in a second I messaged Dressage NZ and rang the Bundeschampionate rep and we were entered.
Unreal Experience
Arriving at the Warendorf show grounds was somewhat unreal, driving into the stable complex and seeing not only all the amazing horses but the trucks and horse vans  belonging to every top rider and breeding stud from Germany, and here we were with our mare.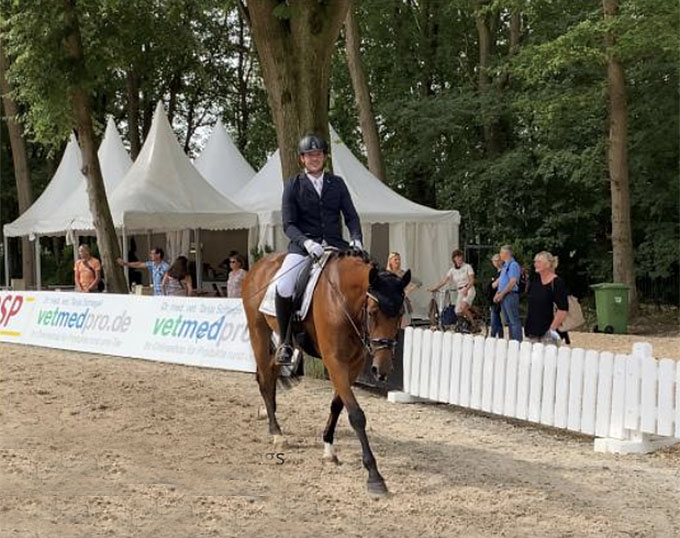 The first day we were allowed to ride into the arena then things became even more real and to see the other horses was pretty daunting. I worked her through the exercises that we would need in the test and was happy with how she worked. The next day we were early on in the class at 8:50am which was good, it gave me less time to stress and worry. Heading over to the arena was a surreal experience, there I was, a nobody from Christchurch and now the first rider to represent New Zealand at this competition, you couldn't get the grin off my face.
Warming up was much easier than expected, but, I was quick to realise that the quality of young horses here was something that I had never seen before, then my goal became to ride a correct test where I could walk out and say that I was pleased. When you ride up the centerline everything else is gone, she was completely on my aids and gave everything, I couldn't have been happier with her. I walked out of the test with a total score of  7.4 points (53rd) and so much respect for this lovely, wee mare. The young horses are given a mark for their walk, trot, canter, and then a mark for throughness/suppleness and an overall impression mark, these marks are added together to give the overall score. 
Totally Blown Away
Heading back to the arena we sat and watched some of the other horses and were totally blown away. To think I was there riding in the same class as world champion breeding stallions was unreal and an experience I will never forget and hopefully will have the opportunity to do again.
(editor's note: The next day Thomas rode Beautiful Mind in the5-year old consolation finals to finish 35th with 7.2 points)
- by Thomas Oldridge - Photos © private
Related Links
Scores: 2021 Bundeschampionate
Escorial Q, Beryll, Despacita Win 2021 Munster-Handorf Bundeschampionate Qualifier
Stockdale Wins 2013 New Zealand Grand Prix Championship