2021 British Dressage Championships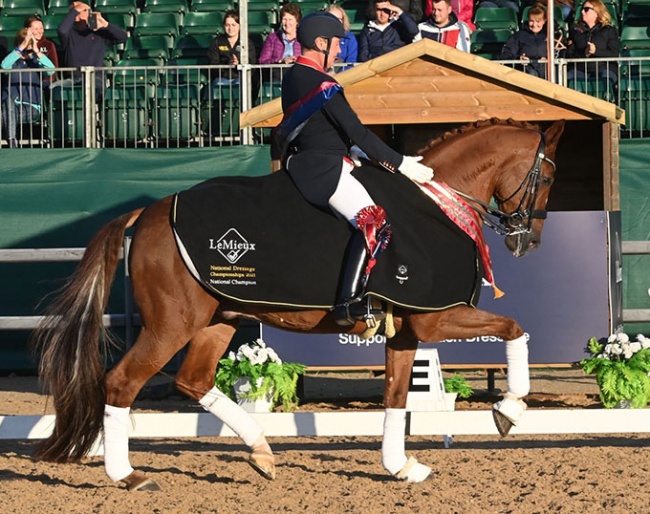 The final day of action at the British National Championships 2021 started grey and rainy but as the action got underway, the clouds dispersed and gave way to the sunshine. It was a fitting finale Sunday with ten champions crowned, with the National Champion accolade going to Emilie Faurie, some 27 years after he last took the title. 
Down to the Wire
The show finale was certainly a fitting end to an epic four days of competition at Somerford Park with the podium positions going right down to the wire.
Anna Ross set the early pace with Newton Domino (by De Niro x Rubinstein)  with a 72%+ freestyle and it proved hard to better until yesterday's winners, Gareth Hughes and KK Dominant (by Diamond Hit x Rubin Royal), owned by the Kroll family danced to their upbeat techno routine which really got the crowd behind them. Sadly, they didn't manage to pull off a clear line of one time tempi changes which proved costly but they took the lead by a narrow margin. 
It was then the turn of Becky Moody with her own Famke PF (by Houston x Cabochon) and they put in an amazing performance to a captivating Madonna soundtrack which just oozed girl power – 74.725% was the confirmed score from the five judges to take the lead.  
Faurie Claims Third National Title
The final competitor was Emile Faurie, who first won the National title in 1993 with Virtu, riding Dono di Maggio for Theodora Livanos, who's currently recovering from a second operation to her leg. 
The tall imposing chestnut gelding (by Dimaggio x Santander), who won team bronze for Great Britain at the 2018 World Equestrian Games, cut a beautiful silhouette in the evening sunshine as the music began. The canter work was a real highlight with expressive changes. It was a strong test, but would it be enough to overtake Becky and 'Iris'?  It felt like an age before the score was confirmed as 75.95% and the Grand Prix title belonged to Emile and Dono.  
In second place was Becky Moody and Famke PF scoring 74.725 %, with third place going to Gareth Hughes and KK Dominant with 72.625%. 
With his win in the Grand Prix yesterday, Gareth had a two percent lead over Emile for the National Champion award which looked like a great cushion but the costly changes and a stunning performance from Emile gave the Oxfordshire rider the title for a third time. He was a back to back winner in 1993 and 1994. 
"He Was On Springs"
After the prize presentation, Emile explained; "In yesterday's Grand Prix he felt great but I made mistakes. He was quite on, and quite lively but I had mistakes in the twos and ones and that's expensive so we thoroughly deserved our second place. Yesterday I slightly over did the working in – I did about ten minutes too long and it was hot.  
"Today we got it just right and he felt amazing in there – like he was on springs. The music I rode to today is really special to me – it's a Tom Hunt original.  Tom's brilliant at listening to you and gauging what you want. I'm not a hip hop kind of guy! He came back with the music and from the very few first bars I loved it. He composed it specially and I just love it.  It really fits Dono. 
"It's amazing to win today – it's a great honour. Okay, the best weren't here today but still I think he delivered a great performance and it's a huge honour to win on him. The time will come when he goes back to his owner but that's fine, she's such a wonderful girl and so talented and so deserves to have the ride on such a talented horse so I'll be happy to hand the reins back." 
Results - 2021 British Dressage Championships
Grand Prix Kur to Music
1. Emile Faurie -   Dono Di Maggio - 75.95 %
2. Becky Moody -   Famke PF -  74.725 % 
3. Gareth Hughes -   KK Dominant - 72.625 %  
4. Anna Ross  -  Newton Domino  - 72.025 %
5. Jessica Dunn   - Alicante valley  - 71.625 %  
6. Amy Woodhead -   Mount St John Fairytale - 71.2 %  
7. Louise Bell  -  Into The Blue -  71.075 %  
8. Sarah Higgins -   Alfranco -  70.825 %  
9. Lisa Marriott  -  Valucio -  69.975 %  
10. Becky Moody  -  Carinsio - 69.525 %
Related Links
Corona Times: Hit & Run with Emile Faurie
The History of British Dressage: "I Thought We Would Get There...In 100 Years!"
Theodora Livanos Pursuing Olympic Dream with Dono di Maggio
Dono di Maggio, A New Horse for Greece's Theodora Livanos
Hughes and Dujardin Win FEI Level Titles on Day Three of 2021 British Championships
Dujardin and Imhotep, 2021 British Small Tour Dressage Champions
Dujardin and Woodhead Win First Titles at 2021 British Dressage Championships