2021 British Young Horse Championships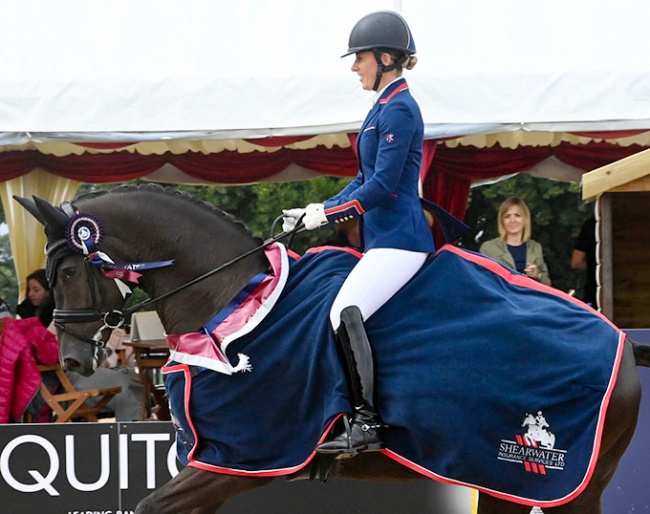 The 4-year old Mon Amour, the 5-year old Tiger, and the 6-year old Swanmore Dantina became the winners of the 2021 British Young Horse Championships held during the Nationals at Somerford Park on Sunday 19 September 2021. 
4-YO: Mon Amour
The four-year-old horses got the 2021 British Young Horse Championships underway with four outstanding contenders in Franklin Hit (by Franklin x Royal Dance), Majesteit TCE (by Grand Galaxy Win x Sandro Hit), Mon Amour (by Martinez x De Niro and Magic Dream JB (by Governor x Swarovski). 
Ride judge Tom Goode took time with each contender and carefully considered their attributes and any weaknesses before reporting back to fellow judges David Hunt and Erik Theilgaard. The outstanding winner for the panel was Mon Amour, presented by Charlotte Dujardin who co-owns the gelding with Peter Belshaw. The judges summed up their winner after the announcement of the final placings; "He has everything. He's a beautiful looking horse, he has energy, an amazing hind leg, he's elegant - he's the perfect type of dressage horse." 
The judges were impressed by Mon Amour's natural athletic movement. "With hindlegs like that, there's no doubt that he'll make it," agreed the Radio Nationals team of Kim Ratcliffe and John Bowen. "That hindleg is just unbelievable. It's not just the hock movement but the entire musculature and movement through the hindquarters." 
Commenting after dismounting from his test ride, Tom Goode said, "He's a super horse. He has amazing balance for a four-year-old, he's really good on the aids and equal both sides – he's an exciting horse." 
"I think Tom did a super job. It was not easy to get on Charlotte's horse in public!" said David Hunt. "He did a super job letting him relax and it shows the horse is beautifully trained.
"I think that's a fantastic horse," added Erik Theilgaard. "He has great presence and for Grand Prix the walk is very good." 
"I have to say 'Monet' is my perfect horse. I've ridden a lot of special horses and he's right up there with them," said a delighted Charlotte. "He has everything you could want; he walks like he's going to piaffe, his canter is amazing and already does a change when you put your leg back and he never runs out of energy. His desire to work – he just wants to keep working and working. Plus, he's so good looking – he literally has it all! There isn't anything he's missing, his trainability is unbelievable.
"He's done two shows, Wellington which had no one there, then Hartpury which was a handful of people and then came here to the Nationals. Yesterday when I finished my test, he looked up at all the people and his eyes were literally on stalks – he couldn't believe it. To come here and deal with everything that's going on is brilliant – it's quite a busy arena with lots going on. For him to go in and deliver like he has, I'm so pleased with him. Carl's already said he's read the encyclopedia of dressage, like he did for Valegro, and he feels like he has all the ingredients. He makes my job super easy - I sit there and he does it all. I'm excited to have him for the future," concluded Charlotte. 
Second place was awarded to Michael Eilberg and the super-talented British-bred bay gelding Franklin Hit, owned by Geri Eilberg and bred at Caledonia Dressage Horses in Scotland.
Anna Burns and the KWPN mare Magic Dream, owned by Becky Moody, took third. Described as a horse with good paces and a nice powerful horse, she was a little unsettled in her mouth and connection today.  
Fourth place was awarded to Majesteit TCE, presented by Melissa Chapman and owned by Michael Chapman. The chestnut gelding was described as being correct biomechanically but lacking some natural elasticity. The walk was a little short to start with but began to relax and overtrack. "He has a lovely trot with really good rhythm," reported Tom. "He's nice in the contact but not quite as sharp off the aids, but he could be a bit tired as it's his second day competing." 
"I love the type and the way the horse performs and stays in balance," commented Erik Theilgaard. "I like the hind leg very much. He started a bit tense but relaxed really nicely. He's good quality." 
5-YO: Tiger
The next exciting group of horses into the arena were five-year-olds Loves Black STH (by Millennium x Voice), MSJ Gold Standard (by Governor x Fürstenball), Mount St John Diamonds are Forever (by Diamond Hit x Royal Classic) and Tiger (by Blue Hors First Choice x Sandro Hit).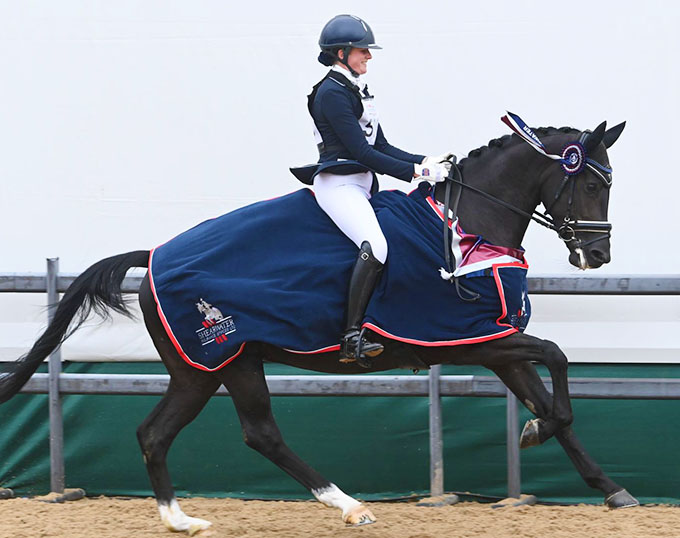 Elite Dressage's black mare, Tiger, topped yesterday's preliminary assessment under Beth Bainbridge and she continued to impress today to be deemed the 2021 British five-year-old Champion. Assessing from the ground, David Hunt described her as being a very nice mare, she bends all the joints and is very trainable too. Erik Theilgaard remarked that her trainability stood out and that she looks trainable to go through the levels. 
After putting the lovely young horse through her paces, Tom said, "She's a lovely horse who gives a really nice feeling. She has a lovely energy and is well trained." 
"I'm so proud of her!" beamed Beth afterwards. "She [Tiger] went in and felt like a champion today. She saw the crowd and was like 'okay, I'm going to do this'! She was amazing, absolutely amazing. Like a five-year-old, she looked at the crowd and took it all in, but she performed like an absolute professional. 
"She's always been a very bold mare and taken on the arena and atmosphere very, very well," she continued. "All the things we've had fun doing with her this year have lead up to her going so well today. She's lovely – she's the most adjustable five-year-old I've ever ridden and she wants to do it – like a showgirl!  
"She goes in the ring and wants to go but is happy for you to ride her, take a half halt, put your leg on, anything - so you can get the best out of her in the ring.
"Without a doubt she's one of the most talented horses I've ever ridden movement-wise and she has the temperament to do the job – I look forward to taking her up the levels!" 
Runner-up after the final standings was the beautiful chestnut mare MSJ Gold Standard, ridden by Jenny Martell for the Mount St John Stud. The mare was a little sensitive to a change of rider but soon settled with Tom at the helm. "She's a lovely stamp of a horse and gave me a very nice feeling," he said. "She certainly has the sensitivity and scope for the future." 
"I thought she was sussing Tom out at the beginning," observed David, "but he didn't rise to the bait and the horse came back and looked great. 
"She's a mare with quality paces and got better through the ride," added Erik. The commentary duo of John Bowen and Kim Ratcliffe remarked that the horse has a big scopey walk that looked like it wouldn't suffer with collection, as some can do.  
Third place on the podium was awarded to Loves Black STH, a KWPN stallion owned and ridden by UK-based Portuguese rider Luis Vilhena.
When ridden by Tom, the horse resisted a little initially but moved with more swing and cadence as the ride went on. The panel commented that the stallion has three good paces. He just needs to strengthen for more push, but he's a good horse and an attractive horse. Tom enjoyed his test ride saying, "He's a lovely comfortable horse with soft movement. The longer I was on him, the better it felt. He gives a nice feeling." 
The talented Mount St John Diamonds are Forever, partnered by Amy Woodhead and owned by Mount St John Equestrian, was close third in the initial assessment yesterday and placed fourth today. There's no denying the quality and ability of this mare who won the four-year-old title last year, but today wasn't her day as she was unsettled by the change of rider. 
6-YO: Swanmore Dantina
The final group of horses to come forward for judging were six-year-olds Swanmore Dantina (by Dante Weltino x Charatin), MSJ Encore (by Escolar x. Caprimond), Waverley Fellini (by Fürstenball x Sandro Hit) and Keystone Divino (by Dimaggio x Don Frederico). All four showed much promise but it was Sadie Smith's ride Swanmore Dantina who was declared the 2021 six-year-old Champion.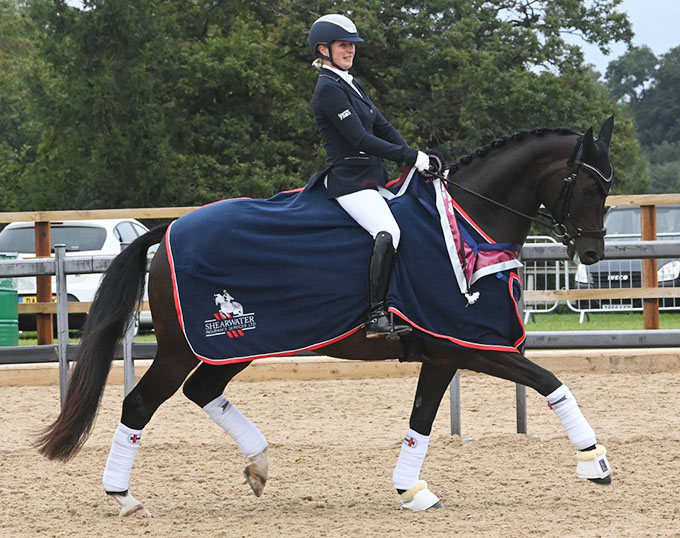 The British-bred mare, owned by Sadie, has a high-quality trot and canter with a great hindleg and is beautifully produced. Tom Goode enjoyed his ride, remarking on the mare's super self-carriage and response to the aids. "She has the attributes to be a top horse and is exciting for the future," he says.
Erik Theilgaard praised her super trot and canter, saying she's a "classy horse". David Hunt summarised by saying that she's beautiful, elastic, supple, light, elegant and powerful. "What we dream of finding in a dressage horse." 
Their prize-giving was rather eventful as poor Sadie hit the deck when she tried to put the rosette on the mare's bridle… 'Dia' had a canter about the ring, Sadie remounted, then her rein broke, so she didn't get a proper lap of honour!
After she'd dusted herself off, Sadie said, "I was so pleased with her today. In the first round on Friday she was really confident and taking me. She did everything in the test really nicely. She hasn't done a championship quite this big before; I did the championship as a five-year-old at Keysoe last year but that was obviously different. She's come here, just got on with it and it's like she's done it all her life. I was a bit worried that she might be a little bit tense with the crowd and the other rider getting on but she was really good. She looked really lovely with Tom on. She's so nice to ride and I hoped he'd like riding her – she was such a good girl for him. 
"I actually part own her which is so nice because many of mine I ride for others. I've known the part owner since I was about ten and he's always supported me, so it's lovely for him. I'm just so chuffed. She's so easy, she's such a pleasure to have – Trish Gardiner hacks her out because she walks dead straight, won't spook and doesn't pull her about.  
Bred by Ben St John James – Sadie used to work for him and Roland Tong, and rode Dia's dam – Dia was actually bred for a good friend of Sadie's who thought she'd grow too big. "I really liked Dia so I had a look when she was three," said Sadie. "They're still quite involved and message me to see how we're getting on." 
Another to highly impress was Nicola Hannam's MSJ Encore ridden by Michael Eilberg into second place. The attractive bay gelding has great ability, with a super trot and canter, and a lovely expression and presence. He's a scopey, athletic, powerful mover combined with having super balance for a big horse. 
"He has brilliant adjustability already, has great balance and is very responsive," said Tom afterwards.  "I was very impressed with the sharpness," commented Erik Theilgaard. "The walk could have more ground cover but it is correct." 
Completing the top three was our 2020 British five-year-old champion, Waverley Fellini, ridden by Greg Sims and owned by Stena Hoerner. The Radio Nationals team described 'Leni' as being a very nice, attractive horse with a lot of energy and a good canter.
"He's really fun to ride," said Tom. "He's on the aids, he's forward going and has nice energy. He's a little strong at times but I really liked him." 
David and Erik added that he just needs to be more up through the shoulders and in a more uphill frame.
Fourth place was awarded to Charlotte Nash's chestnut gelding, Keystone Divino, ridden by Charlotte Dicker. He was willingly forward with a good hind leg in trot. The Radio Nationals team commented that they'd like to see more freedom of the shoulder but that this is something that can be developed. He has a big scopey canter that could perhaps be a bit more uphill.
Tom commented that he's a beautifully schooled gelding with an amazing walk, and the canter is really nice. He just needs to develop more swing in the trot. "He's a very nice horse," agreed David and Erik. "He has super overtrack in walk but we'd like to see more freedom in the trot." 
Text by British Dressage, edited by Eurodressage - Photo © Kevin Sparrow
Related Links
Mount St. John Diamonds are Forever, Waverley Fellini, High Hoes Estelle, MSJ Dante Win 2020 British Young Horse Championships
Special Diva, Hawtins Lirica, Freeman Win 2019 British Young Horse Championships
Hawtins Lirica, Izonik, Hawtins San Floriana Win 2018 British Young Horse Championships
Waverley Dante, Hawtins San Floriana, Mount St. John VIP Win 2017 British Young Horse Championships
Hawtins San Floriana, Mount St. John VIP, San Marco Win 2016 British Young Horse Championships
Hawtins Duchessa and Florentina Win 2015 British Young Horse Championships
FJ Veyron and River Rise Escarla Win 2014 British Young Horse Championships
Eldorado and Romanno Stromboli Win 2013 British Young Horse Championships
Romano Ruinart, Zolansky, Royal Concert Win 2009 British Shearwater Young Horse Championship
2007 British Dressage Young Horse & Breeding Championships