2021 Swiss Dressage Championships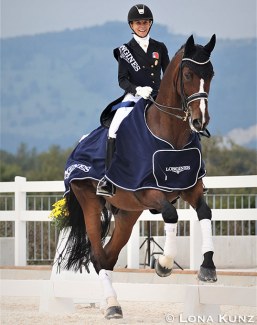 Grand prix rider Charlotte "Tiggy" Lenherr, young rider Milena Sulzer, junior rider Meilin Ngovan and pony rider Layla Schmid took home the championship titles at the 2021 Swiss Dressage Championship held at Reitsportarena in Roggwil (BE) on 30 September - 3 October 2021.
It was the last summer weekend with beautiful sunshine and the weather held right up until the last of the horses left before the rain came.
First Senior Title for Lenherr
Seniors: Charlotte "Tiggy" Lenherr won her first Swiss Dressage Championship on 11-year old Sir Stanley W (by Stedinger x Florencio I) by scoring 74,85% in the Grand Prix Kur to music. She was in second place with a score of 69,88% in Saturday's Grand Prix and it was close until the very end. Tiggy and Stanley delivered a solid Freestyle so it was up to the very last rider of the day, Carla Aeberhard and her 13-year old Swiss-bred Delioh Von Buchmatt (by Danone x Wolkenstein II). Their Kur to Music was good but the score of 74,11% was only enough to land them the silver medal, after having scored 70,08% in the Grand Prix. Estelle Wettstein took third place and the bronze medal on Quarterboy (by Quarterback x Rubinstern Noir), an 11-year old Oldenburger gelding, with a score of 73.09% in the Freestyle and 69,12% in the Grand Prix.
12 riders competed on day one, but the field was reduced to 11 after Patricia Schaerli's Bailando II (by Rubin Royal x Weltmeyer) was unlucky and bit his tongue to show blood which meant elimination from the Grand Prix. U25 rider and fourth placed Charlotta Rogerson mixed well with the seniors and showed a lot of promise with scores of 69,28% in the GP and 72,63% in the Freestyle aboard her 11-year old Dutch warmblood (Zack x Krack C).
Lenherr is thrilled with her first Swiss senior Grand Prix title, especially after a season which pushed her to postpone her dream of representing Switzerland at a European Dressage Championships.
"I took myself out of team contention for Hagen because I had a dodgy ride at our last Selection Trials (CDI Herzlake) and I felt it was too early for us to do a Championship," Charlotte told Eurodressage. "The Swiss officials and Team Trainer were very understanding and encouraging. We went back to the drawing board, got our' ducks back in a row' and this is the happy result."
Youth Medals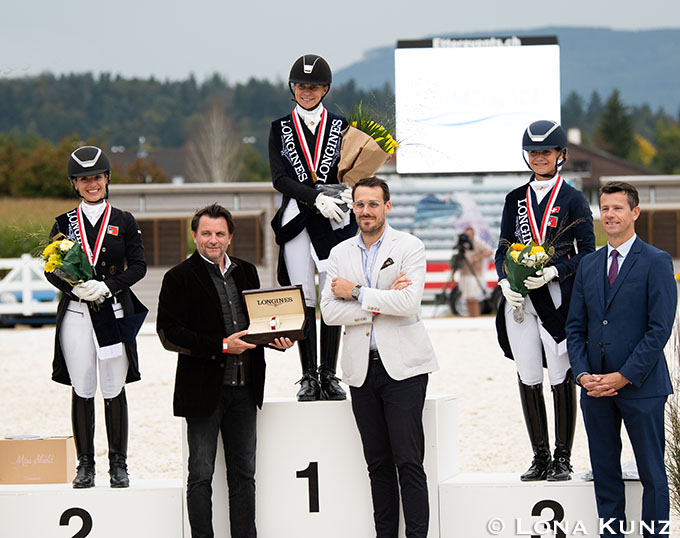 Young riders: Eight young riders competed in the two Championship rounds for the title. Milena Sulzer won the gold medal on 10-year old Westfalian bred Fantasimo (by Fioramo x Fidermark). It was a close race but she managed to stay ahead with a score of 74,83% in the Kur after ranking fourth in the first round with 67.50%.  Silver went to Laura Maria Grunder on 10-year Hanoverian gelding Rapace (by Blue Horse Romanov x Sandro Hit), who was first in the first round with 68.74% and second in the freestyle with 73.13%. Carl-Lennart Korsch took the bronze medal with the 9-year old Hanoverian mare Fantasy IV (by Furstenball x Don Crusador) after placing second in round one (67.92%) and fifth in the kur (70.52%).
Junior riders: The junior field was a group of 11 which had to compete in three rounds. Meilin Ngovan was a clear winner after having won all three classes. In the final, she rode to 78.07% which was the highest score of the show. Her solid performance throughout the weekend on her 9-year old Oldenburg bred Dreamdancer III (by Desperado x Quarterback) saw her over 6% ahead of silver medalist Layla Schmid on 13-year old Hanoverian Dujardin d'Arx (by Dancier x Akatschi). Bronze went to Tallulah Lynn Nater and De Vito W, a 10-year old gelding (by Desperados x Samba Hit II).
Pony riders: Seven pony riders battled it out for the title and routinier Layla Schmid took gold with the Belgian bred German riding pony mare Ashen Dew Drop (by Dornik B x Pavarotti). She convincingly won all three classes and scored 77,23% in the final in front of Robynne Graf aboard her 12-year old pony Dallas IV (by Dressman V x Donatelli). The bronze medal went to Sarah Demmler on her only 7-year old pony Dear Principal (by Dimension AT x Principal Boy).
Text and Photos © Lona Kunz
Related Links
Party of Three - Graf, Ngovan, and Wettstein - Rule the 2020 Swiss Dressage Championships
Graf, Nater, Ngovan, Wientzek-Pläge Win 2019 Swiss Dressage Championships
Graf, Guerra, Schmid, Aerne-Caliezi Win 2018 Swiss Dressage Championships
Scheufele, Guerra, Rogerson, Suter, Krinke Susmelj Win 2017 Swiss Dressage Championships
Scheufele, Guerra, Winnewisser, Suter, Krinke Win 2016 Swiss Dressage Championships
Neuhauser, 2015 Swiss U25 Champion, Wettstein Stripped Of Title After Positive Doping Test
Korsch, Winnewisser, Wettstein, Aerne-Caliezi Win 2015 Swiss Dressage Championships
Winnewisser, Wettstein, Neuhauser, Aerne-Caliezi Win 2014 Swiss Dressage Championships
Huet, Winnewisser, Wettstein and Krinke-Susmelj Win at 2013 Swiss Dressage Championships
Wettstein, Lehmann, Krinke-Susmelj Win 2012 Swiss Dressage Championships
Surprise, Surprise: Markus Graf is the 2011 Swiss Dressage Champion
Corinth Did It Again at the 2010 Swiss Dressage Championships
Veronika Marthaler, 2007 Swiss Dressage Champion
Widmer, Reutimann and Wettstein, 2006 Swiss Dressage Championships